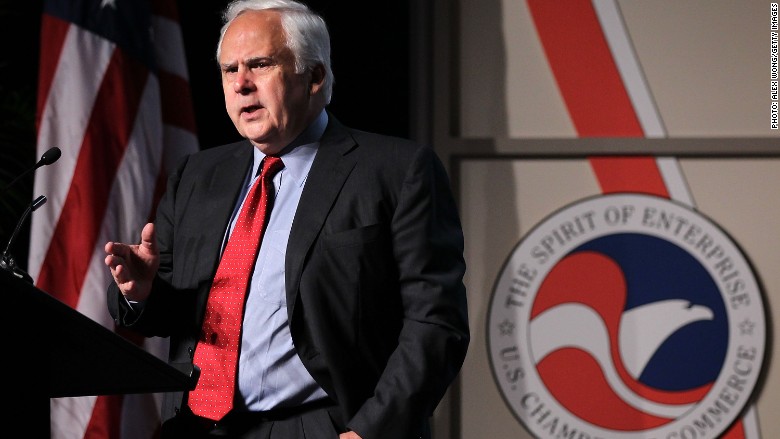 Donald Trump's trade threats are getting no love from Corporate America or Congress.
In some of the sharpest remarks since Trump's victory, FedEx CEO Fred Smith warned about the dangers of clamping down on free trade, especially tearing up NAFTA, the free trade agreement between the United States, Mexico and Canada.
Getting out of NAFTA "would be catastrophic for the U.S. economy," Smith said at a meeting on national competitiveness in Washington on Friday.
"Trade has made America great," Smith said. Going the other way "would be a severe mistake with enormous consequences for America and the world."
He pointed out that 25% of U.S. manufacturing jobs depend on shipments abroad. Overall, trade supports 40 million jobs in America.
Related: Trump's 35% tariff: Easier said than done
Trump has called NAFTA "the worst trade deal," and threatened to impose a 35% tariff on U.S. companies that move jobs to other countries.
"I believe there is a better way of solving a problem than getting into a trade war," House Majority Leader Kevin McCarthy told reporters earlier this week.
Trump blames NAFTA for the steep decline in manufacturing jobs in the United States over the past two decades.
However, Trump's claim isn't completely backed by research. While there have been job losses tied to NAFTA, most studies -- even one from Congress -- show that it wasn't responsible for a mass exodus of manufacturing jobs. In fact, free trade with Mexico supports about 6 million current U.S. jobs, the U.S. Chamber of Commerce estimates.
Related: The NAFTA teardown: Here's where Trump could start
Better technology -- automation -- is a bigger job killer than trade.
Trump's recent deal with Carrier to save jobs in the U.S. has been in the headlines. As part of the deal Carrier's parent company, United Technologies, would make a $16 million technology investment in its Indiana facilities. That technology would end up taking away some jobs.
"What that ultimately means is there will be fewer jobs," Greg Hayes, CEO of United Technologies (UTX), told CNBC earlier this week.
Smith, the FedEx (FDX) CEO, portrayed a gloomy future for America if Trump chose to fulfill his starkest campaign promises of high tariffs and torn up trade deals. He compared such a situation to America's last trade war in the 1930s. All economists, even those on Trump's staff, agree that situation made the Great Depression worse than it would have been otherwise.
It was sparked by the Smoot-Hawley Act, which raised tariffs on thousands of goods with the initial aim of protecting American farmers. Other countries retaliated against the U.S. with tariffs of their own. Global trade plunged.
"This misguided act of Congress ignited the Great Depression," Smith argued Friday. "Protectionism doesn't work."
Editor's Note: An earlier version of this story, citing Bloomberg, reported that the Chamber of Commerce said it's vying to stop Trump from fulfilling his campaign promise to tear up NAFTA. The Chamber says it is open to NAFTA being updated, as necessary.