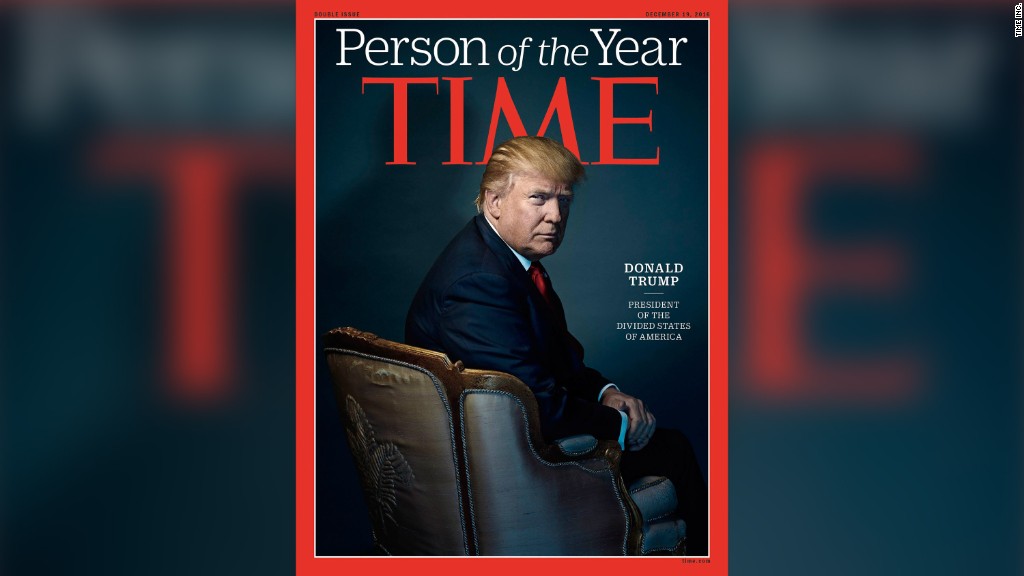 When President-elect Donald Trump was named Time magazine's Person of the Year on Wednesday, he said it was "a very, very great honor." By Thursday night, he was riffing about how the title is politically correct.
"They used to call it Man of the Year, but they can't do that anymore," he told a rally in Iowa. "They call it Person. They want to be politically correct. That's OK."
Time changed its traditional Man of the Year award to Person of the Year in 1999.
Trump kept at it Friday -- polling an audience in Louisiana about which they preferred. Person of the Year was greeted with boos. Trump then asked the women in the crowd about Person of the Year, and got some cheers. Then he asked everyone about Man of the Year, and was greeted with much louder cheers.
"That could be why the magazine business isn't so great," Trump said. "Anyway, who cares?"
In Iowa, Trump also criticized the cover of the issue, which identified him as "President of the Divided States of America."
"I said, 'I haven't been president. What are you saying that for?'" he told the crowd. "We're going to bring the nation together. We're not going to have a divided nation."
Trump railed against perceived political correctness over and over during the campaign. "We can't afford to be politically correct anymore," he said after the massacre at an Orlando, Florida, nightclub in June.
He himself used divisive rhetoric throughout the campaign. He called for a ban on Muslims entering the country and for the deportation of millions of undocumented immigrants. Since the election he has claimed, falsely, that millions of people voted illegally for Hillary Clinton.
On Thursday night in Iowa, moments after vowing to bring the nation together, he told the crowd: "Immigration security is now national security. No more games. A Trump administration will always put the safety and security of the American people first."
Related: Trump named Time 'Person of the Year'
The first Person of the Year was Amazon (AMZN) founder and CEO Jeff Bezos, now a frequent Trump critic. Women were honored four times before the change, including 1975, when American women as a group were named Women of the Year.
The personal computer was named Machine of the Year in 1982, and "Endangered Earth" was named Planet of the Year in 1988.