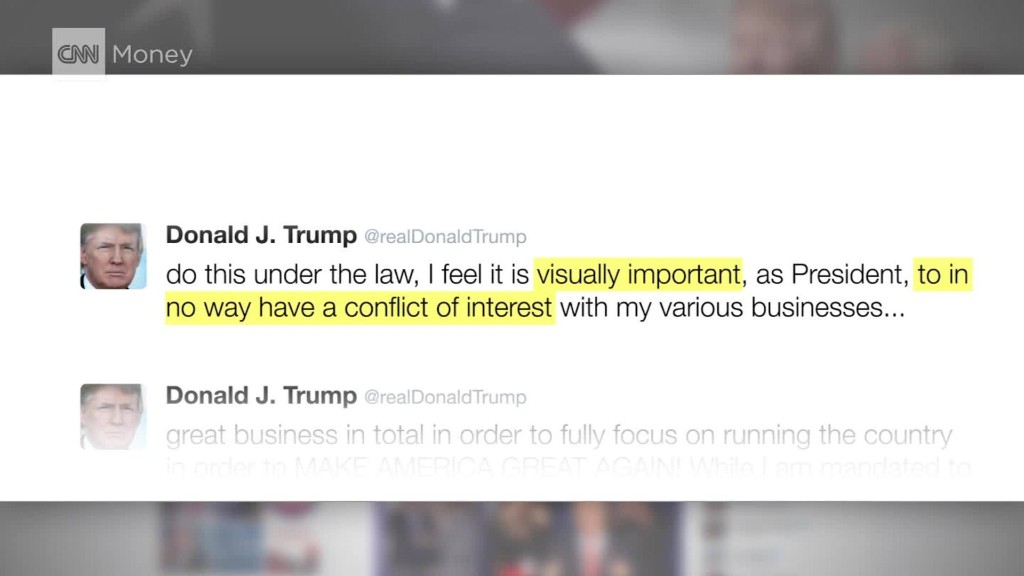 A bipartisan group has a clear message for President-elect Donald Trump: Divest from your business empire now, and leave your kids out of it.
Ethics experts, activist groups and former lawmakers made the case in a letter to Trump on Friday.
"By combining your presidency with your family business enterprises, you will create ongoing conflict of interest and credibility problems for your presidency," they warned.
Related: Experts say Trump's plan to leave business isn't enough
Many signatories were vocal Trump opponents before his election. But some are notable additions, such as Breitbart News editor Peter Schweizer. Steve Bannon, Trump's chief strategist, helped fund Schweizer's book "Clinton Cash."
Also on the list is John Pudner, who went to high school with Bannon and now leads a grassroots conservative group.
Trump has promised only that he will remove himself from business operations, not that he will sell anything. He plans to announce the details at a news conference with his children next week.
He has previously said he will let the children run the business, which would not eliminate a conflict. Trump would still know where his assets are, and if he kept an ownership stake, he could still profit personally from the policy decisions he makes as president.
Related: Trump vows to remove himself from business
The letter to Trump says this approach is unacceptable, and his family can't be part of the solution.
"This will not solve the real or apparent conflict of interest problems you face as president," it reads.
Instead, the letter advises Trump to put his business enterprises in a "true" blind trust managed by an independent trustee with no family relationship -- and to do it now, before he is president. The trustee would then sell his business assets and reinvest the proceeds. Trump would not have any information about the new holdings.
"This is the kind of approach that has been taken by your predecessors for four decades to protect the integrity of the presidency and the interests of the American people," the letter said.
Trump owns or has a position in more than 500 companies, according to a CNN analysis. That includes about 150 that have done business in at least 25 foreign countries, including Turkey, Qatar and Saudi Arabia.