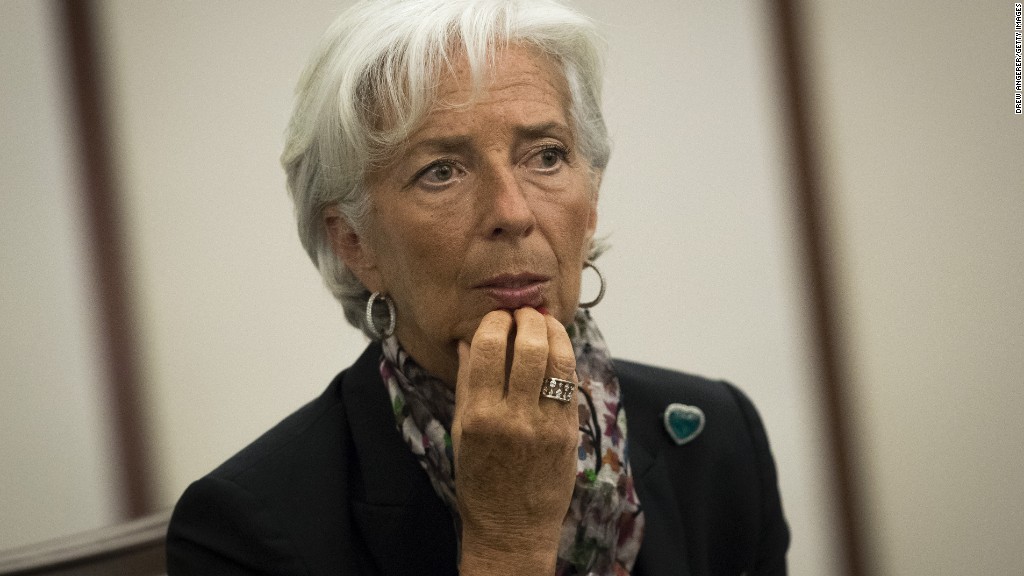 Christine Lagarde, the head of the International Monetary Fund, is preparing to stand trial on charges that she was negligent in her handling of a fraud case dating back decades.
She will be in court for the trial that begins Monday and is set to run until Dec. 20. Lagarde will be taking leave from her job but will still be "working during the evenings and at night with her [IMF] colleagues," a spokesman said.
The case has its roots in the early 1990s and revolves around a tribunal's decision to award a French businessman-turned-politician several hundred million euros of taxpayers' money.
When Bernard Tapie joined the French government in 1992, he decided to sell Adidas (ADDYY) -- the sportswear firm he had saved from bankru ptcy -- to avoid accusations of a conflict of interest.
He instructed Credit Lyonnais to take care of the sale for him. The bank sold Adidas for just under €318 million ($337 million) the following year to a group of buyers, including a subsidiary of Credit Lyonnais. A year later, Adidas was sold again, this time for €533 million, netting the bank a tidy profit.
Tapie sued, claiming he'd been defrauded. By the time the case came to court, Credit Lyonnais was collapsing and the French state had taken over its liabilities. Tapie pursued his claim against the government for a decade until a court awarded him €135 million in damages.
That ruling was overturned on appeal. But rather than leave Tapie to fight on in court, Lagarde -- as economy minister -- decided to refer the matter to arbitration. A special panel of judges awarded Tapie €293 million, plus interest, just months later.
Wasting taxpayers' money?
On Monday, a special court made up of members of parliament and magistrates will begin considering whether Lagarde was negligent in opting for arbitration, and whether she should have challenged the award of such a large sum of taxpayers' money.
Lagarde is the third IMF managing director in a row to face legal proceedings. Her predecessor, Dominique Strauss-Kahn, resigned from the IMF in 2011 after sexual assault charges were brought in the U.S. (They were subsequently dropped.)
And Rodrigo Rato, who preceded him in the job, is currently on trial on corruption charges in Spain.
Lagarde denies any wrongdoing. Her lawyer, Patrick Maisonneuve, says he is confident that the accusations of negligence are "absolutely without any foundation" and that the Court of Justice will find in Lagarde's favor.
The stakes are high. If found guilty, she faces up to a year in jail and a fine of €15,000. And she won't want to become the second French national -- after Strauss-Kahn -- to resign as head of the IMF.