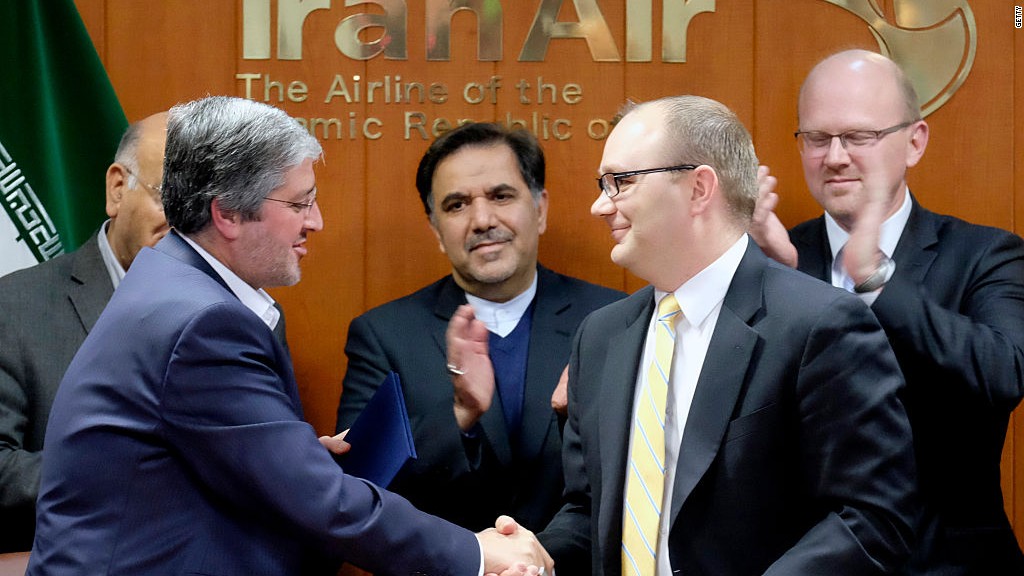 Boeing has finalized its agreement to sell 80 airplanes to Iran Air, despite staunch opposition from many lawmakers, including President-elect Donald Trump.
Iran Air will be getting 50 737 airplanes and 30 777s, the first of which will be delivered in 2018. The deal was originally signed in June.
The total value of the deal is $16.6 billion -- by far the biggest between U.S. and Iranian businesses since the 1979 revolution, which shut off normalized relations between the countries.
The sale was made possible by the Obama administration's lifting of economic sanctions on Iran in September. Shortly after the deal was signed, the Treasury Department approved the delivery of Boeing (BA) and Airbus passenger planes to Iran.
Boeing needed special approval to ensure that Iran doesn't use the planes for military purposes.
In addition to the 80 planes that Boeing will make for Iran Air, Boeing also received a license to "help Iran Air find" 29 other Boeing aircraft from leasing companies.
European aviation giant Airbus, which is Boeing's principal business rival, has a deal with Iran Air for 118 planes.
Iran is working to modernize a fleet that is among the oldest and most dangerous in the world. Years of sanctions left Iran's airlines with outdated and unsafe aircraft. The sanctions were lifted after Iran agreed to curtail its nuclear program.
Many sanctions against Iran still remain. For example, the U.S. continues to block companies from doing business with Iran in U.S. dollars. This has complicated the financing of these huge plane contracts, since many banks are concerned about working with Iran.
For the latest news about Boeing, follow the Boeing stream on the CNN MoneyStream app
Trump has been among the loudest voices of opposition to the lifting of sanctions on Iran, calling it "one of the worst deals the U.S. ever negotiated."
Earlier this week, Trump threatened to cancel Boeing's contract to build the next generation Air Force One, claiming it cost too much. Boeing and other U.S. companies fear Trump's campaign promises of protectionist trade policies, which could undermine efforts by American manufacturers to sell products to new markets around the world.
Boeing said the airplane sales to Iran Air will directly support tens of thousands of U.S. jobs. The company noted that 100,000 Boeing employees will be involved with making good on the deal.
-- Alanna Petroff contributed to this report.