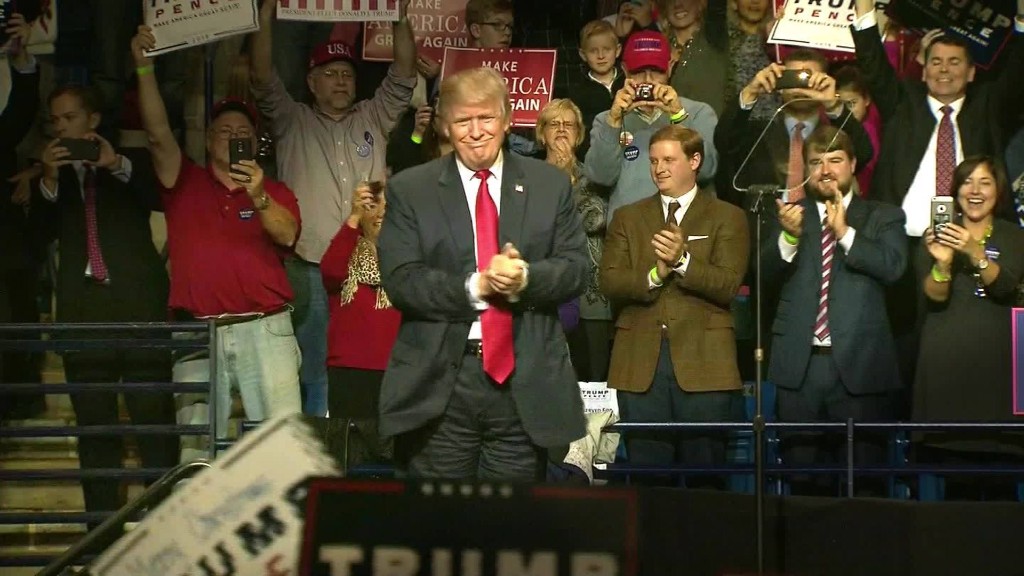 Top execs from Tesla, Amazon, Apple, Alphabet, Facebook and Microsoft are among those set to meet with Donald Trump on Wednesday in New York City.
Invitations were sent to Silicon Valley leaders last week to meet with the president-elect. The meeting is notable because leaders in tech, for the most part, vocally disapproved of Trump's campaign.
According to a source, one name missing from the invite list: Twitter CEO Jack Dorsey, surprising given how much Trump uses the platform. Dorsey and representatives from Twitter did not respond to multiple requests for comment.
The tech industry and Trump administration could clash over some important issues like net neutrality and immigration.
Related: Twitter will not be at Trump's tech summit
The focus, however, will be on jobs, according to a source familiar the meeting. Also on the agenda is how tech companies can help make government operate more efficiently.
The meeting is expected to take place at 2 p.m. ET.
Amazon (AMZN) CEO Jeff Bezos; Apple (AAPL) CEO Tim Cook; Alphabet CEO Larry Page; Facebook (FB) Chief Operating Officer Sheryl Sandberg; Microsoft (MSFT) CEO Satya Nadella; and Intel (INTC) CEO Brian Krzanich plan to attend, according to sources with knowledge of the situation. Elon Musk, CEO of SpaceX and Tesla (TSLA), will also attend.
Travis Kalanick of Uber was invited but won't be attending. A source close to the company said Kalanick is in India on a previously scheduled trip. A spokesperson from Airbnb said the company would not be in attendance.
"While we're unable to send a representative to this meeting, we look forward to working with the incoming administration, and others in Washington, on a range of issues," the spokesperson said.
Bezos and Trump have had a contentious relationship, which played out in headlines during the campaign. Trump took issue with Bezos' 2013 purchase of the Washington Post, arguing that he did so to keep Amazon's taxes low and to avoid antitrust scrutiny. The Post was one of the media outlets that Trump blacklisted for unfavorable coverage.
For his part, Bezos has taken issue with Trump's rhetoric, saying it "erodes our democracy around the edges.
Eric Schmidt, Alphabet's executive chairman, will also be attending. Schmidt offered support to Hillary Clinton's campaign and was said to have interest in being its "head outside advisor," according to hacked emails.
They'll join Cisco (CSCO) CEO Chuck Robbins and Oracle (ORCL) co-CEO Safra Catz, who CNNMoney previously reported would be attending.
IBM (IBM) CEO Ginni Rometty, who is part of Trump's newly established policy forum, will also attend.
Invitations to meet with Trump were signed by Trump's son-in-law and adviser Jared Kushner, chief of staff Reince Priebus, and billionaire tech investor Peter Thiel.
Thiel, who broke from many other people in tech in supporting Trump early, has been a link between Trump and Silicon Valley.
But overall, Silicon Valley pulled out the stops during the campaign to highlight why they believed Trump would be bad for innovation.
One open letter against Trump was signed by 145 tech leaders, including well-known names like Apple cofounder Steve Wozniak, Slack CEO Stewart Butterfield, IAC's Barry Diller, Reddit's Alexis Ohanian and Wikipedia's Jimmy Wales.
LinkedIn founder Reid Hoffman came out with a card game to slam Trump, and Sam Altman, who heads up elite Silicon Valley accelerator Y Combinator, compared Trump to Hitler.
--Rachel Crane, Dylan Byers and Seth Fiegerman contributed to this report.