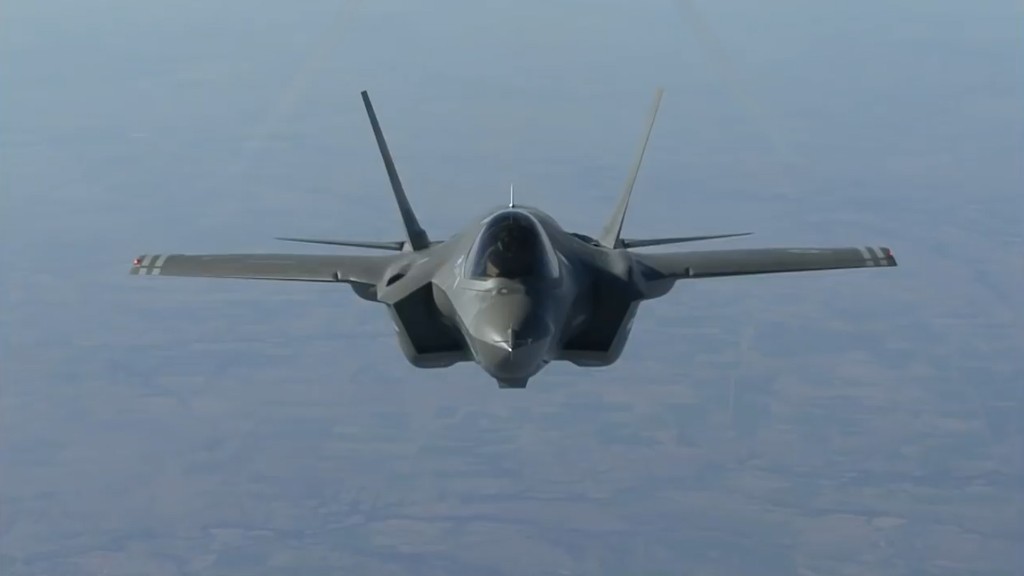 Here we go again. Donald Trump has tweeted another critique about a major defense company -- and the stock immediately fell.
Trump tweeted Monday morning that "the F-35 program and cost is out of control. Billions of dollars can and will be saved on military (and other) purchases after January 20th."
Shares of Lockheed Martin (LMT), which makes the F-35 fighting jets, plunged 4% following Trump's tweet.
According to the fiscal 2017 Department of Defense budget released earlier this year, the Pentagon planned to spend $10.1 billion for F-35s -- 43 F-35As for the Air Force, 16 F-35Bs for the Marine Corps and 4 F-35Cs for the Navy.
It's not clear what prompted Trump to tweet about the F-35. He also didn't elaborate about how specifically he would try and save money on the F-35.
But current Defense Secretary Ash Carter is now in Israel in order to help celebrate the delivery of two F-35 jets there.
Several stories about Carter's visit have pointed out that the F-35 program costs about $400 billion overall for the next few years, making it the Pentagon's most expensive program.
And Trump appears to be a voracious consumer of the news, often tweeting relatively quickly after seeing something reported on TV.
The F-35 program has also been criticized by Republican and Democratic members of Congress for delays and cost overruns during the past few years.
Sen. John McCain, the Republican from Arizona and 2008 GOP presidential nominee, said in April that repeated problems with the F-35 were "both a scandal and a tragedy."
Related: Good to be on Trump's blacklist. Stocks he bashed soar
Lockheed Martin's F-35 Program Manager Jeff Babione said in Israel Monday that he "looks forward to any questions the President-elect might have" about the program.
"I certainly welcome the opportunity to address any question that the President-elect would have about the program," he added. "Lockheed Martin and its industry partners understand the importance of affordability for the F 35 program."
Trump's attack on Lockheed is just his latest use of his Twitter feed as a means to try and shame big companies into negotiating better terms with the government.
Trump tweeted his concerns about the price of Air Force One last week as well. And shares of Air Force One maker Boeing (BA) quickly fell following his attack.
But Boeing's stock quickly recovered, largely due to the realization that it and other defense companies could be big winners with Trump in office and Republicans controlling Congress.
In fact, Boeing and shares of several other companies that Trump has attacked on social media, TV or in print have actually done well since the election, including Carrier owner and defense contractor United Technologies (UTX) and Ford (F).
United Technologies was trading lower on Monday though. Its Pratt & Whitney unit makes the engine for the F-35 Lightning II.
Shares of two other defense companies that are also partners in the F-35, Northrop Grumman (NOC) and U.K.-based BAE Systems (BAESY), were lower as well.
-- CNN's Zachary Cohen, Ian Lee and Samantha Beech contributed to this story.