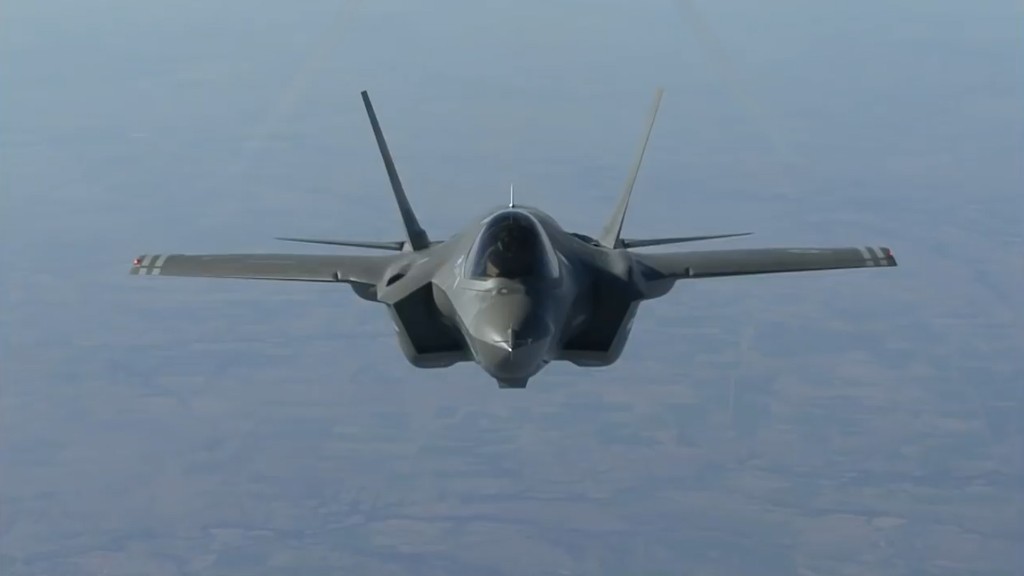 Donald Trump has put every CEO in America on alert.
Be ready for Trump to tweet about your company -- and not in a flattering way.
Today Lockheed Martin (LMT) is on Trump's bad list. "The F-35 program and cost is out of control. Billions of dollars can and will be saved on military (and other) purchases after January 20th," he tweeted, sending the stock down nearly 4%.
Last week, Trump lashed out at Boeing (BA) for costs that are "out of control" on a new Air Force One plane. "Cancel order," he tweeted.
"I'd be ready. I'd put a new red phone on my desk if I were CEO," says Craig Wortmann, a clinical professor of Entrepreneurship at the University of Chicago Booth School and CEO of Sales Engine Inc.
This is the new normal between the incoming Trump administration and the business world.
On the one hand, Trump is ushering in the most pro-business sounding team in years. His cabinet is full of CEOs and Wall Street bankers. They are prioritizing big tax cuts for business and a regulatory rollback.
Optimism in corporate America is soaring. The stock market is at record highs. And executives are giddy, according to the latest surveys by Business Roundtable and the American Institute of CPAs.
But then there's the wild card: Will Trump come after your company? (Or your country, as he did again with China over the weekend).
Related: Trump attacks F-35 maker for 'out of control' costs
Trump: A new FDR?
"You can imagine what happened behind the scenes at Boeing," says Greg Matusky, CEO of public relations firm Gregory FCA. "They went into full emergency mode. CEOs need to be prepared for that."
Engaging with Trump quickly is key, says Wortmann. CEOs on Trump's receiving end have to react with a "crisis communication" mindset to get the facts out there. Boeing, for example, had to correct the record that its current Air Force One contract cost $170 million, not the $4 billion Trump claimed in his tweet.
Pundits have called Trump's tactics going after specific companies unprecedented. But Richard Sylla, an economic and financial historian at New York University professor, thinks that America has seen something like this before (albeit not with Twitter (TWTR)).
"Trump is not committed to any ideology. He likes to make deals. In that sense, he is a bit like Franklin Roosevelt," says Sylla. "Roosevelt just tried a lot of programs and hoped some of them worked."
Related: China's richest man warns Trump of risk to U.S. jobs
Figure out what Trump really wants
Perhaps the best advice to CEOs comes from expert negotiator Roger Martin. He's telling executives right now: Don't take everything Trump tweets literally.
"Take him seriously, but not literally," says Martin, author of "Playing to Win" and director of the Martin Prosperity Institute. He thinks this is just how Trump negotiates.
When Trump tweeted about Boeing, it didn't mean he was actually going to cancel the Air Force One contract. Instead, Martin argues, it appears Trump wanted to discuss lowering government costs.
"Figure out what he's serious about," says Martin. Then talk it out with him.
That's what Carrier (and its parent company United Technologies (UTX)) did when it negotiated with Trump to keep some jobs in Indiana instead of moving them to Mexico, as planned. In the end, Carrier is still moving 600 (out of 1,400) jobs abroad. Plus, the company received tax incentives and went from Trump's bad list to his good list.
As for Boeing, the company is actually more worried about Trump's China stance than his tweets about Air Force One, according to current and former executives.
Related: FedEx CEO: Tearing up NAFTA would be 'catastrophic'
'Get used to it' on Trump tactics
Trump and his various surrogates, including hedge fund billionaire Carl Icahn, have repeatedly said the top priorities are: Growing the economy by boosting business, creating/saving U.S. jobs, cutting government costs and fairer trade.
"I think Donald wants to create jobs," Icahn said on Bloomberg last week.
It's clear Trump will continue to call out companies like Carrier that are planning to move jobs to Mexico and government contractors where he likely has leverage to negotiate on costs and jobs.
But Icahn encourages CEOs to focus on the big picture.
This is "going to be a very pro-business government and president," Icahn told CNN's Poppy Harlow on Friday. "The government is not going to fight business."
Overall, the business community likes what it's hearing from the Trump team.
"I'm working with CEOs. My advice to them is we can't be negative as business people. We have to be positive," says Matusky, of Gregory FCA.
But CEOs are also making sure their PR teams are ready to respond the second Trump tweets.
"I don't think Trump's style is going to change when he's president. This is the new normal. Get used to it," says Matusky.