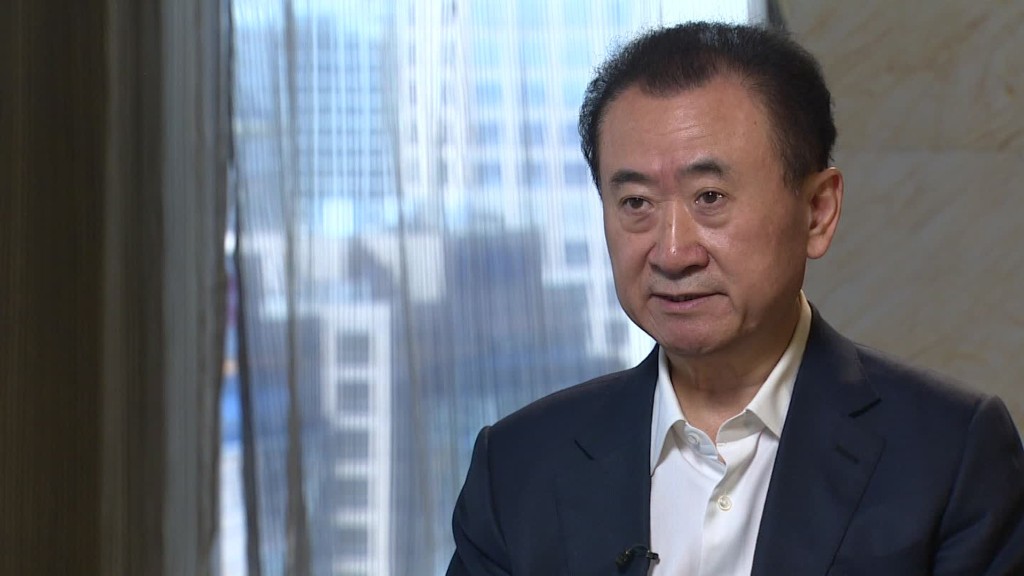 China's richest man has a stark warning for Donald Trump: thousands of American jobs will be at risk if he's prevented from buying U.S. companies.
Wang Jianlin, the billionaire chairman of real estate and entertainment giant Dalian Wanda Group, has made a series of high-profile Hollywood acquisitions in recent years and says he wants to invest more in the U.S.
But his growing clout has unnerved some U.S. lawmakers and prompted calls for tougher government scrutiny of such deals.
At an event in Beijing over the weekend, Wang shrugged off the concerns in Congress and said he's taking his case straight to the president-elect.
"I met the chairman of the Motion Picture Association of America, he said he will be meeting Mr. Trump soon and asked if I have any message I want to send," he said. "I told him that I've invested $10 billion along with 20,000 employees in the United States. 20,000 people might lose their jobs if anything goes wrong."
Related: This Chinese tycoon wants to conquer the entertainment world
Wang's growing collection of U.S. entertainment businesses includes AMC Theaters (which is swallowing up Carmike Cinemas (CKEC)), movie studio Legendary Entertainment and a recent deal to buy Dick Clark Productions, which produces the Golden Globes and other awards.
He told CNNMoney in September that he still wants to buy one of Hollywood's "Big Six" studios, which includes the likes of 20th Century Fox (owned by Rupert Murdoch's 21st Century Fox (FOX)) and Warner Bros (owned by CNN parent Time Warner (TWX)).
Wang said at the weekend that the objections from Congress were just one view among many.
"I think we need to wait until after Mr. Trump takes office to see what his attitude is toward Chinese entertainment companies," he said, adding that Trump "needs to understand" that Hollywood movies are relying on the Chinese market for growth.
Related: Trump attacks China on trade but misses the mark
Trump's position on Chinese investment in the U.S. isn't clear. His campaign rhetoric focused mainly on the trade in manufactured goods between the world's two largest economies, accusing China of taking American jobs by not playing by the rules.
The president-elect has threatened to label Beijing a currency manipulator and slap tariffs of as much as 45% on Chinese products coming into the U.S., raising the risk of a trade war.
But experts say there are more pressing concerns like China's restrictions on foreign investment -- including in media and entertainment -- and policies that tend to favor domestic firms.
Even before his inauguration next month, Trump has already strained the relationship between Washington and Beijing by questioning the U.S. government's long-standing approach to the sensitive topic of Taiwan.
-- Serena Dong contributed to this report.