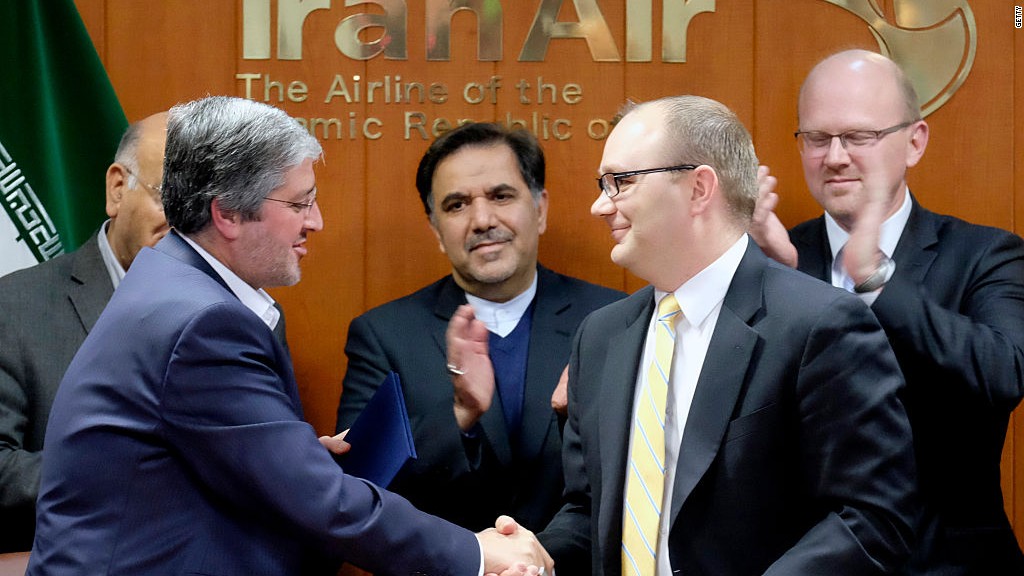 A day after finalizing a deal with Iran Air for 80 aircraft, Boeing says it is cutting output next year of its long-range 777 airliner.
As Boeing (BA) wades into the murky political waters of selling planes to Iran Air, the company suggested the rate for its most profitable big airliner might have dropped further without the deal.
Today, Boeing builds 100 777 airliners each year and that will drop to pace of 60 annually, or five each month, starting in August. It previously announced plans last year to cut to just seven per month next year, as it struggled to secure enough orders.
"Several ongoing twin-aisle campaigns...haven't concluded in time to keep the rate steady," wrote Elizabeth Lund, Boeing's 777 program vice president.
The company expects job losses as a result of the cut, but Lund said, "The exact number of affected positions has not been determined." Thousands of jobs are tied directly to production of the 777 in Washington state.
Included in the Iran Air agreement are 15 current-generation 777-300ER jetliners. Those would be the first new Boeings delivered to Iran Air starting in 2018.
The deal with Iran Air will find itself in the political cross hairs as President-elect Donald Trump weighs the future of the nuclear agreement and its provisions that allow Western firms to sell to Iran.
The Boeing deal will face intense political opposition when Congress returns in January.
"There is strong opposition on Capital Hill to this deal and strong opposition on an incoming basis with the new administration to this deal. I think the likelihood of those Boeing planes ending up in Iranian hands diminishes by the day," Congressman Peter Roskam, one of the deal's chief opponents, said Monday.
Boeing's deal with Iran was not enough to prevent the latest cut, said Lund, but it did keep the rate from going lower.
"The decision to reduce rate, however, already factored [the deal with Iran Air] into our assessment of the near term market landscape," said Boeing's 777 Vice President Elizabeth Lund in a message to employees Monday.
The 777 airliner is the backbone of global international air travel and the production rates are closely watched by investors as they gauge the company's profit. Today's news has been long expected by investors, but exactly how low the rate would fall was not clear.
For Boeing's finances, each 777 brings in between $120 million to $160 million in revenue.
Boeing is entering a major transition for the 777 airliner, switching production over to the heavily updated 350-to-400 seat 777X, which won't start carrying passengers until 2020. In October, Boeing's chief executive said that as it produces the first 777X test airplanes in 2018, it will only build on average three and a half aircraft for delivery each month.