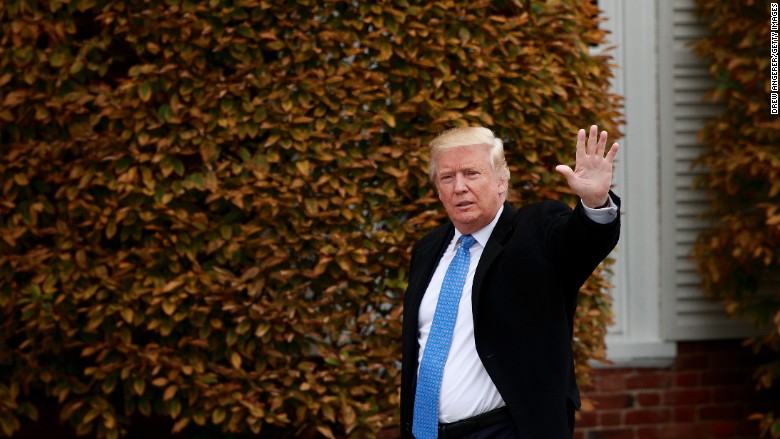 Donald Trump has promised as president to end US involvement in what he has deemed unfair trade agreements, singling out NAFTA and the pending Trans-Pacific Partnership as harmful to American workers and interests.
On Friday, the Trump team announced that Rolf Lundberg, a former lobbyist for the Chamber of Commerce who publicly defended NAFTA, would be on the transition landing team related to trade.
The Chamber of Commerce has strongly supported the TPP in recent years and has criticized Trump's rhetoric on NAFTA and free trade in general.
Past press clippings found by CNN's KFile also show Lundberg publicly defended NAFTA and outsourcing.
"The US economy is resilient,'' said Lundberg said in 2004 to the Pittsburgh Post-Gazette. "There have been waves of anxiety about job losses that have passed over us before. The great sucking sound of NAFTA turned out to be essentially just noise."
On a 2006 panel, Lundberg called implementing NAFTA and increasing trade between the US and NAFTA partners a top priority of the US business community.
In 2003, Lundberg was quoted in Computerworld saying legislation impeding outsourcing would "undermine efforts to open new markets overseas" and invite "some form of response and retaliation" by foreign nations.
The same year, IT World Canada quoted Lundberg as saying "protectionist" policies would hurt the US in the long run.
Lobbying records filed by the chamber with the House and Senate show Lundberg, formerly a senior VP of congressional and public affairs with the group, was registered to lobby for them related to issues involving the TPP in 2012. A Chamber of Commerce spokesperson denied Lundberg lobbied for TPP, despite being listed as such, noting many staffers were listed on the form for many issues.
When reached for comment, Lundberg would not say whether or not he maintained his past positions on trade issues and referred all questions to the presidential transition team. A Trump transition spokesperson did not reply to a request for comment.