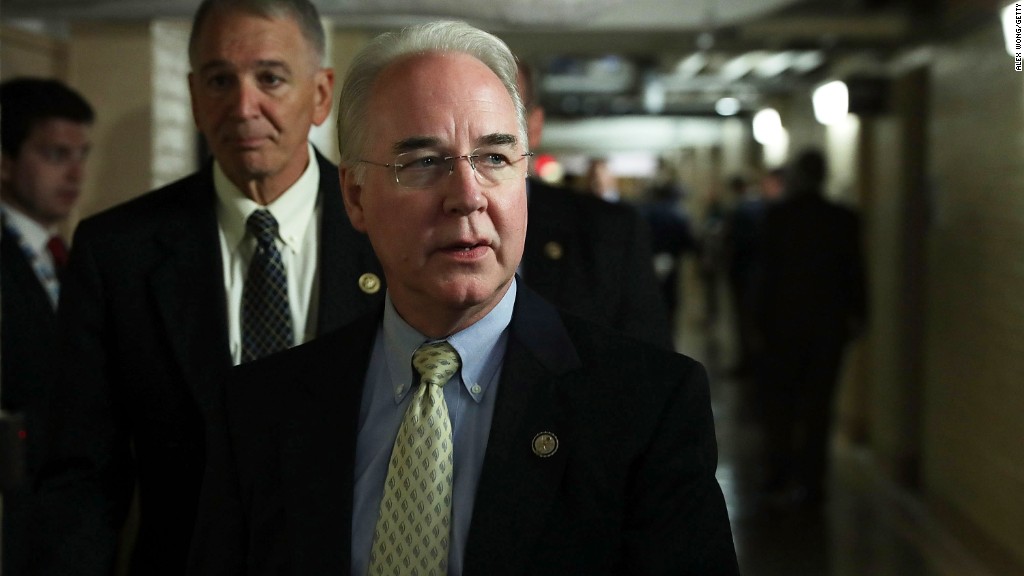 In picking Tom Price to be Secretary of Health and Human Services, Donald Trump has chosen an orthopedic surgeon who in his congressional career, has loyally promoted the interests of the medical profession — its freedom and importantly, its financial interests.
A conservative representing Georgia's 6th District, Price sponsored a 2015 bill that would restrict efforts to reduce doctor payments for medical services. He cosponsored another 2011 bill that would have limited reports used by hospitals and regulators to perform background checks on doctors before hiring them.
A fierce critic of Obamacare, Price has tried to block efforts by Medicare to scale back payments for expensive chemotherapy and to limit large payments for hip and knee replacements. He also has taken the lead in trying to impose federal controls on medical malpractice suits.
Most of Price's proposals stalled in Congress, but he now stands a better chance of implementing his ideas with a powerful cabinet position and a Republican-controlled White House and Congress.
"Instead of having a secretary for the people, you have a secretary for the medical profession," said Max Mehlman, a law professor at Case Western University, who specializes in medical malpractice and reviewed Price's proposal.
The American Medical Association, the doctors' professional group whose members are among Price's top campaign supporters, says he brings a unique perspective to the job of HHS secretary, a role traditionally filled by foundation executives, career politicians, social scientists, lawyers and public health experts.
The most recent physician to hold the position was Dr. Louis Sullivan who served under George H.W. Bush.
"As a lawmaker, Dr. Price has had the valuable ability to see how legislation and regulation would affect patients and their physicians," Dr. Patrice Harris, chair of the AMA board of trustees, said in a statement to Kaiser Health News.
Related: Uncertain fate of Obamacare leaves health care industry reeling
Price, who founded a large orthopedic practice in suburban Atlanta, did not respond to interview requests. He came to Congress with strong backing from medical interests, including the AMA and trade groups representing orthopedic doctors, dentists and anesthesiologists, according to campaign finance data compiled by the nonprofit, nonpartisan Center for Responsive Politics.
But there isn't consensus in the medical community about his appointment. Within days, more than 5,500 physicians from a wide array of backgrounds signed a petition protesting his appointment.
"Dr. Price's proposed policies threaten to harm our most vulnerable patients and limit their access to health care," wrote the group, citing his stance on Medicaid. "Dr. Price purports to care about efficiency, while opposing innovations by the Centers for Medicare & Medicaid to improve value and eliminate waste in health care."
Price describes himself as the "go-to Republican on quality health care policy," according to his website. He mobilized GOP opposition to the Affordable Care Act and proposed alternate plans, the most recent in May 2015, called the Empowering Patients First Act.
Price's alternative includes Health Savings Accounts to help individuals pay for health insurance, a concept now embraced by the Trump team.
Related: How Trump's health secretary pick would replace Obamacare
But the bill also includes fine print calling for "lawsuit abuse reforms" that would allow the HHS secretary to give states money to create tribunals to review malpractice claims. The process would make it more difficult for patients to prove medical error, setting the standard at "gross negligence."
Chip Wagar, a New Orleans malpractice lawyer who advises a patient advocacy group, said Price's proposal, if implemented, would mean that "checks and balances that have been in place, which are already friendly to the medical profession, would be even further tilted away from patient and victims' rights."
The AMA did not support Price's 2015 bill, although it has supported specialized health courts.
In 2011, Price cosponsored a bill that would limit reports to the National Practitioner Data Bank, a confidential repository of information, such as malpractice judgments and hospital discipline, about doctors and other health professionals. The information is used by health licensing boards and hospitals making hiring decisions.
The bill, which died in committee with 15 GOP co-sponsors, would have allowed physicians to contest reports to the databank by hospitals that deny doctors' access to their facilities due to questionable performance.
Dr. Michael Carome, director of Public Citizen's Health Research Group, a consumer advocacy group, said the proposal would have made it more difficult for hospitals to adequately oversee physicians.
"Dr. Price is a physician who is just obviously responding to pressure from colleagues in the medical field who'd like to be exempt from being held accountable," said Carome, who also reviewed Price's malpractice proposal.
Price's Obamacare replacement bill would also bar states from limiting doctors' charges for medical services.
Price opposed a Medicare proposal intended to rein in spending for medications doctors administer to patients, such as intravenous chemotherapy drugs. Medicare officials have said spending on such drugs went from $3 billion in 2007 to $8 billion in 2015.
The change, which has not been approved, would have eliminated incentives for doctors and hospitals that earn higher payments by prescribing more expensive drugs.
Price cosponsored a bill in March to block final implementation of the proposal, saying it would force some doctors -- particularly those in small practices -- to lose money and harm vulnerable patients by limiting their access to care.
The nonpartisan Congressional Budget Office estimated that Price's proposal to ax drug pricing limits would cost taxpayers $395 million from 2016 to 2026.
Related: These people are opting out of Obamacare
Price sought to delay implementation of another plan to pay doctors a flat rate for joint replacement surgery, eliminating situations where Medicare covers the added costs of patient infections or prolonged physical therapy.
Tom Miller, a resident fellow with the American Enterprise Institute, a conservative think tank, said Price's opposition to cost-cutting proposals arises from a free market philosophy that less government intervention is better.
"Many of those objections are to how the cost cutting are being done — a brute-force, top-down bureaucratic approach," he said. "His opposition is to government control of more aspects of health care — that's the driving force. It's a shared point of view if you're a Republican conservative doctor."
Kaiser Health News is national health policy news service that is part of the nonpartisan Henry J. Kaiser Family Foundation.