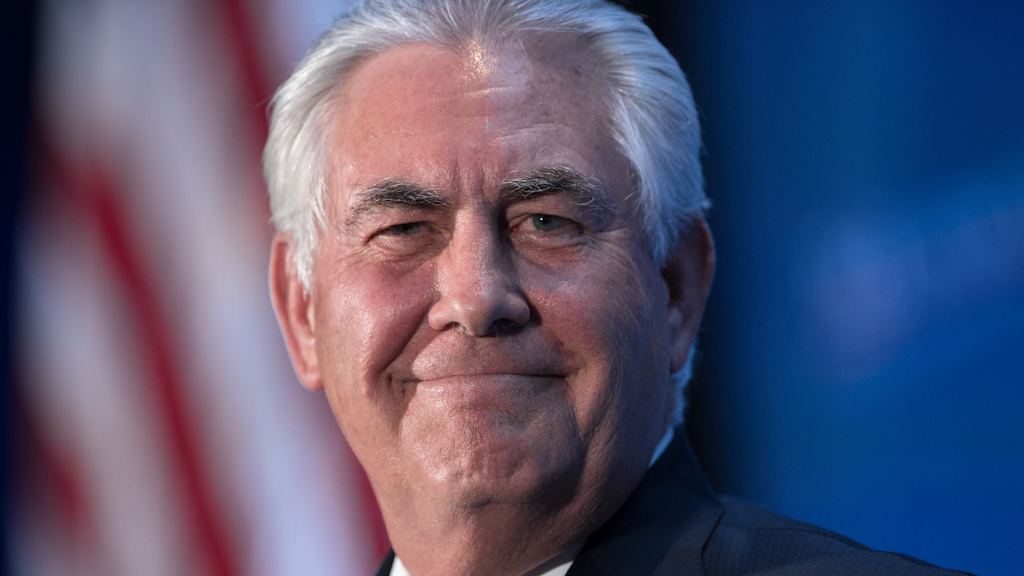 If Rex Tillerson goes from running Exxon Mobil to running the State Department, he'll take a big pay cut.
Tillerson has made more than $240 million since 2006 as CEO of the world's largest oil company, including $24.3 million last year alone. As America's top diplomat, he would pull in a relatively paltry $203,700 a year.
Tillerson's compensation from Exxon is so substantial that even the company's contributions to his savings plan last year dwarf what he would make as secretary of state. Exxon contributed $213,290 to his tax-qualified retirement savings account last year, according to company filings.
The company also paid $96,000 worth of life insurance premiums on his behalf. He got nearly $74,000 worth of personal travel aboard the company's private jets, and was allowed to use company property for personal recreation, valued at about $24,000.
Related: Rex Tillerson leading candidate for secretary of state
Sources tell CNN that Trump will select Tillerson to be his secretary of state nominee. Trump tweeted Monday that he expects to announce his selection Tuesday morning.
Tillerson, 64, is a lifetime Exxon employee who worked his way up the ranks managing the company's Russia account.
His relationship with Russia was one of the reasons Tillerson was selected to succeed Lee Raymond as CEO of Exxon in 2006, according to Steve Coll's book "Private Empire: ExxonMobil and American Power."
Tillerson will reach Exxon's mandatory retirement age of 65 in March and has been expected to retire then.
If nominated and confirmed, Tillerson will join a cast of billionaires and multimillionaires in the administration.
Related: Trump assembles a team of billionaires
Andrew Puzder, President-elect Donald Trump's nominee for Labor secretary, is the CEO of the company that owns Hardee's and Carl's Jr. fast food restaurants. His base salary was about $1 million in 2012, according to a regulatory filing. The company is now privately held.
--CNN's Jim Acosta and CNNMoney's Matt Egan and Chris Isidore contributed to this story.