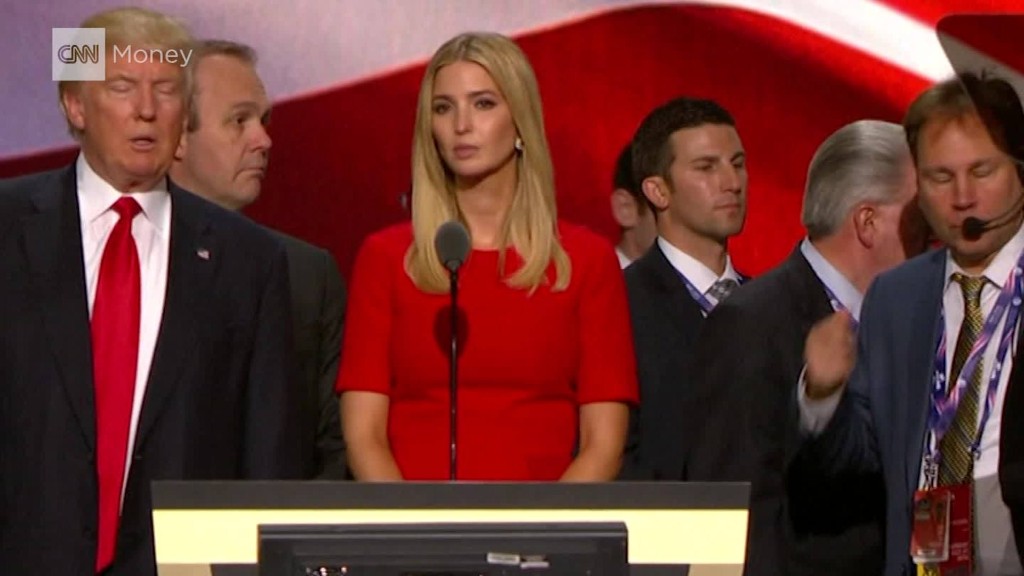 If President-elect Donald Trump really does pick a fight with China over trade, his own daughter's shoe business will be among the casualties.
Trump has threatened a 45% tariff on imports to correct a trade imbalance with China. If he follows through, Ivanka Trump's line of clothes, shoes, handbags and accessories, which relies heavily on cheap Chinese labor, will be hit hard.
Her company is private, so there is no way to know how much such a tariff would cost her. But Ivanka Trump's products were streaming into the United States even as her father was railing against China in the closing months of the campaign.
A recent analysis of import records obtained by CNN shows that more than 60 shipments of Ivanka Trump brand merchandise came into American ports in the last three months.
In the past year, more than 200 shipments have arrived in the United States, all from factories in mainland China and Hong Kong, according to the records.
Robert Lawrence, a professor of international trade and investment at Harvard, started looking into the Trump brand after he heard Donald Trump talking about Nabisco, trade and Oreo cookies on the campaign trail. Mondelez, which owns Nabisco, had announced plans to cut 600 jobs at a Chicago plant and shift production to Mexico.
"They're leaving Chicago," he said at a campaign rally last year. "Which means I'm never going to eat an Oreo again. I'm serious. Never."
Related: Donald Trump and Hillary Clinton are angry about Oreos
Lawrence asked his assistant to find out where the Trump family makes things. He found that none of Ivanka Trump's products was made exclusively in the U.S.: 628 were imported, including 354 made in China.
"It was very striking to me that Mr. Trump was objecting to the behavior of Nabisco, where in fact he and his daughter relied almost entirely on imported products," he told CNN.
Earlier this year, CNN tracked Donald Trump's clothing line to manufacturers in China, Indonesia and Bangladesh. Macy's, the main seller, dropped the Donald Trump line in 2015 after he called Mexican immigrants rapists and criminals, and has said there are no plans to bring it back.
Related: Macy's won't bring back Trump clothing line
But Ivanka's line is going strong. When CNN asked whether that might change now that her father has been elected president, her company said in a statement: "We have consistently expressed that we share industry leaders' interest in bringing more manufacturing opportunities to the U.S. and are looking forward to being a part of the conversation."
The company would not answer other questions about Ivanka Trump's business or whether she had discussed a tariff on Chinese-made goods with her father.
Related: Ivanka Trump's company: Our mission is not political
Moving large-scale garment manufacturing to the United States is unlikely, experts say. Scott Nova, who studies the industry for the Worker Rights Consortium, which monitors labor conditions around the world, said he doubts any lost garment jobs will come back, no matter who is president.
"There is a worldwide search for the countries with the lowest wages and the least regulation, which makes it possible to produce extremely cheaply," Nova said. "I'm unaware of any way in which the Trump brand has taken a different approach than the one that is, unfortunately, standard in the industry."
He said that for some companies, Chinese workers making more than $1 an hour are too expensive -- so they've moved to Bangladesh, where garment-makers earn 30 cents.
--CNN's Zachary Leja contributed to this report.