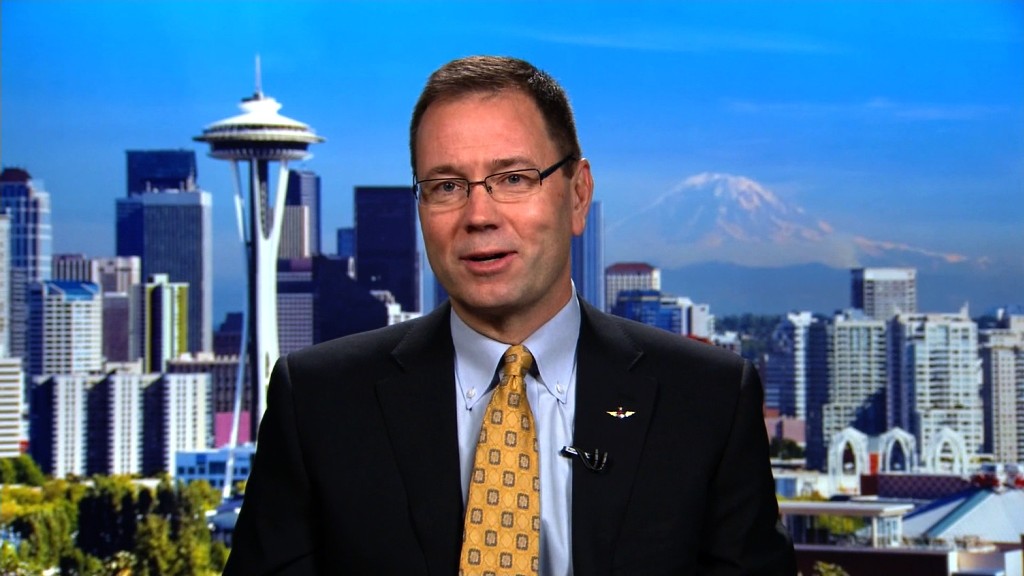 Alaska Air Group said Wednesday it has completed its $2.6 billion acquisition of Virgin America, the brainchild of billionaire Richard Branson.
The combined airline will have nearly 1,200 daily flights and 286 aircraft. It will be focused heavily on expanding from its new hubs in California, and have connecting flights around the U.S.
The merger creates the country's 5th largest airline, but holds a comparatively tiny share of the U.S. domestic airline market. American Airlines (AAL), Delta Air Lines (DAL), United Airlines and Southwest Airlines (LUV) control 84% of the U.S. market.
Alaska and Virgin are already looking a little different because of the deal. Starting Wednesday morning, Alaska Airlines' Boeing 737s had red and blue cabin mood lighting, a nod to Virgin America's lounge-like pink and purple interior.
For travelers, there will be few immediate changes.
Starting next Monday, frequent fliers of both airlines will be able to collect miles and points toward free flights and elite status. Virgin's flights will also become available for purchase through Alaska's website. Elite flyers will be able to use priority check-in desks and boarding lines on both airlines. On January 9, Virgin's elites will officially be invited into Alaska's frequent flier program.
Related: Alaska Air buys Virgin America for $2.6 billion
The deal was announced in April. The U.S. Department of Justice required Alaska to remove its flight number from 45 American Airlines routes and on some overlapping flights. Alaska Air also settled a lawsuit by passengers and travel agents who opposed the merger.
Alaska now begins the arduous process of integrating Virgin America, its employees, Airbus (EADSF) planes and products into its mostly Boeing (BA) Seattle-based operations.
The two airlines bring two different business approaches.
Virgin, which has been in business only nine years, has catered to younger and higher-income passengers. It has courted the California tech and entertainment community with flights that went up and down the West Coast and to the East Coast.
Alaska is more than 80 years old. It is a Pacific Northwest favorite for its highly-ranked customer service, but it doesn't have the flash that Virgin's customers might expect.
Related: Virgin America stock soars on news of takeover bids
At least for now, Virgin will continue to operate under its current name, Alaska Airlines chief executive Brad Tilden said.
"This is a big decision and one that deserves months of thoughtful and thorough analysis. We plan to make a decision about the Virgin America brand early next year," Tilden said.
The new airline, so far, is embracing those differences. It handed out salted caramel candy on its flights on Wednesday, and bacon donuts to arriving passengers. Cards given to customers said the pairing of the two airlines "was an unlikely combo, too."