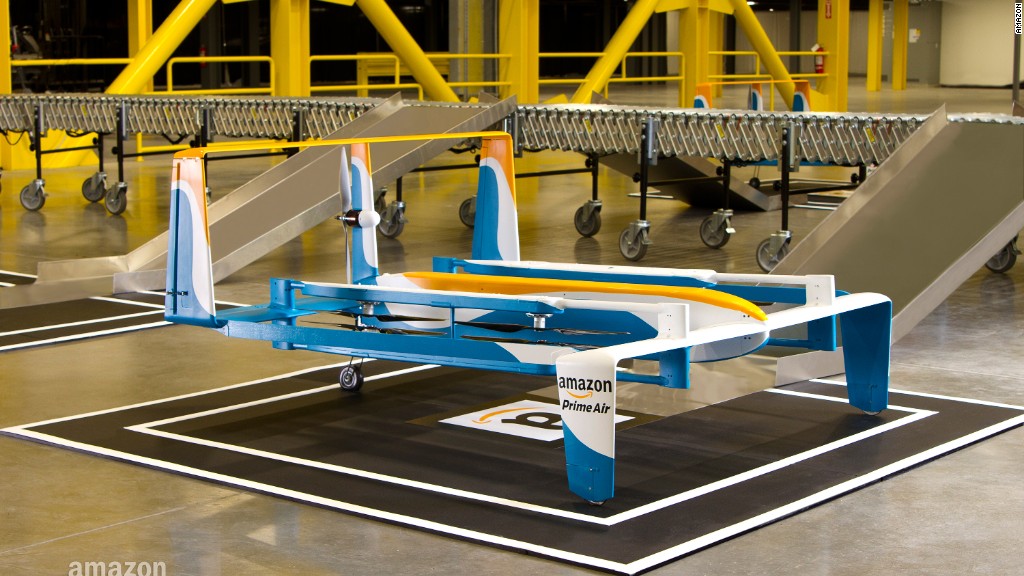 Amazon has kicked off a private trial of its highly anticipated drone delivery program.
For now, there are only two U.K. customers in the program. Amazon said it would expand to dozens of customers near its British facility in the coming months and later grow to hundreds. The trial is limited to daytime deliveries during suitable weather. Amazon is making the deliveries in 30 minutes at no extra cost.
A week ago in Cambridge, Amazon (AMZN) used one of its autonomous drones for its first delivery, an Amazon Fire TV and a bag of popcorn. Amazon said it took 13 minutes from the customer clicking "order," to the package being delivered.
There's broad interest in the tech world in using drones to make delivery fast and efficient. Earlier this year Google (GOOGL) delivered Chipotle burritos at Virginia Tech. It has reportedly talked to Starbucks about delivering with drones. And Domino's has delivered pizzas in New Zealand via a drone.
U.S. residents shouldn't expect to get an Amazon drone delivery anytime soon. Amazon's drones fly autonomously and outside a human's line of sight. Such a flight isn't currently legal in the United States. Amazon has an arrangement with the British government to test its drones.