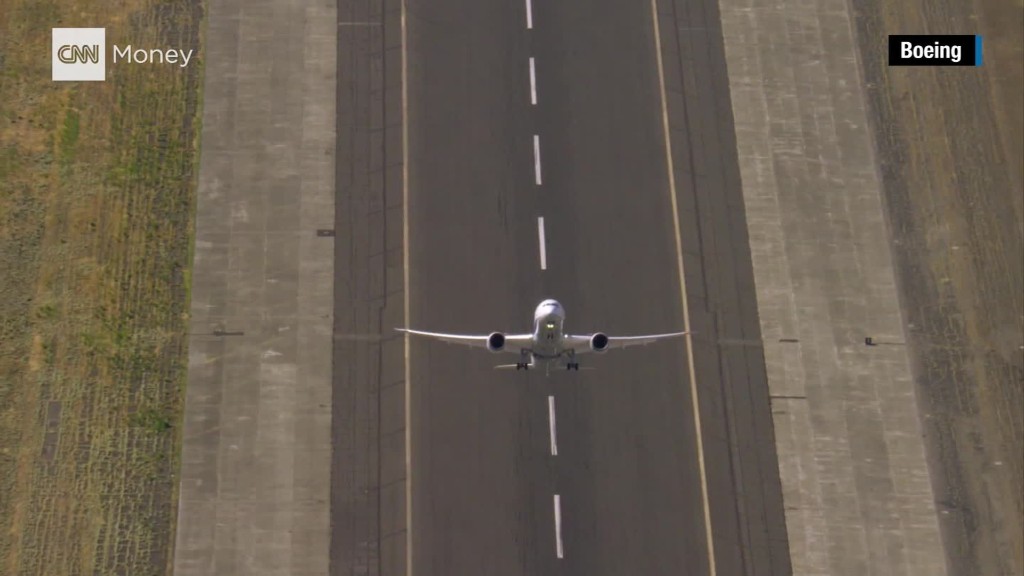 How many American jobs depend on China's booming demand for aircraft?
The answer is 150,000, according to Boeing vice chairman Ray Conner, who touted the figure at an event held by the National Committee on U.S.-China Relations.
The group, which promotes cooperation between China and the United States, tweeted Conner's comments on Thursday evening. Conner also said that he expects the number of jobs to continue growing.
Boeing (BA) spokesman Doug Adler told CNNMoney that the U.S. Commerce Department has a formula that determines $1 billion in exports supports about 6,000 U.S. jobs. Since Boeing delivered 191 planes with a list price of $24.6 billion to China in 2015, that works out to 150,000 jobs, he said.
President-elect Donald Trump last week criticized the cost of Air Force One, which is a Boeing product.
But company executives are more worried about his antagonism of Beijing. If a trade spat results, Boeing's business in China could be in jeopardy.
Boeing delivered nearly 500 737 jets in 2015, including the 191 that went to Chinese airlines, which are serving a growing middle class that's already as large as the U.S. population.
The market could be worth a trillion dollars over the next 20 years.
Boeing's factories are filled with colorful jets for Chinese airlines: Xiamen, 9 air, Donghai, Ruili, Hainan, Hebei, Shandong and Shenzhen.
Related: Boeing eyes China focus with new sales chief
Trump has already upended decades of U.S. foreign policy by taking an unexpected congratulatory phone call from the president of Taiwan. Beijing, which considers Taiwan to be a "rogue province," lodged a protest with the U.S.
Increased antagonism toward China on trade, or an even closer diplomatic posture toward Taiwan, may have consequences for U.S. businesses - and Boeing has a lot to lose.
Related: China to spend $1 trillion on 6,810 new aircraft
Boeing's position in the U.S. economy is without parallel. It has no competitors in the U.S., and it often touts the number of American jobs supported by its deals.
Traditionally, the president of the U.S. has been Boeing's biggest booster at home and abroad.
"I deserve a gold watch, because I'm selling this stuff all the time," President Obama told Boeing workers in 2012. "I will go anywhere in the world to open up new markets for American products."
China has bet roughly equally on new airliners from Europe and the U.S. to build its airlines. At the same time, China is cultivating its own commercial airliner industry to one day compete with Boeing and Airbus (EADSF).