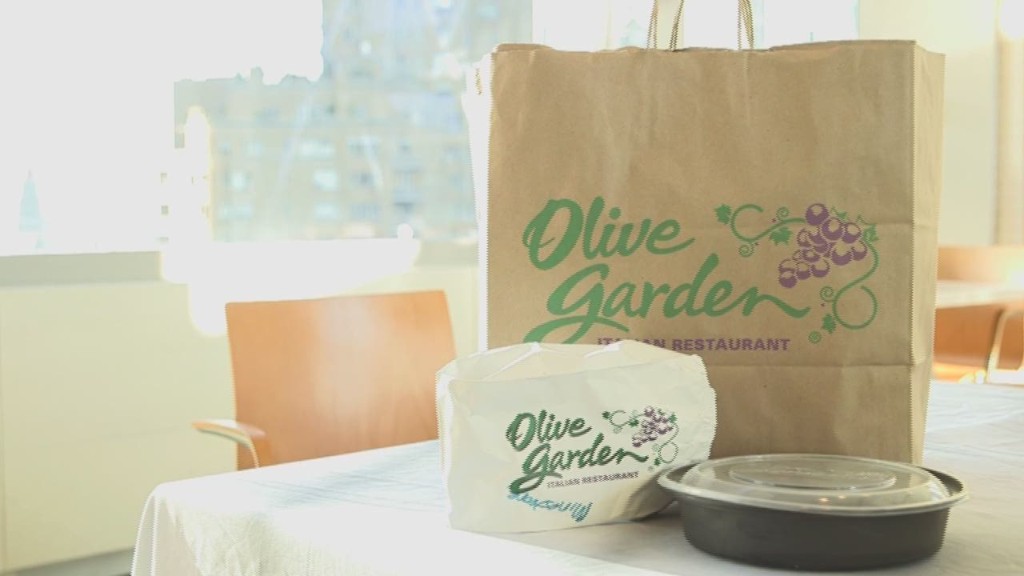 Olive Garden used to be the butt of late night comedian jokes making fun of its never ending pasta bowls and the target of an activist investor who famously put out a scathing report on the quality of the company's food.
But investors who've stuck with Olive Garden parent company Darden Restaurants (DRI) are having the last laugh. Darden reported solid earnings on Tuesday, thanks in large part to a jump in sales at Olive Garden.
The stock rose nearly 3% on the news. Darden is now up more than 20% this year and shares are not far from their all-time high.
Shares are up more than 60% since activist hedge fund Starboard Value took over the company's board in October 2014, said ciao to the CEO and made numerous changes to the menu at Olive Garden.
Starboard waged an epic battle for control at Darden that focused largely on the quality of the food at Olive Garden.
The hedge fund put out a blistering, 294-slide presentation detailing what it thought were major culinary sins at the chain, including failure to salt pasta water, excessive amounts of gloopy sauce on its food and too many breadsticks.
Cristina Alesci and I -- the two Italian-American food critics at CNNMoney -- did our own taste test as well. Let's just say that we concurred with Starboard.
Related: Olive Garden is still a hit on Main Street and Wall Street
But consumers -- and investors -- have fallen in love with the company again now that it has rejiggered the menu to focus more on some new appetizers and desserts... and more alcohol.
Darden also owns the LongHorn Steakhouse, Bahama Breeze, Yard House and The Capital Grille chains. The company sold off Red Lobster to private equity investors a few years ago.
But Darden's stock lives and dies by the success of Olive Garden, which accounts for nearly 60% of the company's total revenue.
And Olive Garden's same-store sales, which measure performance at restaurants open at least a year, rose 2.6% in the most recent quarter.
Traffic has started to stabilize as well, meaning that the company is able to attract new customers and not just loyal diners. But the bulk of the sales increases have come as a result of price hikes and changes to the menu.
That's not a bad thing as long as customers keep coming back.
They clearly are.