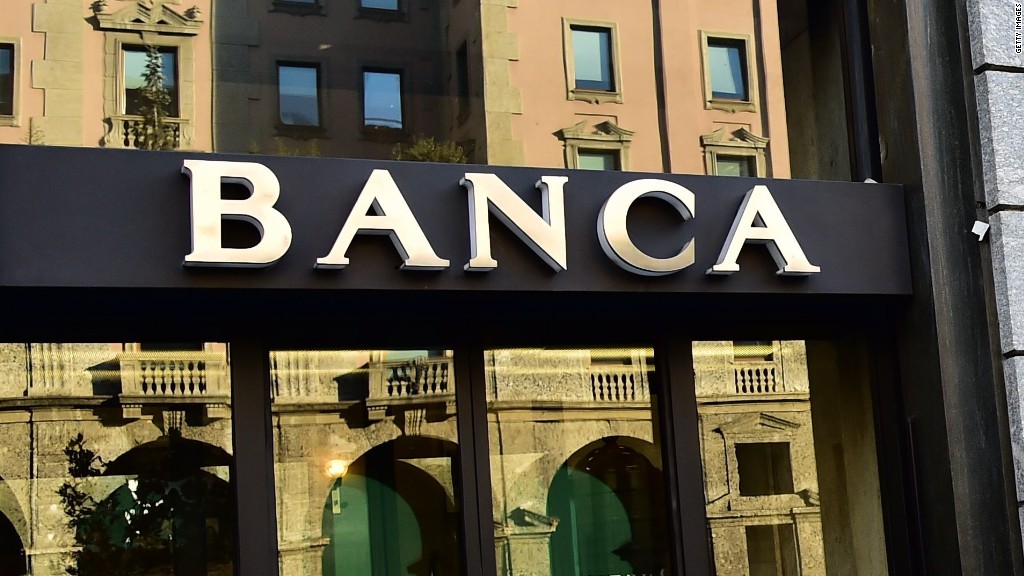 Italy is looking to add another $21 billion to its massive debt burden in order to keep its struggling banks afloat.
The Italian government said late Monday that it is asking parliament to let it borrow as much as €20 billion ($20.8 billion) for a potential bank rescue plan in the eurozone's third largest economy.
Weighed down by hundreds of billions of dollars of bad loans, Italy's banking sector has become a major worry for investors in recent months.
The weakest lender, Monte dei Paschi di Siena (BMDPF), has been scrambling to raise €5 billion ($5.2 billion) from investors. If the plan fails, the government is likely to have to step in with a bailout for Monte dei Paschi, the world's oldest operating bank.
Related: Can the world's oldest bank survive Italy's upheaval?
Italy's biggest bank, UniCredit, announced plans last week to raise €13 billion ($13.5 billion) and slash thousands of jobs to shore up its finances.
The country's banking stocks have been hammered for most of this year. They took an extra hit two weeks ago from the political uncertainty triggered by the resignation of Matteo Renzi, the prime minister at the time whose program of constitutional reform was rejected by Italians in a referendum.
Renzi's successor, Paolo Gentiloni, told a news conference late Monday that seeking approval to borrow the huge sum was a "precautionary" measure in response to potential risks in the financial sector.
Related: Italy's biggest bank to slash 14,000 jobs
Italy's €2.25 trillion ($2.34 trillion) in government debt already stands at 136% of the country's GDP, the second highest ratio in the European Union after Greece.
The Italian government has struggled to fix the country's troubled banking industry, which accumulated more than $370 billion of non-performing loans during years of recession.
Italy has more bank branches than pizzerias, according to the Organization for Economic Co-operation and Development, and they struggle with high costs and low returns.
Monte dei Paschi shares have nosedived 85% since the start of the year, Banco Popolare's have plunged 75%, and UniCredit's have dropped 47%.