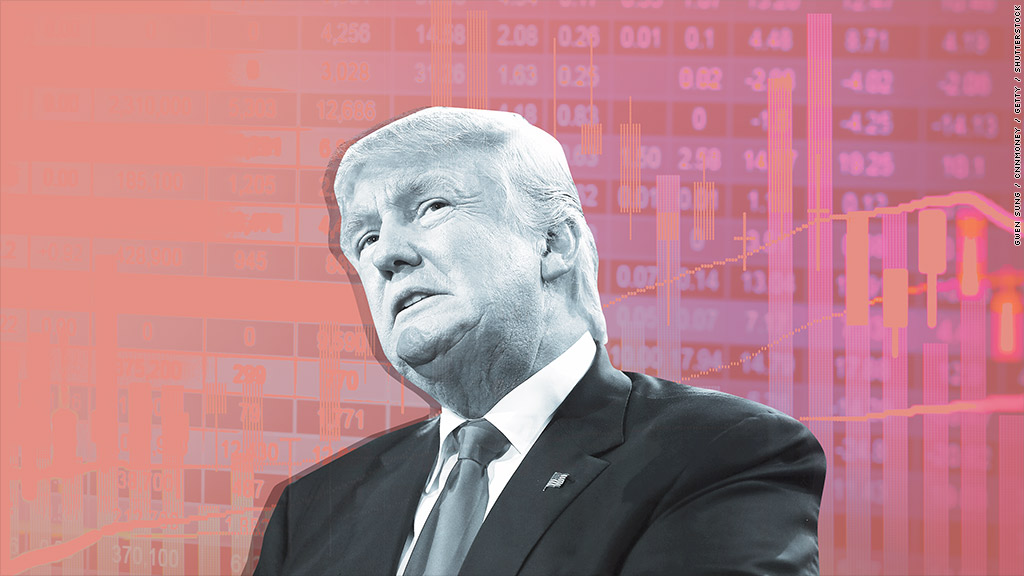 Donald Trump ran as an outsider who would shake things up. Ironically, Trump's election has seriously lifted up shares of Goldman Sachs, a symbol of the establishment he's promised to disrupt.
Goldman stock is up a stunning 32% since Trump's victory as investors bet the bank will capitalize on higher interest rates, less regulation and more M&A.
The post-election surge has allowed Goldman's stock to finally fully recover from the 2008 financial meltdown.
Not only that, but Goldman Sachs (GS) is a serious force behind the Dow's race to 20,000. Goldman has contributed an incredible 24% to the Dow's post-election rally of 1,600 points, according an analysis by FactSet.
So why is Goldman the MVP of this Dow rally? No, it's not because Goldman pays more than the other Wall Street banks and has cooler perks. Though...that may be true.
It's because Goldman is the most expensive stock in the 30-member Dow -- by a long shot. At $240 apiece, Goldman shares fetch $60 more than 3M (MMM), its next closest peer on the Dow. The shares are also worth nearly eight times more than "cheap" Dow stocks like General Electric (GE)and Cisco (CSCO).
All of that matters because the 120-year-old Dow is a bit unusual, compared with its modern peers like the S&P 500. The biggest quirk is that the Dow is a price-weighted average, meaning expensive stocks have more influence on the index than lower-cost ones. Hence, why Goldman has accounted for almost a quarter of the Dow's post-election gain.
So why is Goldman up so dramatically?
Related: Trump's curious Goldman Sachs connections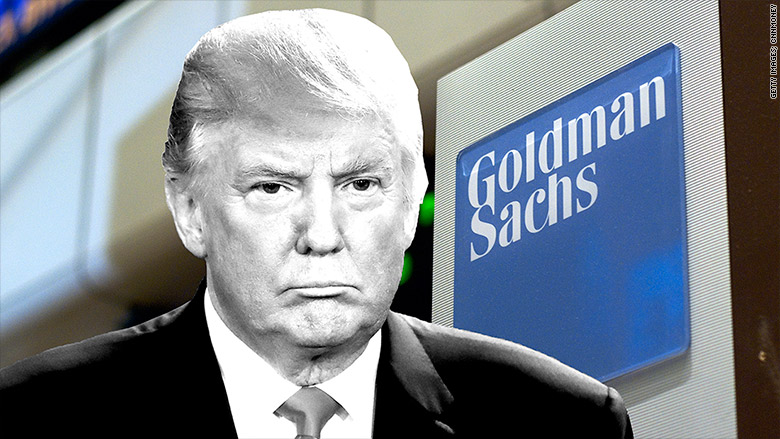 1.) Big banks booming: Trump's victory has sparked a scramble to buy virtually all banks. The KBW Nasdaq Bank Index (BKX) of large banks is up 24% since Trump's win.
2.) Interest rates have spiked: Low rates have starved banks of profits for many years. The rapid rise in long-term rates should help. Now there is more of a gap between the short-term interest rates banks pay to depositors and long-term costs charged to borrowers.
3.) Cutting red tape: Trump has promised to roll back regulation, including the Dodd-Frank financial overhaul that he's called a "sprawling and complex piece of legislation." The jury is still out on how this will impact big banks, but for now, investors are betting the new administration will be a friend to Wall Street.
4.) More M&A, trading activity: Investment banks like Goldman live in part on fees generated by headline-grabbing mergers. Many anticipate less antitrust scrutiny under Trump, though he did criticize AT&T's (T) takeover of CNN parent Time Warner (TWX) during the campaign. Trading activity is also up, giving Goldman more fee revenue.
Related: Today's Dow is a lot different from just 20 years ago
It also can't hurt that Trump has hired a number of Goldman veterans since being elected.
Trump's treasury secretary pick, Steve Mnuchin, spent nearly two decades at Goldman. Trump also tapped Gary Cohn, second-in-command at Goldman Sachs, to be director of the influential National Economic Council. And Steve Bannon, a former Goldman M&A banker turned Wall Street critic, is Trump's chief strategist.
Nicholas Colas, chief market strategist at brokerage firm ConvergEx, understands why some may think Trump's hiring of Goldman guys will lead to special treatment. However, he doesn't believe that thinking is justified.
"The laws are written for everybody. Carving out exceptions for Goldman Sachs doesn't really happen in this industry," Colas said.