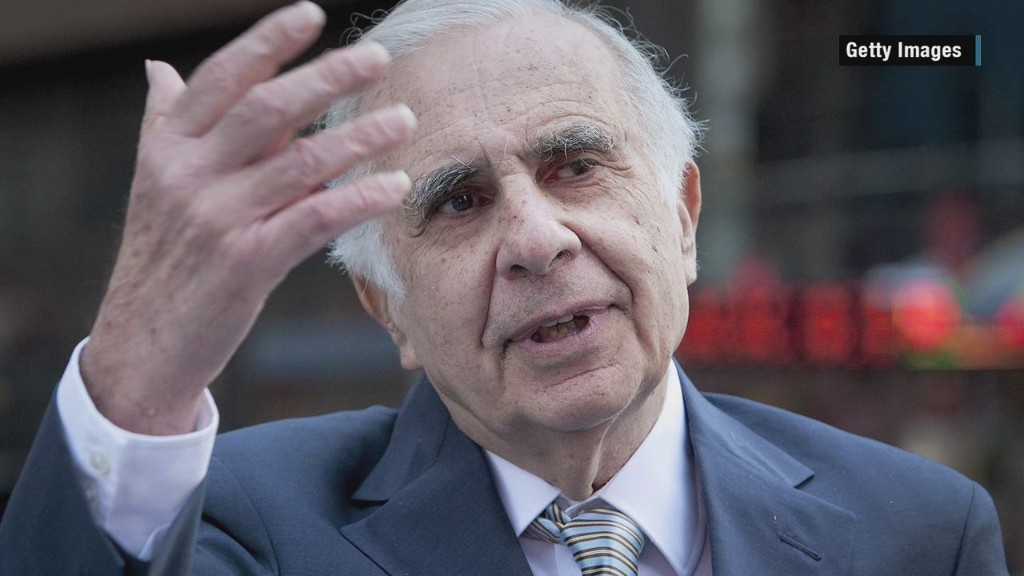 Shares of a small oil refining company controlled by Carl Icahn soared 10.5% Thursday after Icahn was tapped by President-elect Trump to advise his administration on how to cut government regulations.
Icahn owns an 82% stake in the firm CVR Energy (CVI), and saw a gain of nearly $160 million on paper the day after the announcement. His CVR investment makes up about 7% of the portfolio of Icahn Associates Holding, one of his his investment firms.
Shares of Icahn's publicly traded hedge fund, Icahn Enterprises (IEP), also jumped on the news. They rose 7.5% and lifted the value of Icahn's own shares in the firm by $569 million. Icahn Enterprises and CVR were each up nearly 1% Friday.
The stock gains are an indicator of the possible conflicts of interest that could occur when a hedge fund manager such as Icahn has a role in advising what regulations should stay and which should go.
Related: Carl Icahn supports Trump but doesn't agree with all of his policies
Icahn has been leading the debate against Environment Protection Agency regulations that essentially require small, independent refineries like CVR to buy EPA credits that are created when ethanol is blended into gasoline. CVR Energy reported paying $58 million for those credits in the third quarter alone, eating into its profits. Those credits, which are traded on Wall Street, fell about 11% in trading Thursday while CVR's shares climbed, said Tom Kloza, chief oil analyst for the Oil Price Information Service.
Icahn told CNN earlier this month that he is not opposed to requiring renewable fuels to be blended into gasoline, but that "what the EPA is doing is natural stupidity. They are ruining companies for no reason."
Icahn predicts that if the EPA rules remain in place, there will be widespread bankruptcies among independent refiners. That in turn will give the big oil companies even more control of the market, he argues.
"I believe we all can agree that the mandate of the EPA is to improve our environment, not to benefit 'big oil' and large gas station chains by bankrupting innocent refiners, especially when admittedly doing this in no way achieves the goal of benefiting our environment," Icahn said in a public letter to the EPA in August.
Related: Carl Icahn says Trump stock market rally has 'gone too far'
Late Wednesday Icahn was tapped by Trump to be his lead advisor on cutting government regulations which hurt business.
"It's time to break free of excessive regulation and let our entrepreneurs do what they do best: create jobs and support communities," he said in Wednesday's announcement. "Regulatory reform will be a critical component of making America work again."
Icahn told CNBC Thursday that he won't be making policy in his new position, only "more or less doing the same thing I do now, which is talk to Donald from time to time."
In addition to his role cutting regulations, Icahn also confirmed to CNN that he met several times with Oklahoma Attorney General Scott Pruitt, Trump's pick to run the EPA, during his vetting process and advised Trump on his nomination.
Correction: An earlier version of this article incorrectly reported Thursday's gain in CVR Energy and the percentage of Icahn's portfolio those shares represent.