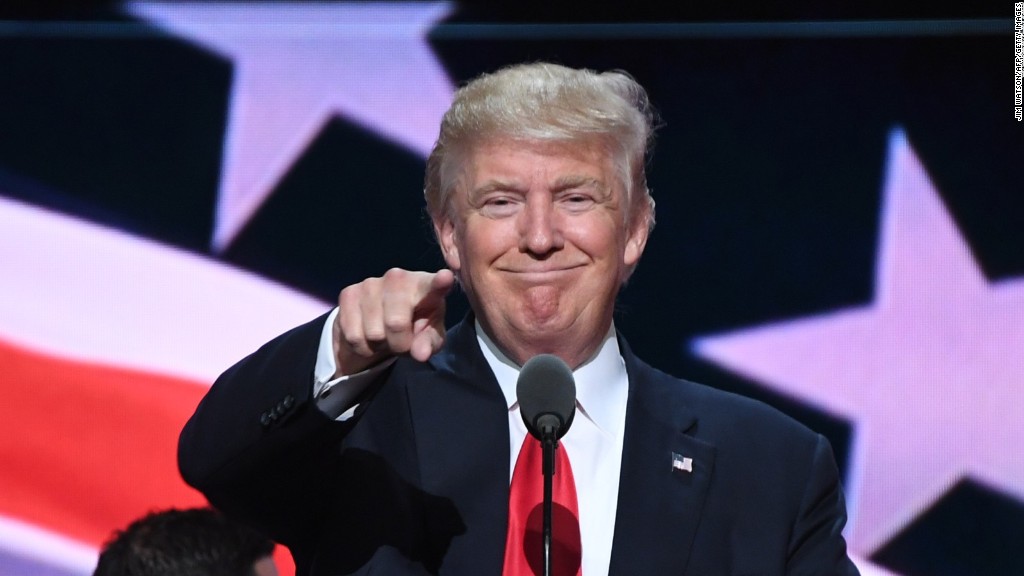 On January 18, 2009, the stars turned out in force in front of the Lincoln Memorial at a concert honoring then-President-elect Barack Obama.
Denzel Washington spoke to kick off the event, then Bruce Springsteen performed, and then Mary J. Blige, Jon Bon Jovi, James Taylor, Garth Brooks, John Legend, John Mellencamp, Josh Groban, U2, Usher, Stevie Wonder, Shakira, Beyoncé and many more. Tom Hanks spoke, too, and Steve Carell and Samuel L. Jackson. Sheryl Crow sang while wearing a t-shirt with Obama's face on it. And the inauguration itself wouldn't even happen for another two days.
The event was a concert, but it was also a display -- a vivid illustration of how many big names were eager to be seen to be associated with Obama, and how celebrities would continue to embrace him throughout his administration.
And it will likely be a sharp contrast with the inauguration of President-elect Donald Trump next month. The committee for Trump's inauguration has not yet announced any big stars, and is pushing back on rumors that it is coming up empty in its attempts to attract them.
The inaugural committee has announced three acts: The Radio City Rockettes, the Mormon Tabernacle Choir and 16-year-old "America's Got Talent" star Jackie Evancho.
But there is apparently some discontent even among that small group. The controversy eventually became prominent enough that the Madison Square Garden Company released a statement saying individual Rockettes wouldn't be compelled to participate.
Related: Bosses deny Rockettes forced to perform at Trump inaugural
The inaugural committee is still working on securing talent, and there will likely be bigger names announced at some point. A spokesperson for The Beach Boys told CNNMoney that the group has been contacted about performing, and that "no decision has been made at this point as to how or whether they will participate."
Theo LeCompte, the director of events and ceremonies for Obama's 2013 inauguration, told Billboard that it was still too early to expect the Trump team to have unveiled a full lineup. "Four years ago, we weren't ready to announce what we were doing in the middle of December. Usually you don't start hearing until early January."
For now, though, the episode is stirring memories of Trump's Republican National Convention five months ago, when he promised "showbiz" but delivered "Duck Dynasty's" Willie Robertson, actor Scott Baio of "Happy Days" and "Charles in Charge," golfer Natalie Gulbis, Ultimate Fighting Championship president Dana White and former underwear model Antonio Sabàto Jr.
This time, however, Trump -- who has always reveled in his connections to famous people, and of course hosted a show called "The Celebrity Apprentice" -- is framing the absence of celebrities as a conscious decision from a person and an incoming administration that will prioritize the common man over the A-lister.
"The so-called 'A' list celebrities are all wanting tixs to the inauguration, but look what they did for Hillary, NOTHING. I want the PEOPLE!" Trump tweeted Thursday.
The "Man of the People" line is reminiscent of Trump's rhetoric throughout the presidential campaign. Trump regularly attacks entertainers to play to his base, and during the campaign he criticized his opponent Hillary Clinton for relying on stars like Jay-Z and Beyonce to boost voter turnout.
But not everyone buys Trump's spin. "[W]e ALL know you are dying without the approval, dear," celebrity model and co-host of "Lip Sync Battle" Chrissy Teigen tweeted back at Trump.
Meanwhile, Trump has sought help from "Celebrity Apprentice" producer Mark Burnett in bringing more celebrities to the table. That said, sources close to both Trump and Burnett say that recent reports have overstated how much work Burnett is doing for the inauguration.
"Mark Burnett does not have a role with the Presidential Inaugural Committee," Boris Epshteyn, the committee's director of communications, told CNNMoney.
Epshteyn specifically dismissed a report by The Wrap that claimed Burnett was "overseeing entertainment for inauguration festivities."
"There is no truth to that premise whatsoever," Epshteyn said.
A source close to Burnett also downplayed his involvement in the inauguration, saying he and Trump spoke occasionally by phone in an informal capacity. Burnett had similarly been rumored to be overseeing Trump's Republican National Convention.