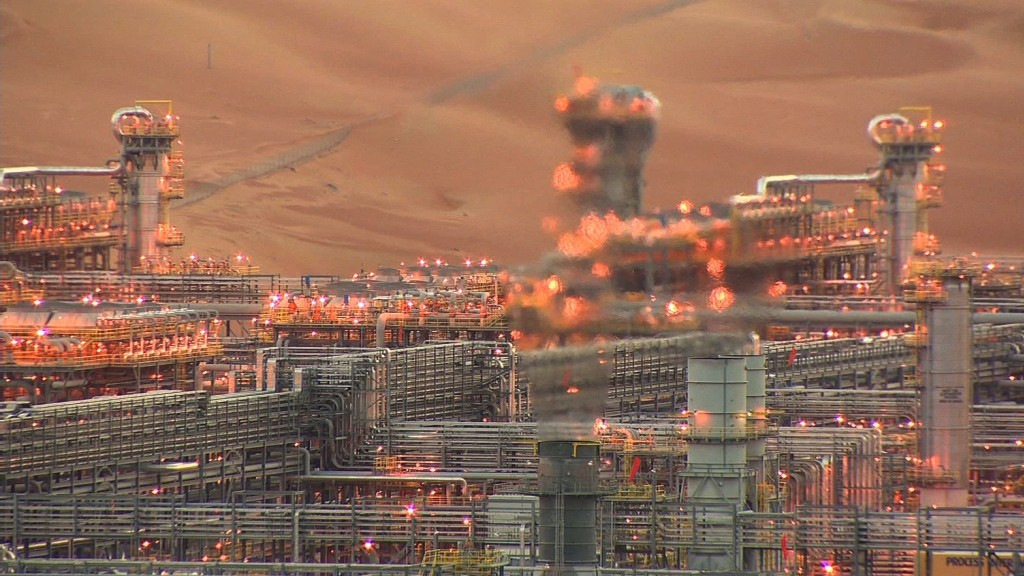 Saudi Arabia has already been forced to tighten its belt. Now it's preparing for four more years of austerity.
Slammed by lower oil revenues, the kingdom's budget deficit swelled to 366 billion riyals ($98 billion) in 2015, and 297 billion riyals this year. It was forced to borrow money from international investors for the first time ever, raising $17.5 billion in October.
In response, the government has already slashed energy subsidies and cut wages for officials.
But in a new report -- the Fiscal Balance Program 2020, published over the weekend -- it warns of dire consequences if it doesn't press ahead with more dramatic measures.
"The government would find itself in a place of needing to cut capital spending by at least 90%, cut government operational spending by at least 30%, cut government wage bill by at least 30%, and substantially cut government retirement benefits," it said, if no further action were taken.
So here are some of the steps the government plans to take over the next few years:
1. Hike gas prices, again
Saudis have long enjoyed heavily subsidized water, gas and other energy supplies. That began to change this year when a "marginal correction" was introduced, saving the government about 28 billion riyals.
But those price increases will be dwarfed by what's coming down the pipe.
The government is expecting to save 209 billion riyals per year by 2020 by gradually phasing out subsidies.
"The prices of those products will be revised periodically, based on increasing the percentage linkage with the international market prices," it said.
That will mean Saudis paying much more each year to fill their cars and cool their homes.
2. Raise taxes
The government has already raised the cost of visas for visitors, and hiked municipal taxes.
But more tax hikes are coming. From 2017, it will introduce a levy on expat workers and their dependents. The tax will start at 100 riyals per month and rise to as much as 800 riyals ($213) per month in 2020.
Related: Where do Middle Eastern students want to work?
From the second quarter of 2017, it will tax harmful products such as sugary drinks and tobacco.
And then in 2018, as previously announced, it will introduce a general sales tax as part of a broader initiative by the six Gulf Cooperation Council states.
Saudi Arabia expects those measures to boost non-oil revenue by 152 billion riyals by 2020.
Related: Oil bust winner: Saudi Arabia's tech scene
3. Soften the blow
Cutting subsidies and raising taxes risks damaging the economy and hurting lower income families.
So the government has also set out plans to boost the private sector, including an investment fund worth 200 billion riyals to help diversify the economy. The fund should help companies become more efficient.
It will also introduce a housing allowance for low and middle income households next year. That will cost the government as much as 70 billion riyals a year by 2020.