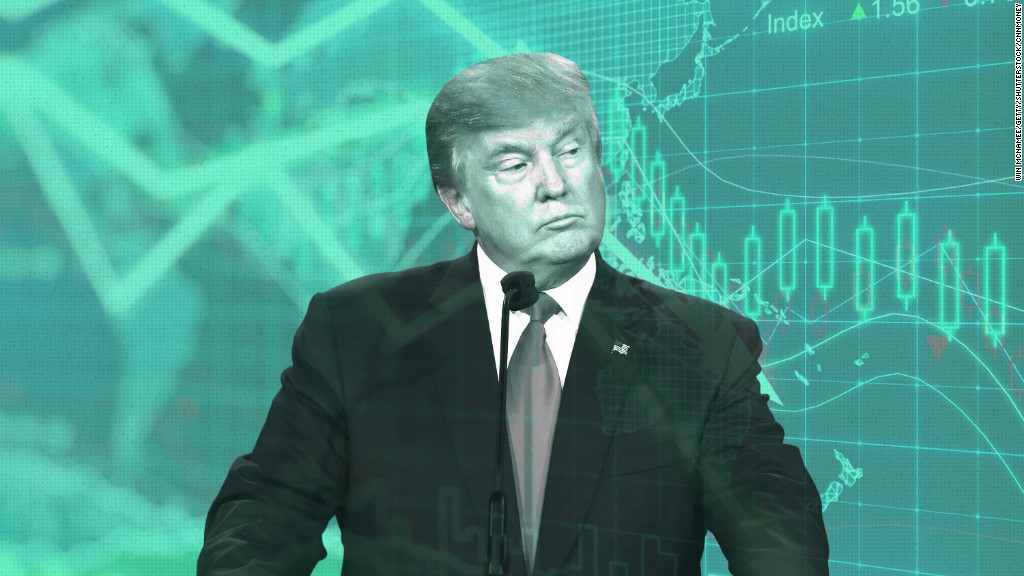 What a difference a year makes. After starting 2016 on a disastrous note, U.S. stocks raced into 2017 as optimism about the election of Donald Trump continues.
Wall Street kicked off the new year on Tuesday with the Dow jumping another 119 points. The index is now less than 120 points away from the 20,000 milestone.
The inaugural rally of 2017 represents a continuation of the post-election euphoria that invaded financial markets nearly two months ago. The Dow is up nearly 1,600 points since Trump's surprising defeat of Hillary Clinton.
"The New Year has started with a bang," Fawad Razaqzada, technical analyst at FOREX.com, wrote in a note.
Related: Dow finishes wild 2016 with 13% gain
After going nearly straight up after the election, the markets paused during the final two weeks of 2016. The Dow seemed to run into a wall as it approached 20,000, though it did end the wild year with a strong 13% gain.
Investors remain encouraged by Trump's promises to slash taxes, roll back regulation and unleash a wave of infrastructure spending. Wall Street is betting these stimulus plans will help American businesses and translate to higher stock prices.
Peter Boockvar, chief market analyst at The Lindsey Group, cited Trump's deregulation efforts as a bullish force for stocks in 2017.
"The biggest beneficiary may be small businesses who've experienced death by a thousand regulatory cuts over the past 8 years," Boockvar wrote.
The positive start to 2017 stands in stark contrast with last year. The Dow plummeted 1,079 points in the first week of 2016 -- the worst five-day start to a year on record -- over fears about the crash in oil prices and China's economic slowdown.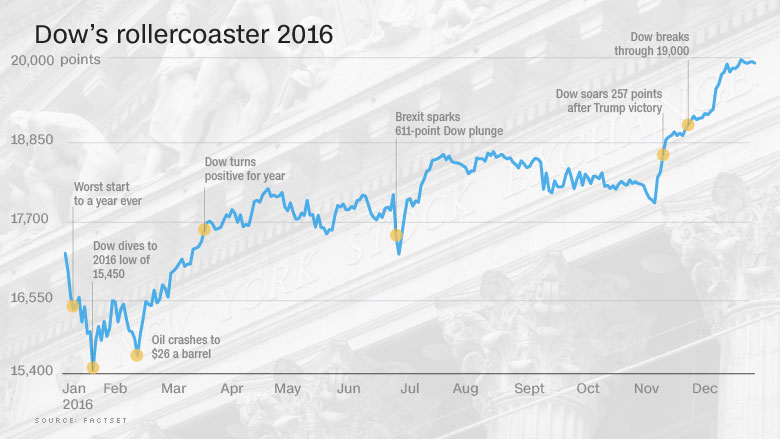 Flash forward 12 months and both of those concerns have reversed. Global stocks rallied overnight after a closely-watched manufacturing index in China showed the fastest rate of improvement since January 2013.
Likewise, oil prices initially popped 2.5% on Tuesday to $55 a barrel -- hitting the highest level in a year and a half. That rally fizzled and crude ended the day down by more than 2%.
Still, optimism continues to abound in the oil patch. Oil bulls are hoping OPEC's agreement to limit oil production will ease the epic glut that caused prices to plunge two years ago.
Not even another Trump threat against a prominent American business could slow stocks down.
General Motors (GM) shares actually rose 1% on Tuesday after Trump warned the auto maker to make its Chevrolet Cruze in the U.S. or face a heavy tax. GM responded by stressing that the sedan model of the Cruze is manufactured in Ohio, while the hatchback version sold mostly overseas is made in Mexico.
Related: Biggest threats to the Trump rally
Despite the bullish action in 2017's first trading day, analysts warn the Trump rally does face several threats in the coming months.
Trump's stance on trade was the No. 1 concern cited by market strategists surveyed by CNNMoney. The fear is that Trump's anti-trade campaign talk could translate into protectionist policies that hurt the economy.
Another source of concern: the Trump rally has made U.S. stocks more expensive. And if Trump's stimulus agenda faces any setbacks in Congress, it could be met with big disappointment on Wall Street.
"For now, investors may be wise to curb their enthusiasm until we have stronger evidence that Washington will actually implement a pro-growth agenda," David Kelly, chief global strategist at JPMorgan Funds, wrote in a note.