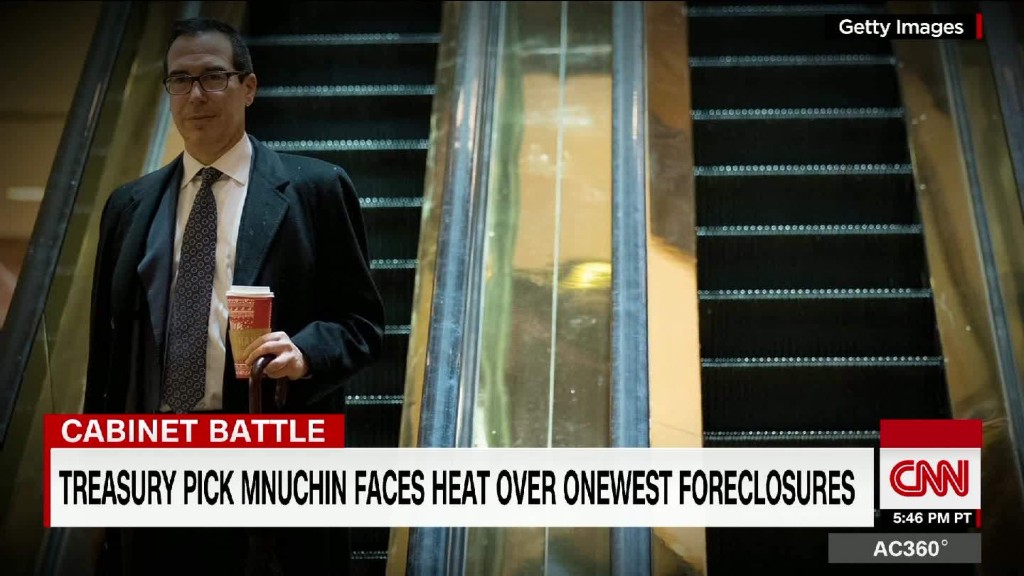 The controversial foreclosure tactics of a bank formerly run by Steven Mnuchin are being used in a new TV ad campaign aimed at preventing him from becoming the next treasury secretary.
Progressive group Allied Progress launched two six-figure TV ad buys on Wednesday calling on Republican Senators to reject President-elect Donald Trump's nomination of Mnuchin.
The ads say Mnuchin "made millions after his bank foreclosed on homeowners," referring to his time running OneWest. Mnuchin formed OneWest in 2009 just after the financial crisis to buy the remains of IndyMac, a failed subprime lender.
The ad campaign is focusing on Arizona and Nevada, two states that suffered a wave of foreclosures as a result of the subprime crisis.
"We need a treasury secretary who will help us, not himself," the ad said.
Related: California investigators wanted to sue Mnuchin bank
A Mnuchin spokesperson said the ad campaign demonstrates that "the far left is more focused on playing politics than working with the future administration to get things done for the American people."
"OneWest is an American success story, and Steven looks forward to telling it at his hearing before the Senate Finance Committee," the spokesperson said.
It's clear that the foreclosure practices of OneWest continue to haunt Mnuchin. An internal memo obtained this week by CNN shows that California investigators wanted to file a lawsuit in 2013 against OneWest for misconduct during foreclosures.
The memo and draft civil complaint, first reported on by The Intercept, accused OneWest of backdating thousands of documents, violating rules for waiting periods and tampering with foreclosure auctions beginning in 2009.
Mnuchin's spokesperson told CNN the memo and complaint were meritless and belong "in the garbage."
Related: Mnuchin has a 'widow foreclosure' problem
The Allied Progress ad also alleged Mnuchin's bank "discriminated against Latinos." The ad cited a Fortune story that highlighted a redlining complaint filed by two fair housing advocacy groups alleging OneWest avoided putting bank branches in non-white neighborhoods and made fewer mortgages to minorities.
The Mnuchin spokesperson said the complaints are "grossly misleading" because they rely on lending figures for time periods after OneWest sold its primary mortgage business. The spokesperson added that in 2013, before the mortgage business was sold, OneWest originated more than $25 million in mortgage loans to African-American families and $44 million to Asian-American families.
--CNNMoney's Chris Isidore and David Fitzpatrick contributed to this report.