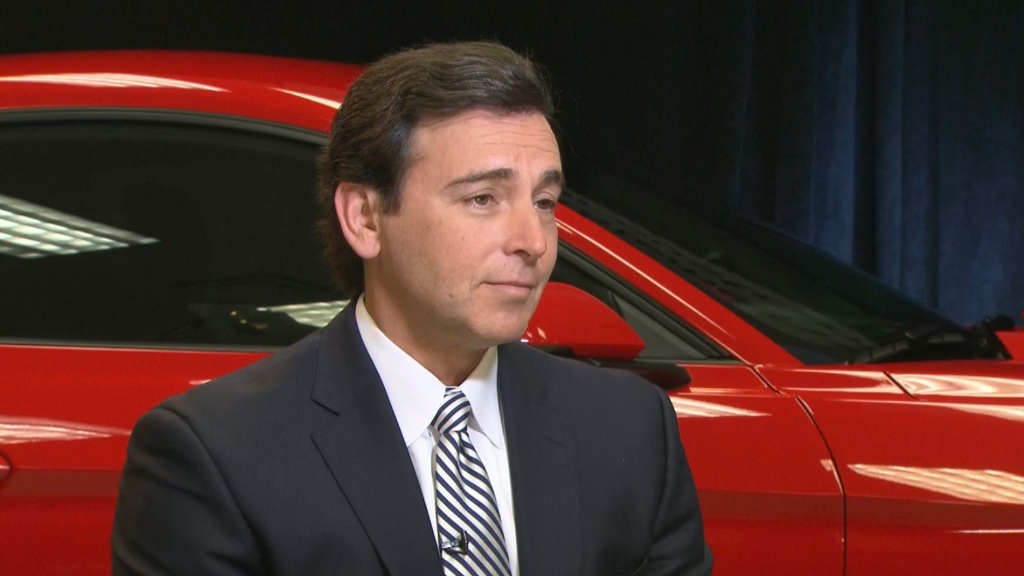 President-elect Donald Trump has a huge problem with American jobs going to Mexico, especially when it comes to car manufacturing.
His favorite target: Ford. Trump repeatedly slammed Ford (F) on the campaign trail for its "horrible" decision to invest billions in Mexico.
He has rarely mentioned its two other large competitors: GM and Chrysler. But among America's "Big 3" auto companies, Ford actually has the fewest number of workers in Mexico.
Ford employs 8,800 people in Mexico, according to the company and data from the Mexican government.
Fiat Chrysler has 12,800 workers and GM (GM) has 15,000 in Mexico.
This week, Ford announced it had canceled plans to build a $1.6 billion new factory in Mexico and would instead create 700 new jobs in Michigan. CEO Mark Fields called it a "vote of confidence" in Trump's economic vision for America.
Related: Ford cancels Mexico plant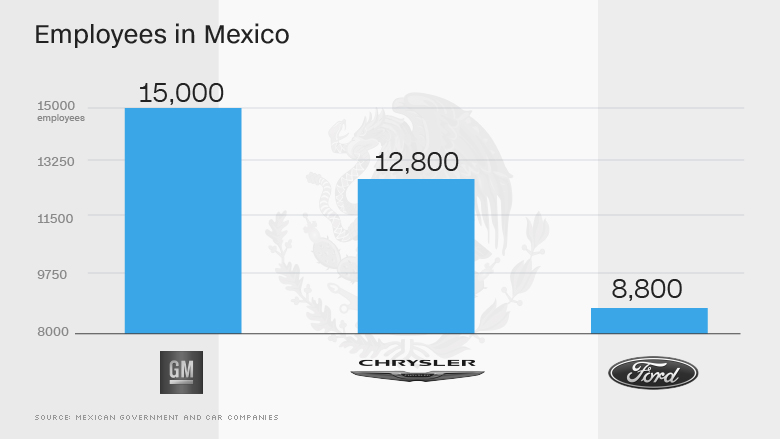 Trump's next target: GM or Chrysler?
Trump thanked Ford and is already shifting his ire to another Michigan giant.
On Tuesday, Trump went after GM, tweeting: "General Motors is sending Mexican-made model of Chevy Cruze to U.S. car dealers-tax free across border. Make in U.S.A. or pay big border tax!"
All last year Trump threatened Ford with massive taxes -- as high as 40% -- on cars made in Mexico and sold in the U.S. even though experts don't think Trump has the legal power to put a tariff on one U.S. company.
The CEOs of America's top car companies say Trump only has half the story. Yes, they have all built plants in Mexico. But most of those factories work on smaller, cheaper cars that the American public doesn't even like to buy.
That appears to be backed up by the latest trade data. Auto exports from Mexico to the U.S. fell 14% this fall (September through November) compared to the year before, according to Panjiva, a company that tracks trade flows in and out of the U.S.
Related: Sprint will create 5,000 U.S. jobs
There are still far more U.S. auto workers
The workers in Mexico earn far less than the employees in the U.S.
"U.S. workers get $28 an hour versus about $5.50 in Mexico," says Bernard Swiecki, a senior automotive analyst at the Center for Automotive Research.
But the big car companies argue they are investing heavily in the U.S. too. This isn't a story of shutting down in the U.S. and moving to Mexico.
GM employs 97,000 people in the U.S. Chrysler employs 56,900 and Ford employs 85,000, according to company spokespeople.
"Since 2009, GM has invested more than $20 billion in our U.S. manufacturing and engineering operations," GM said in a statement to CNNMoney.
Fiat Chrysler, a company Trump hasn't gone after, actually has the worst track record of employing the largest share of Mexican workers compared to U.S. workers. Fiat Chrysler also increased its Mexico-to-U.S. exports by 139% from September through November, according to Panjiva calculations based on Mexican government data.
Overall, car and truck sales have been booming in the U.S. in recent years. It looks almost certain that 2016 will set another new record for sales. That has helped fuel growth in factories and hires across North America.
American car companies are also not alone in shifting some production to Mexico. Foreign car makers Nissan and VW also both employ 15,000 or more workers in Mexico, according to Mexico's economic ministry.