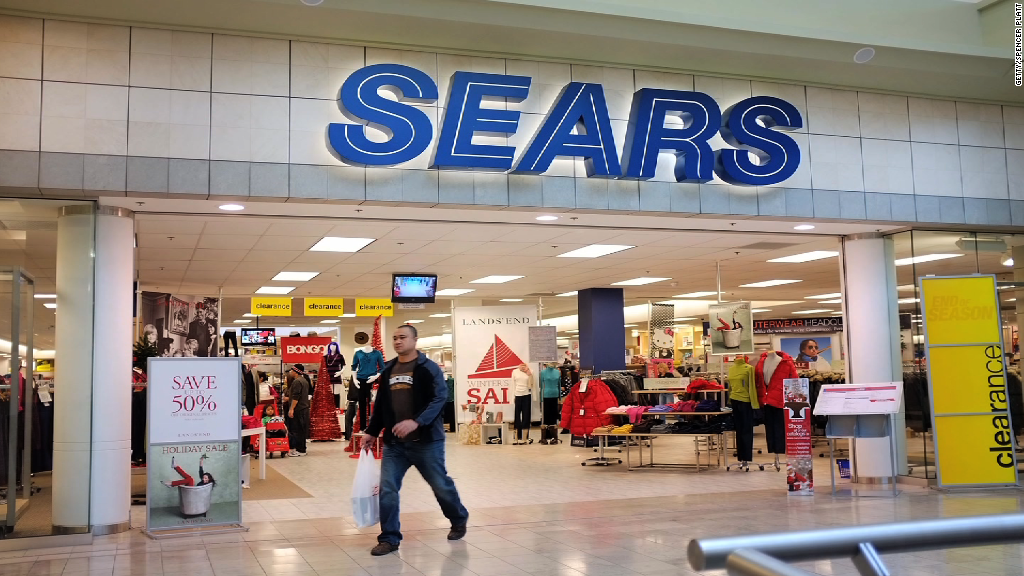 Sears is shutting down 150 more stores, yet another sign of how tough it is for former kings of the retail industry to compete in a world now dominated by Amazon.
Sears (SHLD) said on Thursday that it would close 109 Kmart stores and 41 of its namesake Sears outlets. The announcement came on the same day that Sears disclosed plans to sell its iconic Craftsman tool brand to Stanley Black & Decker (SWK).
The company did not say how many workers would be affected by the store closures.
But a spokesperson said that most of them were part-time workers and that "we are committed to treating these associates with respect and compassion during this process."
Sears also closed 78 stores last year and more than 200 in 2015.
The news also follows disappointing holiday results from other retail stores: Macy's (M) -- which is also closing stores and laying off workers -- and Kohl's (KSS).
Sears CEO Eddie Lampert said in a statement that the company was "taking strong, decisive actions...to stabilize the company and improve our financial flexibility in what remains a challenging retail environment."
The company noted that while the 150 stores collectively reported sales of $1.2 billion over the past 12 months, they also lost about $60 million. Sears has to stop the bleeding somehow, because the entire company is losing money.
Related: Sears sells Craftsman to Stanley Black & Decker
"The decision to close stores is a difficult but necessary step as we take actions to strengthen the company's operations and fund its transformation," Lampert said.
"Many of these stores have struggled with their financial performance for years and we have kept them open to maintain local jobs and in the hopes that they would turn around," he added.
Lampert stressed that the only way for the whole company to return to profitability will be for Sears to focus more on its better performing stores. (Click here for a list of the Kmart and Sears stores that are getting shut down.)
The company said that workers at the closing stores will receive severance payments and also have the opportunity to apply for positions at other Sears and Kmart stores in their area. And liquidation sales at the affected stores will begin on Friday.
Related: Macy's closing 68 stores, cuts 10,000 jobs
Sears stock rose more than 5% on Thursday despite the bad news. But Macy's, Kohl's and other retailers sank.
Meanwhile, Amazon (AMZN) rose more than 2%.