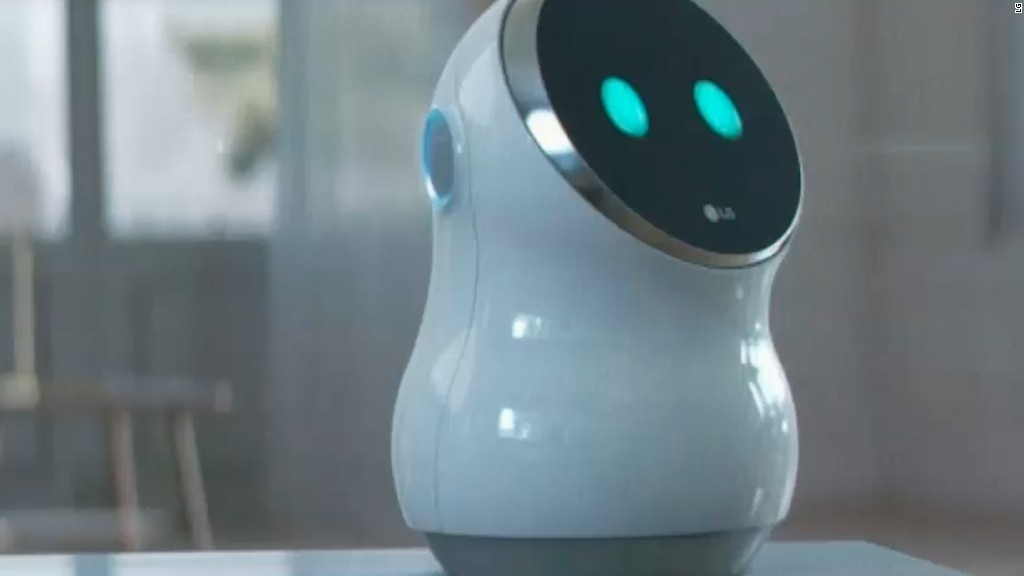 Thousands of tech companies descended on Las Vegas for CES 2017 this week to show off what they think you'll buy in the coming year.
Although we saw more of what dominated the tech scene last year -- smart home products, wearables and enough Amazon Echo partnerships to make your head spin -- some new products shined brightly above the rest.
From an underwater drone to the car of the future, here's a look at what impressed us most.
1. Toyota Concept-i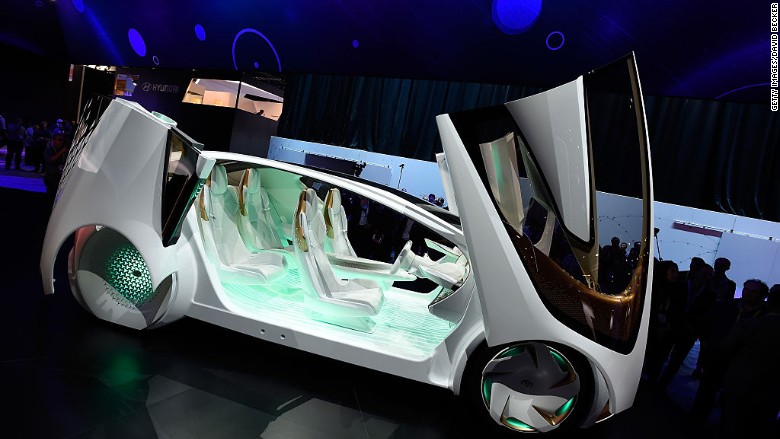 Toyota unveiled a concept car to highlight its vision for what cars may look like in 2030. With see-through glass doors, wheels built directly into the body and a bright white interior and exterior, the future is looking pretty sleek.
While you'd think we'd be riding in self-driving vehicles by then, the car isn't fully autonomous. Toyota believes you'll still want to drive yourself around 14 years from now.
2. Willow breast pump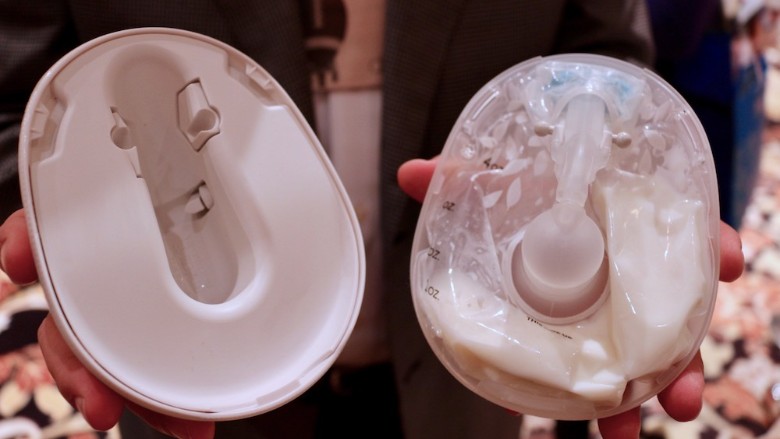 New moms will appreciate the attention paid to baby tech this year. Willow's breast pumps were a standout, offering a quiet, hands-free and cordless approach to pumping on the go (and tracking how much you pump).
3. PowerRay drone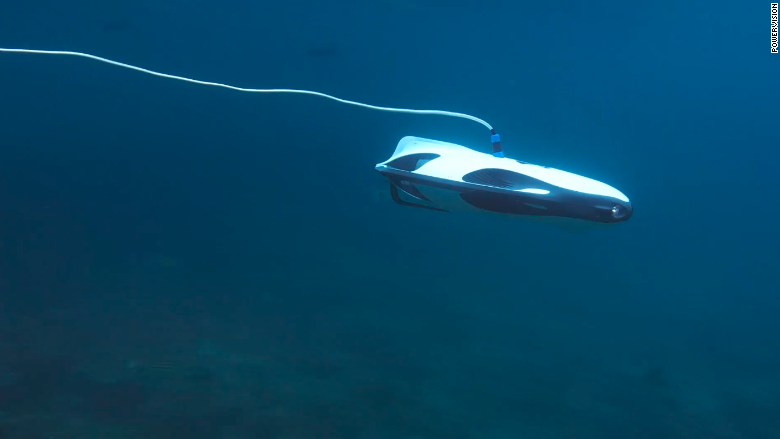 The high-flying trend will (once again) be out in full force in 2017. We saw pocket-sized drones and ones that follow you around, but PowerVision's underwater drone -- called the PowerRay -- took a clever approach by bringing the concept down under. The waterproof drone can swim 30 meters below water and uses sonar to help recreational fisherman better track fish.
Thanks to built-in Wi-Fi, the drone sends alerts to users back on land when fish are nearby. It'll even capture 4K video and photos, so you can replay the moment you caught your dinner.
Official pricing hasn't been announced, but it will be in the $3,000 range. Pre-orders start in February.
4. PowerEgg drone
Also from PowerVision, the PowerEgg is an egg-shaped collapsible quadcopter. It's unlike a drone we've ever seen before. Weighing in at about 4.5 pounds, the drone pops out of the plastic casing when it's time to fly.
It features on board GPS, a 4K camera and relies on your iOS or Android device for processing power. You can buy it now for $1,288.
5. LG 'wallpaper' TV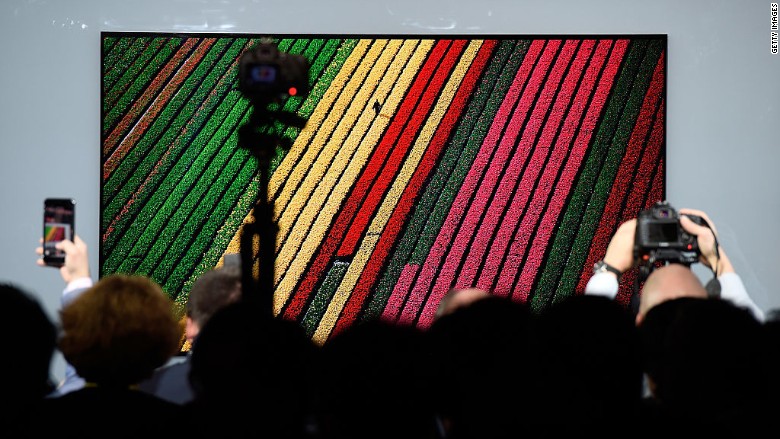 LG's new flagship 4K OLED TV is incredibly thin and light. Called the W -- for "wallpaper" -- it adheres to the wall with magnets. It's designed to look like you're watching TV through a window or picture on the wall. It comes in 65-inch and 77-inch options.
6. PicoBrew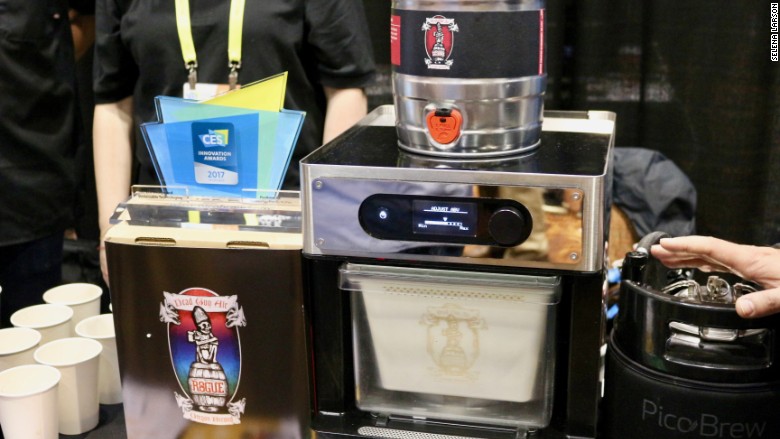 PicoBrew ($799) is a homebrew kit that takes just a few hours to create 5 liters of beer. The device, which launched a Kickstarter campaign last fall, has more than 40 beer options for users to choose from. It's also easy to keep components sanitized -- an important piece of home brewing -- through its cleaning system.
But PicoBrew might not be novel for long. Anheuser-Busch and Keurig announced on Friday they are collaborating on an in-home alcohol drinks system.
7. Moro robot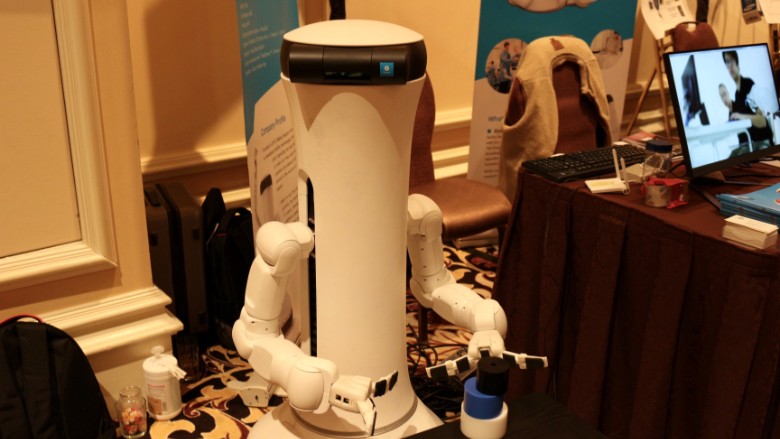 The Moro robot does all of your chores, such as pouring drinks, picking up groceries and folding laundry. At about four feet tall, the white cylindrical robot -- with arms but no face or eyes -- moves in all directions. The system includes voice and facial recognition technology to take task requests and learn who is commanding it over time. There's no official launch date, but it comes with a hefty $30,000 price tag.
8. Motiv smart ring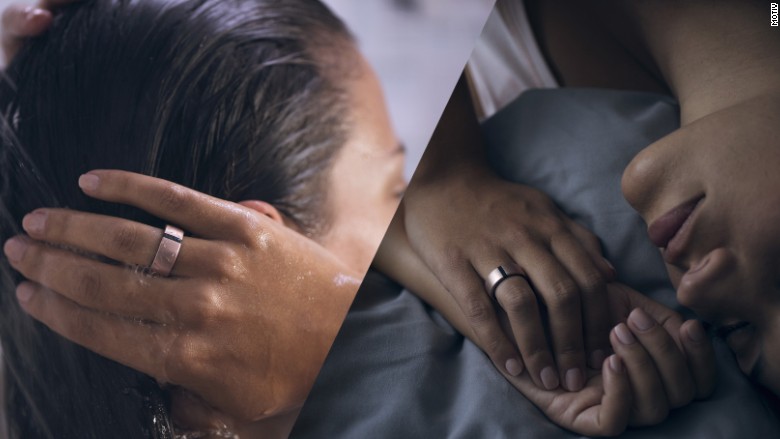 Wearables are everywhere, but the Motiv smart rings packs everything you need into one small package. Unlike other smart rings, such as the Ringly, it's main focus is fitness. Motiv collects stats like your daily steps, heart rate, goals and distance and pushes that data to your smartphone. Available in gray or rose gold titanium device, it looks just like a traditional ring.
It also comes with standalone GPS, so there's no need to take your phone on runs to track your data. It will cost $200 when it launches in the spring.
9. Snoo bassinet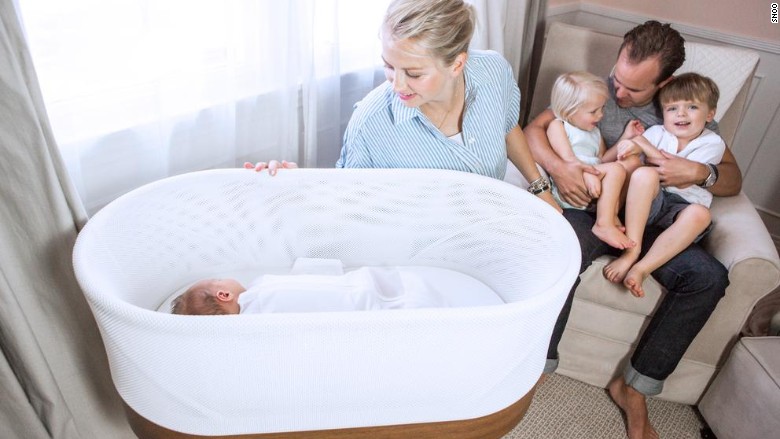 The Snoo bassinet is a robot that rocks your baby to sleep. The product went viral late last year, but we finally got a look at it in action. The Snoo, developed by renown designer Yves Béhar, rocks newborns to sleep when crying. Along with producing slight humming noise, the experience recreates how babies feel in the womb and aims to help little ones -- and parents -- sleep better at night. The Snoo also prevents babies from rolling over via a sleeper outfit that clips onto the bassinet's sides.
10. Vuzix glasses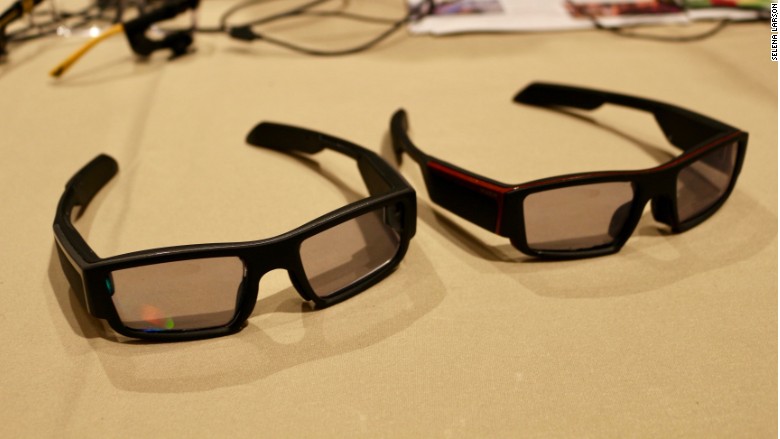 Vuzix wants to succeed where Google Glass failed. The company's sunglasses pair with Android devices and display what's on the screen in the right lens. You can watch videos, get directions and read text messages via the small projected image is small. The glasses can be controlled with your voice or a touch pad on the right stem. The left lens is for snapping photos through its built-in camera. The Vuzix glasses will launch in the second half of 2017. Price is still unknown.
11. Little Fish smart speaker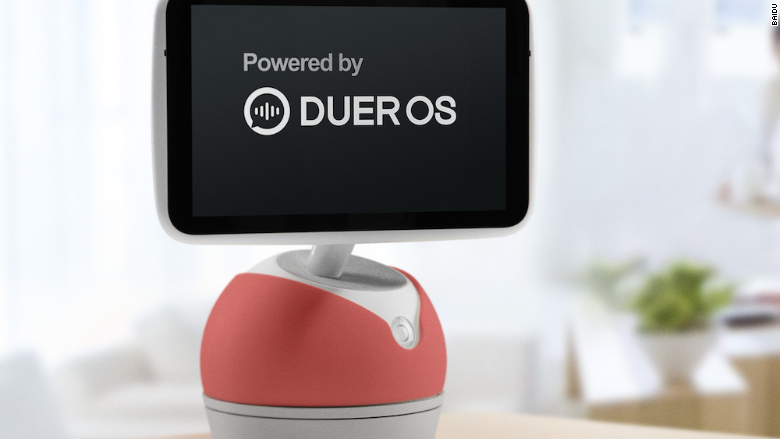 Baidu's Little Fish smart speaker has potential to be the Amazon Echo of China. The Chinese technology company, often referred to as the Google (GOOGL) of China, announced a device with a built-in screen that can control appliances, music and connected devices.
Baidu uses its own AI tech and doesn't rely on Amazon's Alexa system like other smart speaker assistants (we're looking at you, Lenovo). Price and availability hasn't yet been announced.
12. Sony projector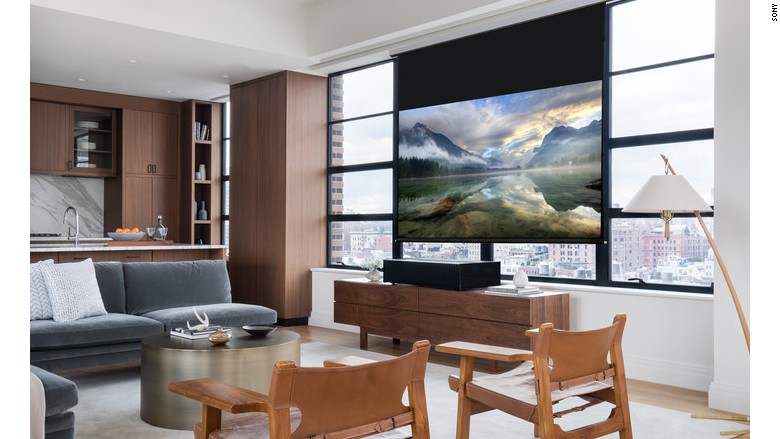 Sony's $25,000 projector is a pipe dream for most, but it's hard not to be wowed by what it does. The VPL-VZ1000ES model turns any room into a home theater. The projector weighs in at 77 pounds and can project a 100-inch image onto a wall just six inches away. It's available for pre-order now and will start shipping it in the spring.
13. Rapael smart glove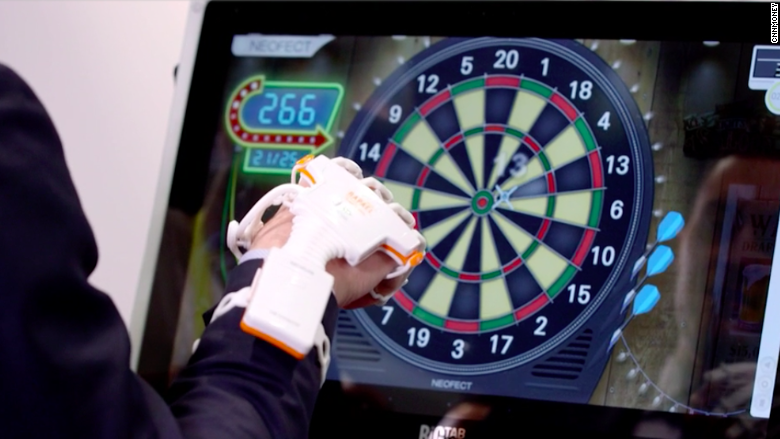 Rapael's smart glove reminds us how powerful tech can be. The glove helps rehabilitate stroke patients through virtual activities like darts and card games played on a compatible app. It wraps around the wrist, and sensors track patients' motion and improvement as they progress through therapy. Physicians and clinics around the world already use the Rapael glove, but it's now available for patients to rent for $99.
14. Lego coding kit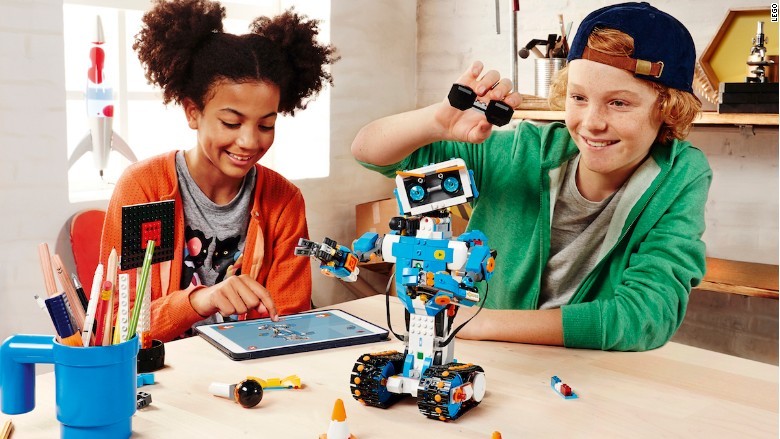 Tech isn't just for adults. Lego launched an innovative building and coding set that brings movement to Legos. Kids can build five different smart toy models, including a cat, robot and guitar, with the help of sensors and motors. The kit works alongside a corresponding app, which features 60 coding activities. It's also possible to add voice recordings via the app to give toys the ability to speak.