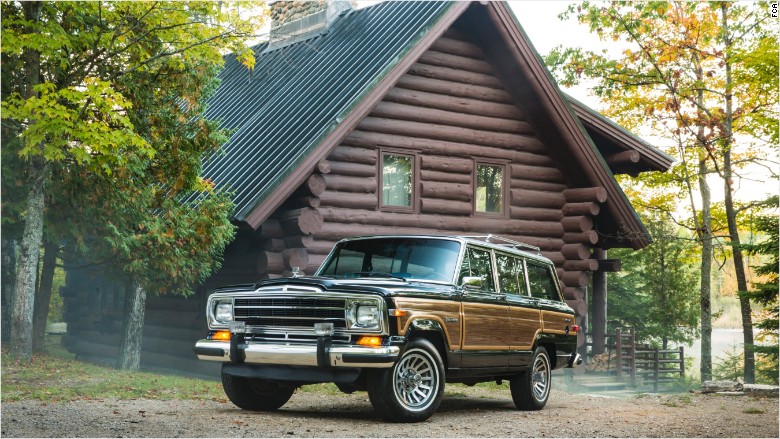 Two of America's best-loved SUV's are coming back.
Fiat Chrysler Automobiles (FCAU) said Sunday it will start making new versions of the Jeep Wagoneer and Grand Wagoneer, both large SUVs.
Then, at a press conference Monday morning, Ford (F) confirmed that it will begin manufacturing a new version of the Ford Bronco. Production of both vehicles should begin by the year 2020.
The original Grand Wagoneer was last manufactured in 1991, while the Bronco was last made in 1996. Both models, ironically, ended their runs just as SUVS were becoming hugely popular in America -- a trend that hasn't stopped since.
Neither automaker released any images or discussed many details of what the vehicles might be like.
What we do know is that the new Bronco will be a midsized SUV, according to Ford. The means the new Bronco will more closely resemble the original Bronco of the 1960s and '70s, as opposed to the larger Bronco of later years, which was made famous by the 1994 slow-speed O.J Simpson chase.
Related: Fiat Chrysler to put $1 billion into U.S. jobs and revive Jeep Wagoneer
That SUV was a ponderously large two-door machine based on a full-size truck. The earlier Bronco was smaller, and intended mostly as a serious off-road vehicle.
The new one will be designed for trail driving also, according to Ford.
"Bronco will be a no-compromise midsize 4x4 utility for thrill seekers who want to venture way beyond the city," said Joe Hinrichs, Ford's president of The Americas.
With modern engineering, a new Ford Bronco could be a serious off-road competitor to the Jeep Wrangler, and also less punishing to drive on the street, said Mike Harley, an analyst with Kelley Blue Book's KBB.com.
Meanwhile, Wagoneer and Grand Wagoneer are expected to be full-sized vehicles, larger than today's Grand Cherokee.
When it was introduced in the 60s the Wagoneer was the first luxury SUV, although back then it didn't fit into an existing category.
At the time, four-wheel-drive vehicles were usually meant for hunters or farmers.
Related: Why your SUV needs winter tires
"The Wagoneer was such an unusual vehicle, because it was four wheel drive meant for a suburban family," said McKeel Hagerty, who heads the collector car insurance company Hagerty Insurance.
His family owned several over the years, he said, and they were useful for climbing steep hills in unforgiving Michigan winters.
In its day, the Wagoneer was advertised as offering "genuine imitation woodgrain applique," he said. Now there are companies that specialize in carefully restoring original Wagoneers to prisitine -- or even better than new -- appearance, including the appliques.
Original Broncos, meanwhile, are often sought after and modified with features like bucket seats and modern stereos.
Both original Broncos and Wagoneers are collectible vehicles. Auction prices for classic Broncos have gone up 130% in the last 10 years, while those for Wagoneers have risen 155%, according to Hagerty.
Still, they're not terribly expensive as collectibles go. Broncos from 1966 to 1977 in good condition can net between $18,000 and $47,000 while 1980s Grand Wagoneers can cost $13,000 to $32,000, according to Hagerty Insurance market data.