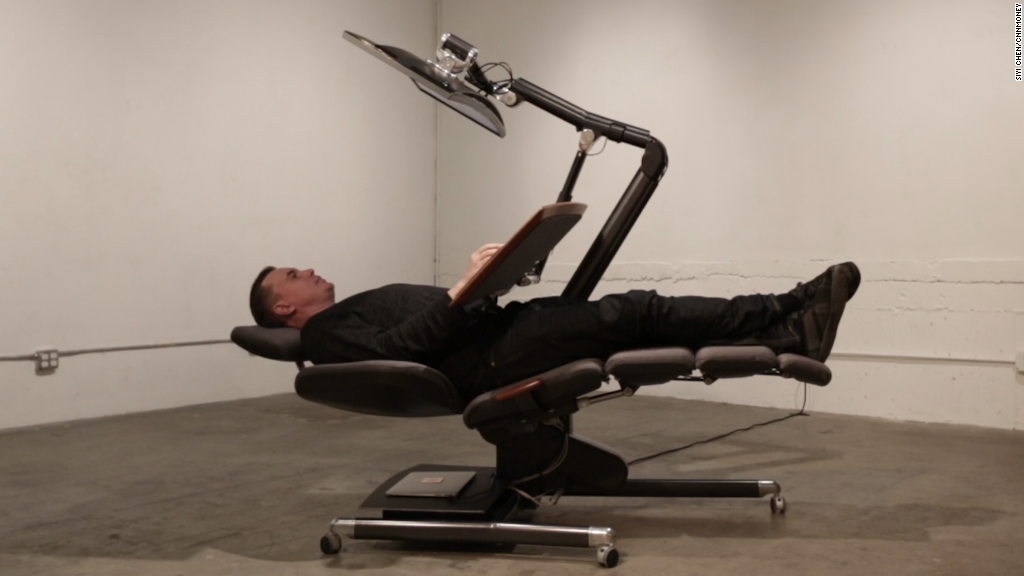 When Mathias Ellegiers made a wooden standing desk for his girlfriend in 2012, he never thought it'd open up a floodgate of interest from teachers nationwide.
"My girlfriend Daphne was suffering from back and neck pain while studying for a PhD," said Ellegiers. "We wanted to try a standing desk but couldn't find one we wanted."
The options available on the market were too expensive (ranging from $800 to $1500) and unattractive -- most are made of metal. So Ellegiers, who has a background in structural engineering, built a cheaper model made out of plywood.
Soon after, his teacher friend requested a smaller version for her classroom. It became so popular among students she implemented a reward system for them to take turns. The response was eye opening for Ellegiers.
In response, Ellegiers launched -- along with two partners -- a standing desk manufacturing company called Jaswig. In 2014, the team invested $50,000 of their own money into the company and later launched a Kickstarter campaign that brought in $74,000.
Now, more than 110 Jaswig desks -- handmade by Amish woodworkers in Ohio --- are in over 25 schools nationwide.
Related: Using journalism to make kids better readers
Elementary school teacher Lynn Akers at Sierra Expeditionary Learning (K-8) School in Truckee, California is among the educators using Jaswig desks in the classroom. She bought 25 using a mix of competition prize money and grants. (The My First StandUp for kids is priced at $299; the adult version ranges from $449 to $499, depending on the width.)
"Most public schools can't afford to buy [the desks] on their own," she said.
But due the benefits of standing throughout the day, Akers considered it an investment.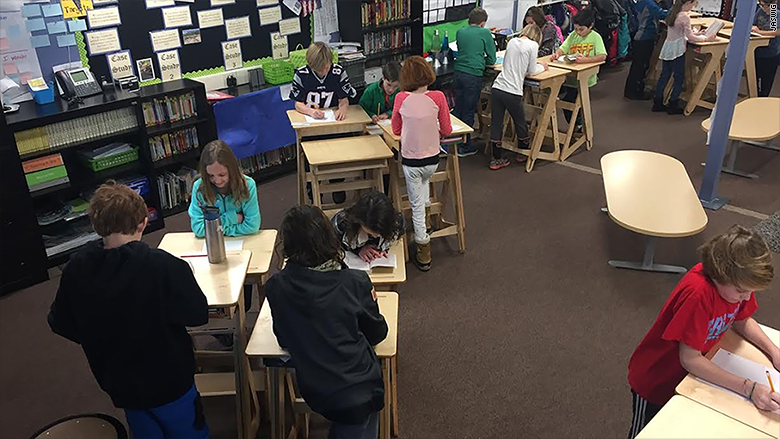 "There's growing awareness among educators that children naturally learn through movement," she said. "If you restrict them to sitting, they interrupt you more and maybe ask to go to the bathroom a lot. They need to get their energy out."
Akers encourages her students to stand for at least 15 minutes during her class but gives the option of sitting, too. Some take advantage of the desk for the full-hour class.
Akers cited an example of a student who previously got up and walked around to do calculations in his head during a math test.
"It showed me he needed movement to problem solve," she said.
Related: Turning shipping containers into mobile tech labs for schools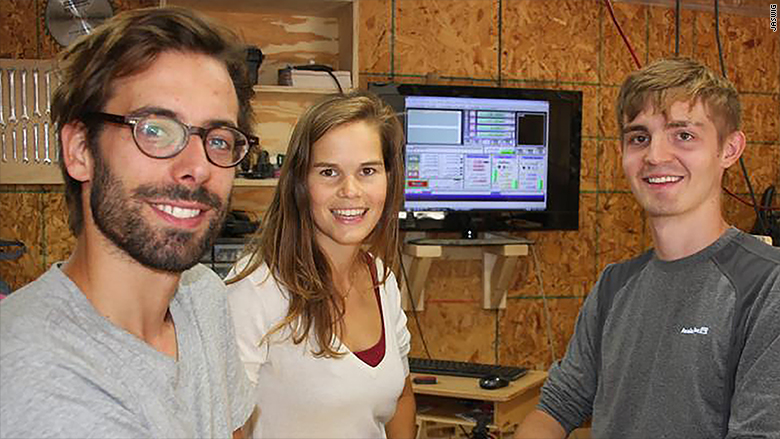 "Now, [students] are taking ownership of their learning in a more focused way," said Akers.
Other teachers at the school have since added a mix of standing and sitting desks.
The concept hits close to home for Jaswig's cofounder, too: "I dealt with ADD [growing up] and had a difficult time sitting down for long periods," Ellegiers said. "[I realized] the option to stand could make a big difference to students with such challenges."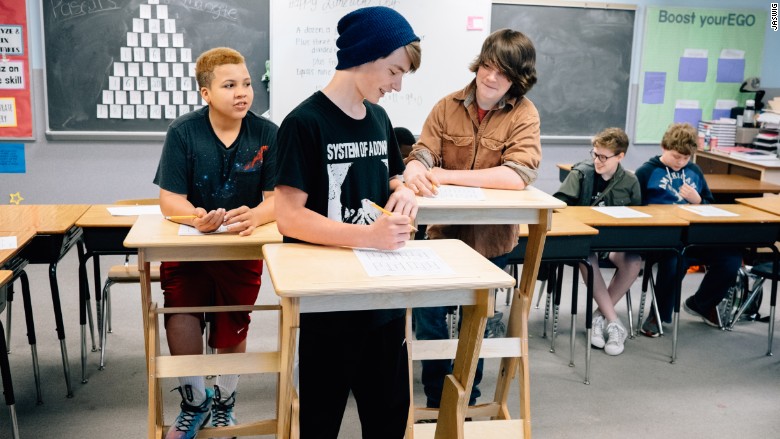 Although he recognizes the price tags for his standing desks are a bit steep, he hopes to bring down the cost for public schools soon.
"We donate when we can, but we also want to bring down the price by $100 in the spring," he said.