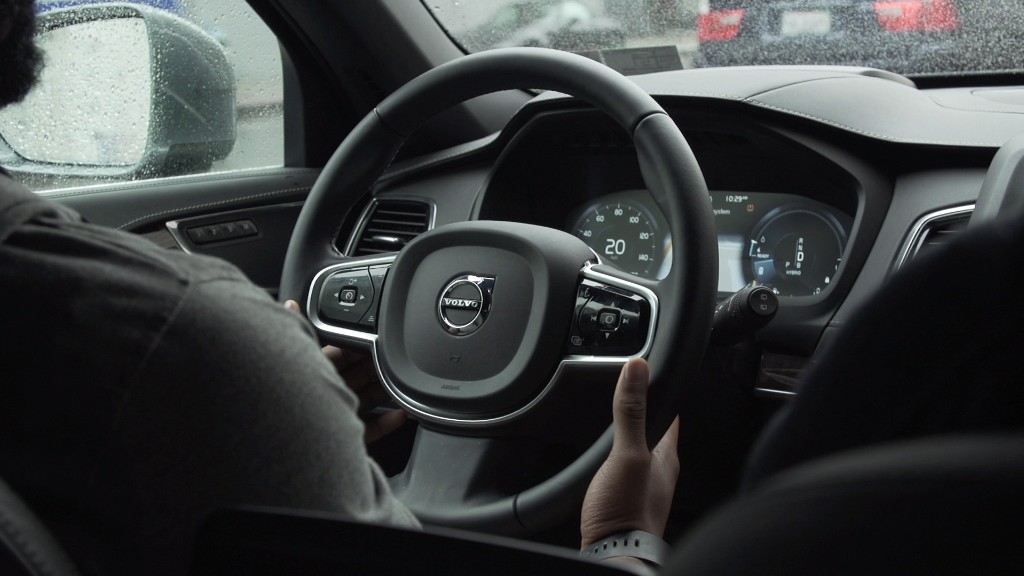 The battle over self-driving cars and jobs has just kicked off in upstate New York.
An organization that advocates for professional drivers has urged New York to ban self-driving cars from the state's roads for 50 years. The Upstate Transportation Association fears that self-driving cars will eliminate thousands of jobs and damage the local economy.
Experts say it's the most aggressive move yet to restrict self-driving vehicles, and a sign of things to come.
"Large groups of workers are going to recognize that their jobs are threatened. Today it may be the taxi driver. Tomorrow, it's all the truckers. Now that it's been expressed in [upstate New York], we'll see a lot of it," said Wendell Wallach, author of "A Dangerous Master: How to Keep Technology from Slipping Beyond our Control."
Related: How Ohio's gamble on self-driving trucks could backfire
New York state is considering allowing ridesharing services like Uber and Lyft to operate throughout the state. Currently they are only allowed in New York City. On Monday, Governor Andrew Cuomo said that the state would embrace the services.
But the Upstate Transportation Association fears that Uber and Lyft will eventually transition to fully self-driving vehicles, wiping out the jobs of thousands of New Yorkers. (Uber, which has promised 13,000 jobs if it operates in upstate New York, is testing driverless vehicles in Pittsburgh.)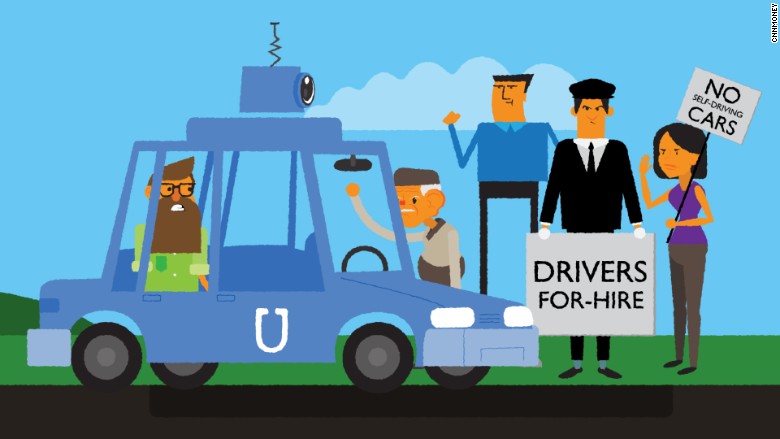 Before New York allows allowing ridesharing services throughout the state, the Upstate Transportation Association wants assurances that those jobs will be protected. (The Association represents taxi, livery, medical transportation and paratransit fleets.)
"It doesn't do anything for the local economy to have driverless cars," John Tomassi, president of the Upstate Transportation Association, told CNN. "I'm sure there's a little bit of job creation, but nothing that will match the number of jobs lost."
Related: Is Uber's push for self-driving cars a job killer?
But Tomassi's fight to protect drivers appears doomed. His call for the ban has been met with silence. Legislation is moving forward, and there are no provisions to offer safety nets to drivers who may lose their jobs.
A critical moment is slipping by to help drivers navigate the rocky transition to autonomous vehicles. Once ridesharing companies can operate in New York, the state will have less leverage to extract concessions from companies, such as driver protections.
"Now is the moment, and it's just that states are not aware of what the ramifications of the technology are," said Wallach, who is also a senior adviser to the Hastings Center where he does AI research. He believes that states need more tech policy experts to come up with healthy compromises to manage technology's positive and negative consequences.
Cuomo has yet to even express whether he's in favor of self-driving vehicles operating on state roads. And the state senator sponsoring the legislation doesn't have a stance on whether autonomous vehicles will impact employment.
It's a tricky position for leaders such as Cuomo. How do we best juggle the benefits and downsides of self-driving vehicles? Roads should become much safer once we shift to self-driving vehicles. Customers will likely be drawn to the low cost of self-driving rides. What does society do about the threat to employment?
Related: Trump's populism is only the beginning. Here come the robots.
The Independent Drivers Guild, which represents New York City's 45,000 for-hire drivers, told CNN it will aggressively fight to protect current New York laws, which it interprets as banning driverless cars.
A state law requires drivers to keep one hand on the steering wheel. But legal experts tell CNN that loopholes could be found to get self-driving cars on New York roads.
"New York law requires that when people drive a car they have a hand on the wheel, but there's no requirement that self-driving cars have anything on the wheel," said Ed Walters, who teaches robotics law at Georgetown University Law Center.