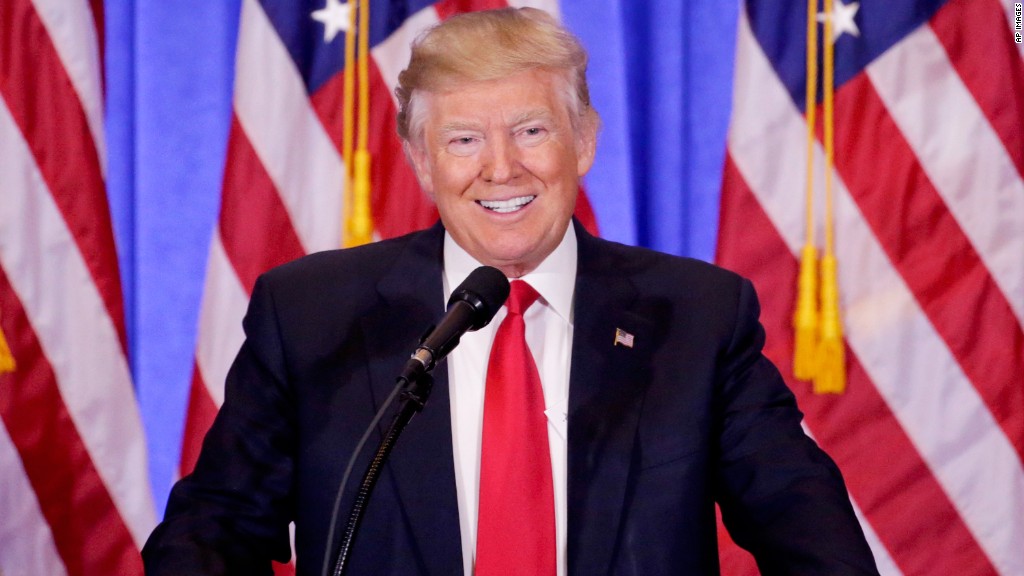 Drug stocks tanked after President-elect Donald Trump, in his first press conference since the election, complained about big price increases and put the industry on notice.
Trump said that many companies were "getting away with murder" and that there would be more competitive bidding practices for federal contracts in his administration.
Dow component Pfizer's (PFE) stock fell more than 2% immediately after the comments.
Mylan (MYL), which has already come under Congressional scrutiny for dramatic price hikes of its life-saving allergy medication EpiPen, fell 3.5%, and Bristol-Myers Squibb dived 4%.
Allergan (AGN) and Valeant (VRX), two other biotechs that have been criticized for raising drug prices, also fell more than 3%. And the iShares Nasdaq Biotechnology ETF (IBB), which owns many of these companies, fell 3% too.
Trump's tough talk about drug prices can't be reassuring to investors, many of whom had believed that Hillary Clinton was likely to be tougher on the health care industry than Trump.
During the past year, the drug industry has come under fire for excessive price increases, especially since the now notorious "bad boy of pharma" Martin Shkreli raised the price of the live-saving drug Daraprim more than 5,000% after his company bought it.
Related: Trump threat fails to halt drug price hikes so far in 2017
Clinton attacked the drug industry several times on the campaign trail, but Trump didn't bring much attention to the issue of drug prices.
That has now changed, although it shouldn't come as a huge surprise to investors. Trump has been more of a populist than a traditional, pro-Big Business Republican.
He's complained about the high cost of Air Force One as well as the F-35 fighter plane, comments that have led to volatility in the stocks of the companies that make those jets -- Boeing (BA) and Lockheed Martin (LMT).
Trump also lamented the fact that many pharmaceutical and biotech companies are producing goods overseas instead of in the United States.
"Drug companies supply their products here but they don't make them here," he said.
It's a familiar refrain for Trump, who has also taken car companies Ford (F), GM (GM) -- and even Japan's Toyota (TM) -- to task for making cars in Mexico. Trump also has criticized Carrier-owner United Technologies (UTX) for moving jobs to Mexico.
Investors have mostly shrugged off Trump's penchant for attacking big businesses so far.
The broader market remains near all-time highs after surging in the first few weeks after the election.
But stocks went on a bit of a wild ride Wednesday during Trump's press conference.
The Dow, which was up about 100 points and near 20,000 when the press conference began, quickly gave up nearly all it gains and slipped into negative territory for a bit. But the market rebounded as the press conference wore on.
The VIX (VIX), a gauge of market volatility, also shot higher at the start of the press conference before pulling back. CNNMoney's Fear & Greed Index remained in Greed mode.