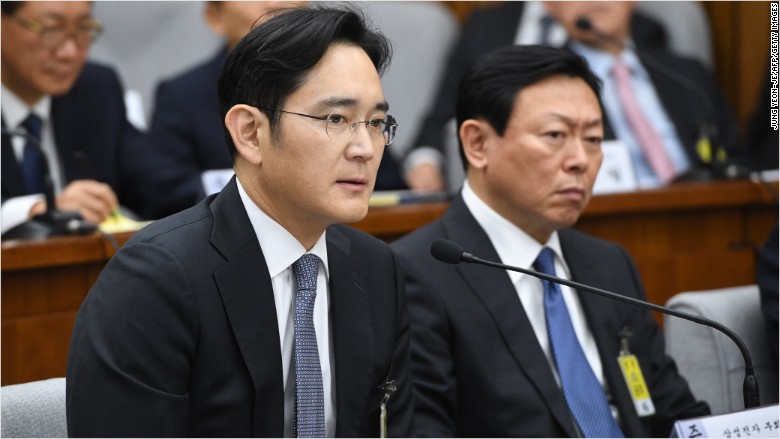 Prosecutors have named the heir to the Samsung empire as a suspect in the massive corruption scandal that has rocked South Korea.
Lee Jae-yong, who is expected to succeed his ailing father at the top of the country's biggest conglomerate, arrived at the prosecutors' office on Thursday for questioning in a far-reaching bribery investigation.
The widening scandal has brought about unprecedented scrutiny of the ties between South Korea's political and business elites. It's set off huge street protests and prompted lawmakers to vote last month to impeach President Park Geun-hye.
Samsung's deepening links to the corruption investigation have done further damage to the company's image after the humiliating fiasco over its fire-prone Galaxy Note 7 smartphone last year.
Related: Samsung faces rare public grilling over political scandal
As he arrived at the prosecutor's office on Thursday morning, Lee told reporters that he was sorry his company wasn't "able to show a better side to the people." He then bowed and walked away.
He and other top South Korean business leaders have faced questions over donations their companies made to two foundations controlled by Choi Soon-sil, a confidante of Park. Prosecutors say the payments were made in return for political favors -- an allegation the business leaders have denied.
Samsung Electronics (SSNLF) declined to comment on the announcement that Lee, its vice chairman, is now a suspect in the investigation.
During a public grilling by lawmakers last month, Lee denied any wrongdoing. He said that Park didn't directly ask him to support foundations linked to Choi and that he was unaware of Samsung's payments to them.
Related: These big companies had a terrible 2016
But prosecutors are investigating whether the company made the payments in order to secure backing for a contentious merger in 2015 that helped Lee strengthen his control over Samsung Electronics, a key part of the family's sprawling business empire.
South Korea's National Pension Service was a major shareholder in one of the Samsung subsidiaries involved in the merger. Its vote was crucial in ensuring the deal went through in the face of vigorous opposition from a U.S.-based activist hedge fund.
The public pension fund's offices have been raided as part of the corruption investigation. A former cabinet minister was arrested last month on charges that he pressured the fund to approve the Samsung merger.
Lee's elderly father, Samsung Group Chairman Lee Kun-hee, suffered a heart attack in 2014, which accelerated the conglomerate's succession planning.
-- K.J. Kwon and Stella Kim contributed to this report.