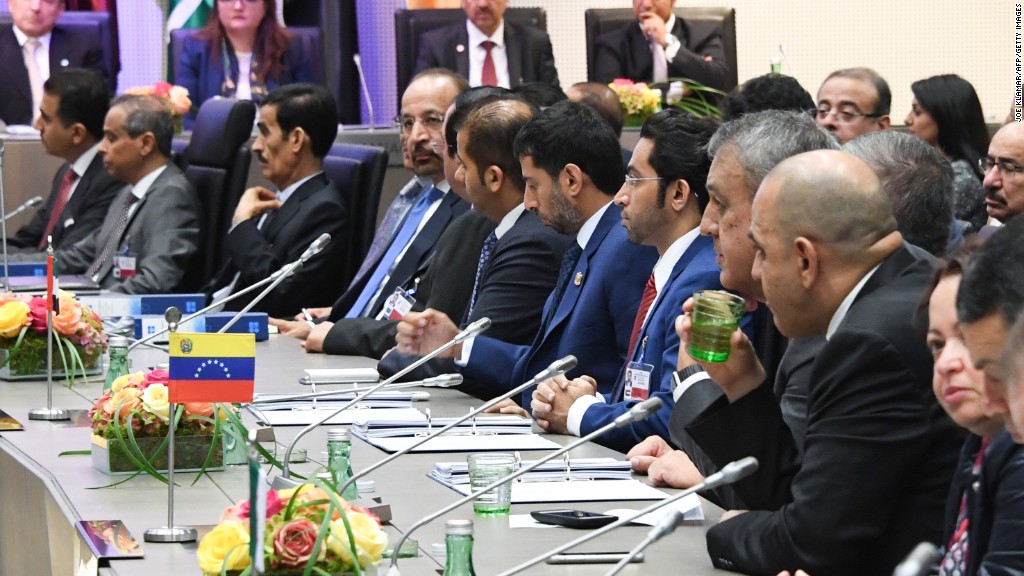 OPEC could extend its oil output cuts to the end of 2017, provided other producers continue to play ball.
Less than two weeks into an agreement between OPEC and non-OPEC producers to cut output by 1.8 million barrels per day, Saudi Arabia and Kuwait say they are open to prolonging the six-month deal.
"If we continue to see the current level of prices and the commitment of the community, as well as non-OPEC at a satisfactory level, I think we could renew it for another six months," Kuwait's oil minister, Issam Almarzooq, told CNNMoney.
Saudi Arabia's oil minister Khalid al-Falih said all parties have shown willingness to extend if necessary.
Last month, some countries outside OPEC -- including Russia, Mexico and Kazakhstan -- agreed to join OPEC members in their effort to restrain supply.
But skepticism remains. Since 1989, OPEC has hammered out numerous production cuts just like the one it negotiated last year. And in that period, OPEC producers have pumped more oil than their quotas in all but a handful of months.
Related: $50 oil is here to stay if OPEC sticks to its deal
"I have some concerns that if we get any wavering in terms of compliance, there is so much bearish sentiment ready to come back in," said Helima Croft, energy strategist at RBC Capital Markets.
Speaking at a CNNMoney roundtable at the Atlantic Council Energy Forum in Abu Dhabi, Croft said markets were watching Iraq closely to see if it would cut as promised.
The country's oil minister was quick to respond.
"Iraq is definitely and certainly committed to comply with the OPEC agreement," said Jabbar Al Luaibi.
Iraq has already taken measures to cut production by 170,000 barrels per day and would deliver cuts totaling another 40,000 barrels a day by the end of the month to meet its commitment, he said.
The promised cuts have already pushed oil prices higher, and that is stimulating investment and production elsewhere, complicating the task for OPEC and its non-OPEC allies.
Shale oil producers in the U.S. are taking advantage. The special envoy for international energy at the U.S. state department, Amos Hoghstein, said they have increased output by 300,000 barrels a day since October.
"If prices continue in a $55 to $65 band for the next year, I would expect much more aggressive production in the United States than is currently being anticipated by the international agencies," he said.
Related: U.S. oil investment to hit $61 billion as price surge
Total (TOT) CEO Patrick Pouyanné said it would take more than six months to clear the market of huge inventories.
"If you really want to give a vision to the market six months is good, but OPEC and non-OPEC will need to have a longer agreement," he told CNNMoney.
But for now, the real question remains on compliance.
A monitoring committee, chaired by the Kuwaiti oil minister, will meet on Jan. 21 to check whether any of the producers who signed on to the cut are cheating.