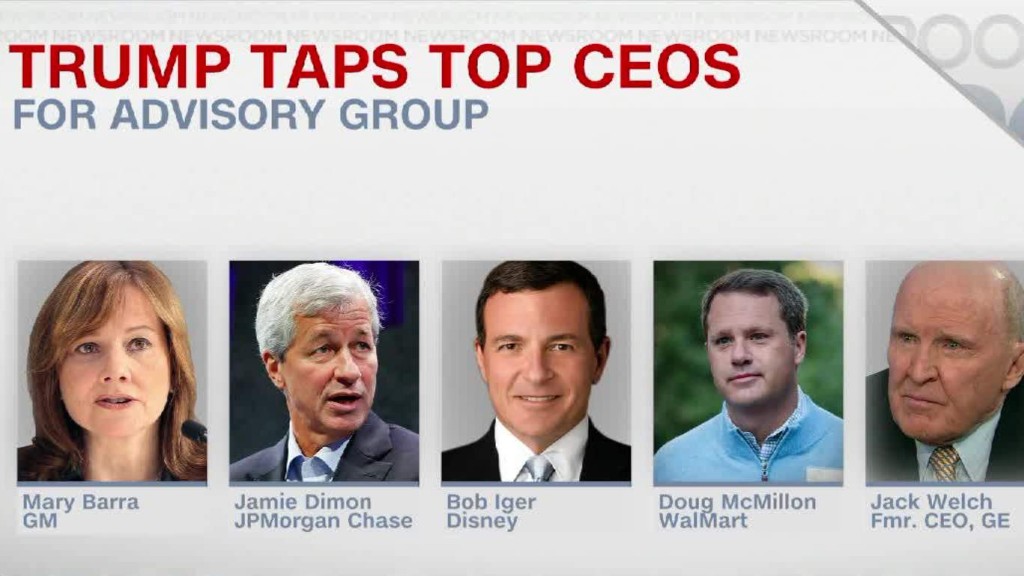 JPMorgan Chase CEO Jamie Dimon seems hopeful that better times for the economy lie ahead under President-elect Donald Trump.
The bank reported better than expected profit for the fourth quarter Friday. And in its earnings release, Dimon suggested more good news could be coming for banks -- and for Americans -- in the months ahead.
"The U.S. economy may be building momentum," Dimon said. "Looking ahead there is opportunity for good, rational and thoughtful policy decisions to be implemented, which would spur growth, create jobs for Americans across the income spectrum and help communities."
Dimon didn't mention Trump by name or cite specifics about the possibility of Trump and the Republican-led Congress unwinding some of President Obama's financial reforms.
During a conference call with reporters, Dimon tempered his enthusiasm.
"I'm usually an optimist. But I'm neither euphoric nor depressed," he said, adding that he is hopeful there will be more regulatory and tax reform. He added that it's too soon to tell what, if anything, will change in Washington.
Dimon will clearly have a key role in helping the new president's economic policy though.
Related: Wall Street hates the Volcker Rule. Will Trump kill it?
Dimon is one of 16 CEOs on Trump's Strategic and Policy Forum, a group that also includes IBM (IBM) CEO Ginni Rometty, Disney (DIS) CEO Bob Iger, GM (GM) CEO Mary Barra and Walmart (WMT) CEO Doug McMillon.
Asked during the media call what advice he would whisper in Trump's ear, Dimon quipped, "I don't whisper." He declined to give specifics about what specifically he would suggest, saying there is no one big thing that must be addressed first.
Answering a question from CNNMoney, Dimon said he was not overly worried about Trump's attacks against companies for doing business in Mexico or about his protectionist rhetoric -- even though JPMorgan Chase does business around the globe.
Dimon said he's putting aside the Trump one-liners and is "comforted" that Trump has put "professionals" in the administration such as treasury nominee Steven Mnuchin, a former Goldman Sachs exec, billionaire investor Wilbur Ross for commerce secretary and former ExxonMobil (XOM) CEO Rex Tillerson for secretary of state.
"Give him some time," Dimon said of Trump.
Even though Dimon said there are still questions about what's next for banks, Wall Street seemed pleased with the results. JPMorgan Chase's (JPM) stock was up nearly 2% in early trading Friday following its earnings.
The stock, along with that of other banks, has been on a tear since the election -- largely because of hopes for fewer regulations and rising interest rates, which would boost profits.
Shares of JPMorgan Chase are up 23% since the election. Bank of America (BAC) has also risen sharply, and it, too, reported solid earnings Friday morning.
BofA CEO Brian Moynihan didn't mention Trump either in his bank's earnings release. But he pointed out that the Fed, which raised interest rates last month and is expected to do so several more times this year, will help BofA.
Related: Wells Fargo dumps toxic 'cross-selling' metric
JPMorgan Chase CFO Marianne Lake echoed that during her bank's earnings call with reporters. She said the company was excited about more rate hikes but that it will take time for them to improve profits.
"We are still at absolutely very low levels of rates," she noted.
Scandal-ridden Wells Fargo (WFC) also reported its latest results on Friday morning. The bank, which was forced to admit last year that it opened up millions of fake accounts, disappointed Wall Street with earnings and sales that missed forecasts.
But shares of both BofA and Wells Fargo rallied Friday along with JPMorgan Chase.
Several other big banks, including Citigroup (C), Morgan Stanley (MS) and Goldman Sachs (GS), will report their latest results next week.