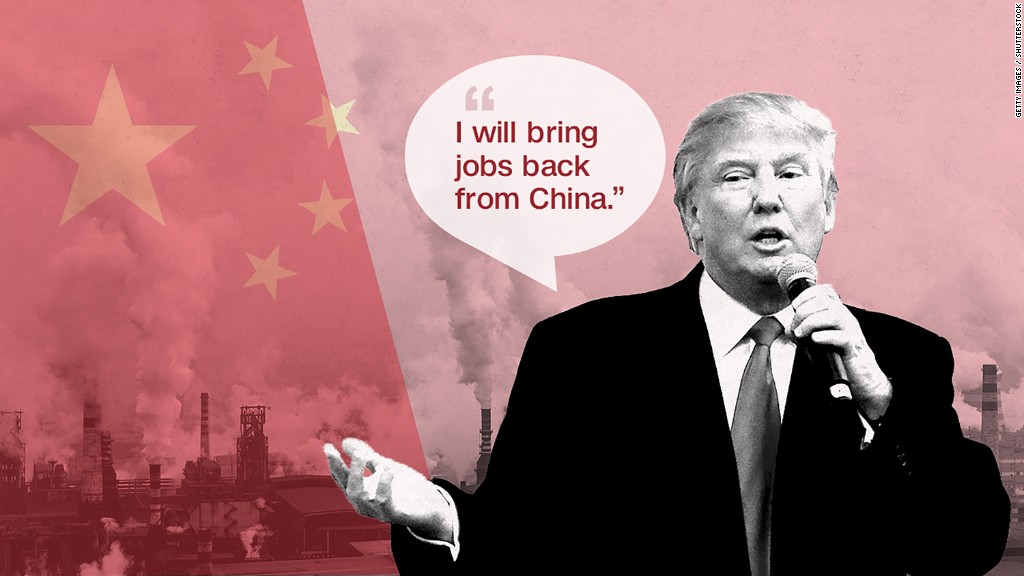 Top business leaders are freaking out about trade.
Nearly six in 10 global CEOs are worried about protectionism and rising trade barriers, according to a new survey by PwC. That's up from 40% in 2012.
Fears are even more pronounced in the U.S. and Mexico, where 64% of business leaders are concerned.
The increase has a lot to do with Donald Trump. The president-elect of the U.S. has threatened to scrap free trade deals and impose tariffs on many of the country's top trading partners.
PwC said concern about protectionism among the U.S. CEOs increased by a full 10 percentage points after the election: 61% of those surveyed before Nov. 8 were worried compared to 71% after Trump's victory.
"I think we'll see the emergence of nationalism, economic nationalism, in a much more fundamental way than we've seen over the last 20 years," John Patrick Hourican, CEO of Bank of Cyprus, said in response to the survey.
PwC interviewed 1,379 CEOs in 79 countries for the survey between September and December. They represent companies of all sizes across different sectors.
The result showed a small uptick in the overall business confidence, despite lukewarm global economic growth and rising wealth inequality.
Thirty-eight percent of CEOs said they are "very confident" about their company's growth prospects over the next 12 months, compared to 35% in the previous edition of the annual survey.
"There are signs of optimism right across the globe, including in the U.K. and U.S., where despite predictions of a Trump slump and a Brexit exit, CEOs' confidence in their company's growth are up from 2016," said Bob Moritz, PwC's global chairman.
Related: The world is becoming a very scary place
More than half of the bosses plan to increase hiring this year. But the process makes them nervous -- more than three-quarters are worried about the availability of key skills.
Businesses have plenty of other worries.
Fewer than a third of the CEOs believe global economic growth will pick up in 2017. And 44% said that globalization has not helped to close the gap between rich and poor.