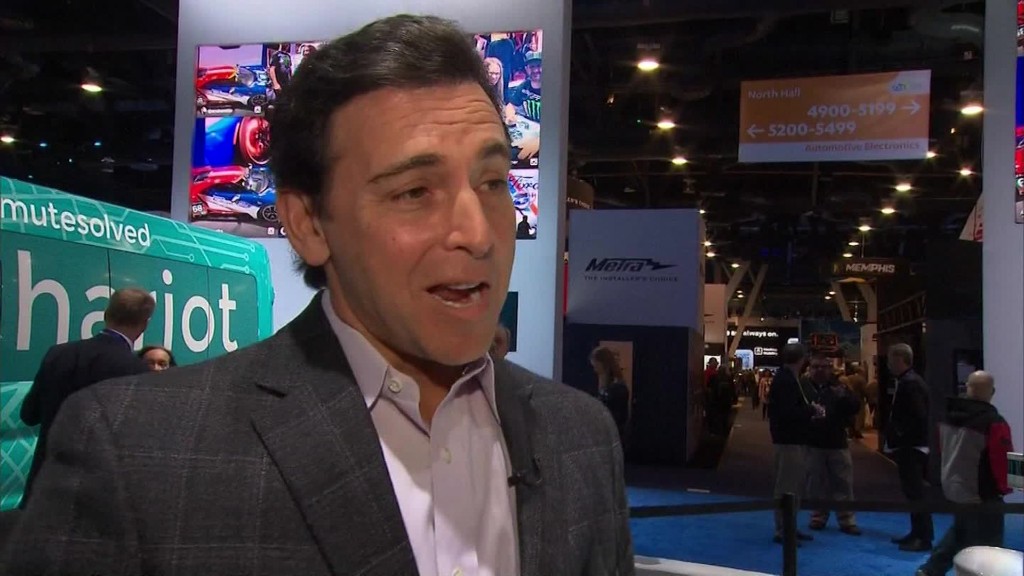 Corona is going through a serious Trump hangover.
Just one day after Donald Trump was elected president, the U.S. company that distributes Corona took a 7% dive in the stock market -- and it hasn't recovered.
Constellation Brands' stock remains down 10% since the election, seriously missing out on Wall Street's big Trump rally.
The post-election slump is largely driven by fears that Trump's aggressive stance towards Mexico will ricochet against Constellation's portfolio of Mexican beer brands Corona, Modelo and Pacifico.
Constellation (STZ) is the largest imported beer company in the U.S., so it makes sense that shareholders are concerned about Trump's threats to tear up NAFTA, slap big tariffs on Mexican imports or install a "border tax."
Trump's immigration rhetoric or policies could also hurt the beer company's customer base.
Constellation could lose 1.5 million to 2 million consumers if undocumented workers voluntarily leave the U.S. due to heightened enforcement fears, Evercore ISI analyst Robert Ottenstein estimates.
These concerns led Ottenstein to warn clients after the election that Constellation shares could be "dead money" in the short-term. Longer term, he believes "investors with stomach and patience to endure the Trump uncertainty should be rewarded."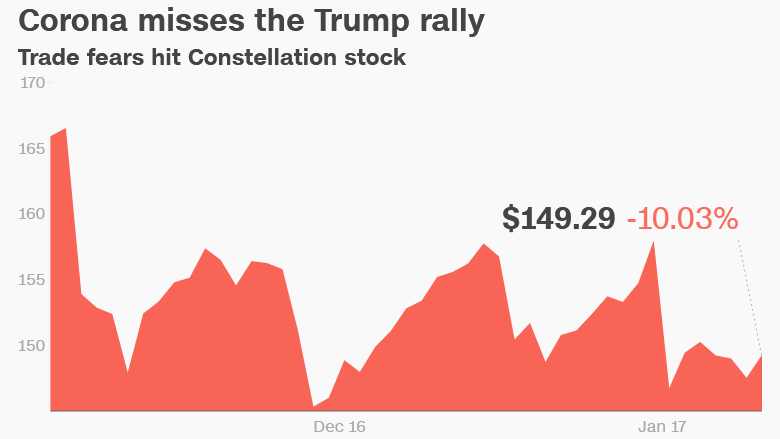 Related: Mexico warns Trump on tariffs
The most immediate risk is on the trade front.
Last week, Trump reiterated his threat to slap a "border tax" on companies like Constellation that manufacture in Mexico and sell to Americans.
It's unclear exactly what a border tax means. The president-elect could be referring to a tariff, like the 35% tax he's threatened General Motors (GM) and other auto makers that have Mexican factories with.
Trump may also be hinting at a border adjustment tax. In theory, a border adjustment tax would try to help U.S. trade by removing tax breaks from companies that import products and giving tax breaks to U.S. companies that ship goods abroad.
All of this matters to Constellation because almost 100% of its beer portfolio is imported from overseas. (The exception is Ballast Point, the tiny San Diego brewer that Constellation owns.)
In 2013, Constellation paid nearly $5 billion to acquire the exclusive rights to import Corona and other beers brewed by Grupo Modelo.
Of course, unlike auto makers like Ford, (F) Constellation can't shift Corona manufacturing facilities north of the border from Mexico to satisfy Trump.
"As you know, our imported Mexican brands can only be authentically produced in Mexico and sold in the U.S.," Constellation CEO Robert Sands said during the company's conference call earlier this month.
Wall Street peppered Sands with questions about the potential fallout of Trump's trade and tax proposals. The word "tax" came up 46 times during the earnings call.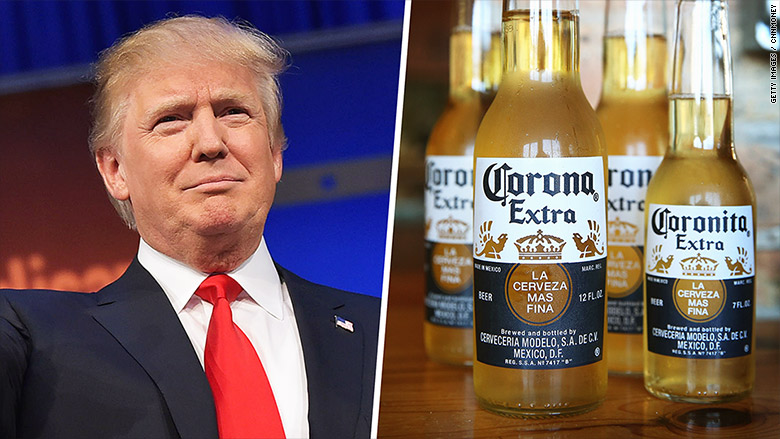 Related: What is a border adjustment tax?
Constellation is clearly taking the threat seriously. Sands said he's met in recent months with both House Speaker Paul Ryan and U.S. Senate Majority Leader Charles Schumer to talk about Trump's trade and tax plans.
Yet Sands described "optimism" about the future because Constellation has come up with a contingency plan. If Trump imposes a border tax, Constellation could minimize its new tax expenses by purchasing more packaging materials from inside the U.S., instead of Mexico.
The iconic Corona glass bottles could also be made with more U.S. natural gas, instead of relying on mostly Mexican natural gas like now.
"We wouldn't just totally disrupt the supply chain over the long run if it's not necessary," Sands said, "but we do have quite a bit of flexibility in what we can do."
Constellation could also respond by jacking up Corona prices.
Morgan Stanley analyst Dara Mohsenian predicted Constellation would raise beer prices by up to 5%. Half of that increase could trickle down to consumers, with retailers and distributors absorbing the rest.
Related: Trade war is Wall Street's top Trump fear
So are all the Trump fears justified by Wall Street?
Morgan Stanley doesn't think so. Mohsenian believes the selloff has actually created a "buying opportunity," especially considering Morgan Stanley only sees a 30% to 40% chance of a border adjustment tax getting implemented.
"Investor concerns are overblown," Mosenian wrote.
--CNNMoney's Patrick Gillespie contributed to this report.