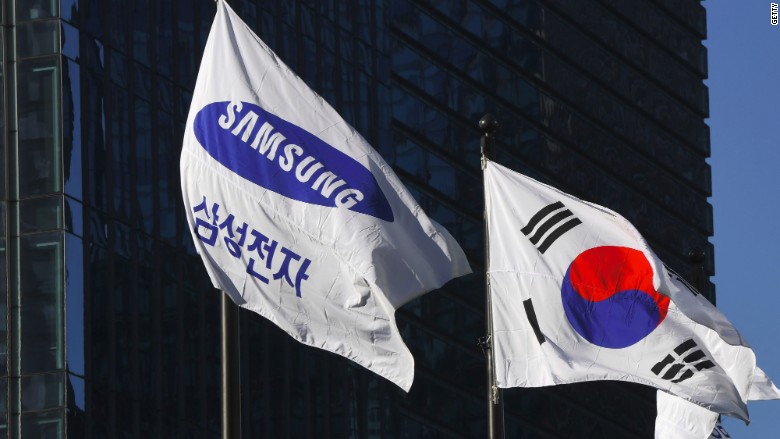 The heir to the Samsung empire is facing possible arrest over corruption allegations. But if history is anything to go by, criminal charges won't keep him away from the company for too long, if at all.
A judge will decide Wednesday whether to issue an arrest warrant for Lee Jae-yong, the de facto chief of Samsung who prosecutors say is a key player in a massive corruption scandal that has rocked South Korea.
Lee, who denies the allegations, isn't the first top South Korean business leader to face accusations of corruption. And he probably won't be the last.
His father, Samsung Group Chairman Lee Kun-hee, was convicted twice -- and pardoned twice.
Related: South Korean prosecutors seek to arrest Samsung heir
Other chiefs of the giant family-run conglomerates that dominate the South Korean economy -- known as "chaebol" -- have also been found guilty of criminal wrongdoing and then gone back to running their businesses.
Analysts say the trading of favors, bribes and political influence between politicians and businessmen is practically endemic in the country. But the sheer scale of the current political scandal that has engulfed Samsung and other chaebols is different from the individual cases they've faced in the past.
"Now, it's a big scandal for the nation," said Steve Chung, an expert on South Korean society at the Chinese University of Hong Kong. The political crisis has led to vast street protests and a vote by lawmakers to impeach President Park Geun-hye.
Related: Do South Korea's chaebols wield too much power?
The secretive chaebols are sprawling, multinational empires that account for a big chunk South Korea's economy. They have a long history of criminal charges with limited consequences.
Here are some of the major cases:
Samsung chairman's 2 pardons
Lee Kun-hee, the Samsung Group chairman, was convicted in 1996 of bribing politicians and sentenced to two years in prison. The prison sentence was overturned and he was pardoned the following year.
In 2008, he was convicted of tax evasion, but the three-year prison sentence was suspended and he was ordered to pay 110 billion won ($93 million) instead. In 2009, Lee received another presidential pardon.
The chairmen of Hyundai Motors, SK and Hanwha have also been convicted of crimes over the years. But they avoided lengthy prison terms, receiving suspended sentences and paying heavy fines instead.
Related: South Korea presidential scandal: What you need to know
Landmark decision overturned
Even if chaebol chiefs spend time behind bars, it doesn't necessarily put an end to their wealth and power.
In 2012, a South Korean court jailed Hanwha Group Chairman Kim Seung-youn for embezzlement, a decision that at the time was praised for breaking the pattern of lenient treatment for convicted chaebol bosses.
But Kim served just a few months in prison. The sentence was overturned in 2013 -- and the landmark court decision itself was overturned the following year.
Kim remains chairman of Hanwha and is currently listed as the 47th richest man in South Korea, according to Forbes.
Managing from behind bars
SK chairman Chey Tae-won was convicted of embezzlement in 2013 and spent about two years in prison, one of the longest sentences served by a chaebol leader.
But Chey continued to oversee the SK empire from behind bars, receiving more than 1,700 visitors, according to The Wall Street Journal.
Chey was eventually pardoned in 2015 and reinstated as SK Group chairman last March.
'Nut rage'
Finally, let's not forget the 'nut rage' scandal of 2014, which trained worldwide attention on the behavior of one particular chaebol scion.
Cho Hyun-ah -- the vice president and heiress of Korean Air, which is owned by chaebol Hanjin Group -- flew into a rage and abused cabin crew staff over how she was served nuts on a flight.
Cho was found guilty of violating aviation law and sentenced to one year in prison. An appeals court suspended her sentence after she served just five months.