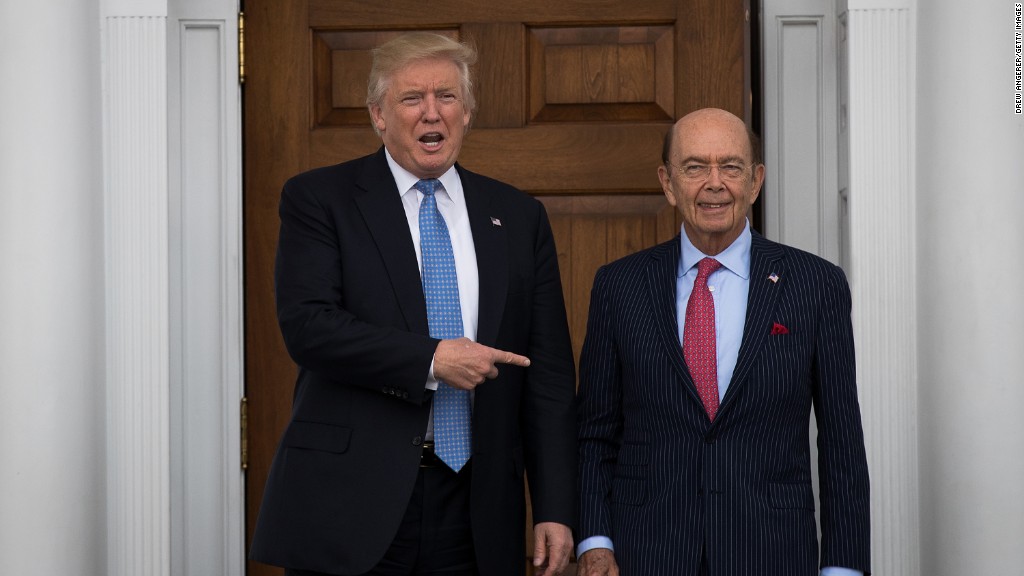 Wilbur Ross has agreed to sell some -- but not all -- of his sprawling web of assets should the billionaire be confirmed as Donald Trump's Commerce secretary.
The famed investor has filed paperwork indicating he also plans to put off selling dozens of less-liquid assets, including various investment vehicles like hedge funds, for up to six months after his confirmation.
Cabinet nominees like Ross are required to file an ethics agreement with federal officials to show how they will minimize actual or apparent conflicts of interest once they take office. These agreements typically call for divesting assets or putting them in a blind trust.
Ross' agreement was complicated by the billionaire's lengthy investing career and an array of complex assets.
Should he be confirmed as Commerce secretary after Wednesday's Senate hearing, Ross would be expected to help develop Trump's trade and economic plans.
The agreement Ross filed with Commerce Department ethics officials on Sunday shows that the billionaire has agreed that if he is confirmed,he will step down from Invesco (IVZ), as well as its various subsidiaries. That includes stepping down as chairman and chief strategy officer of WL Ross & Co., the private-equity firm Ross founded in 1997.
Related: Trump commerce pick once blasted 'China bashing'
However, the agreement details nine investment vehicles that Ross plans to keep a financial interest in "solely as a passive investor." Ross said that the holdings of these vehicles are restricted to transoceanic shipping, mortgage lending and real estate financing.
Ethics officials told Ross it's not necessary to divest these investments because there is only a "remote" chance he will need to participate in matters affecting them, the letter said.
Ross said he will "remain vigilant in identifying" potential conflicts involving the assets he's holding onto.
As required by federal law, Ross has agreed to recuse himself from all matters that he knows he or his family members have a direct financial interest in.
Ross has received permission to hold onto 40 other assets for up to 180 days after his confirmation. That includes several hedge funds, investment partnerships and other assets that Ross said are "illiquid," meaning it may "take longer to divest them."
Related: Billionaire Ross auditions before Congress
By contrast, within 90 days of his confirmation Ross said he would divest various stocks and bonds, including shares in Apple (AAPL), Boeing (BA) and Moody's (MCO) as well as debt issued by Wells Fargo (WFC) and infamous Wall Street firm Bear Stearns.
The ethics agreement spelled out some outstanding payments due to Ross from his employers. For instance, Ross said before he takes the position of Commerce secretary he will receive a bonus payment covering the 2016 calendar year from Invesco.
Ross has also asked WL Ross & Co. to stop using his last name if he is confirmed, although it may continue using his initials.