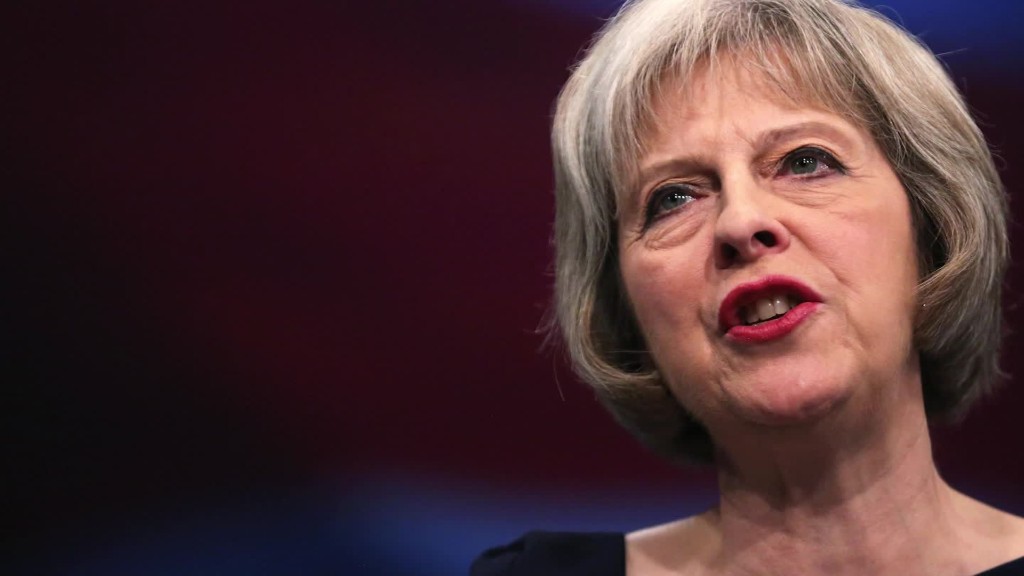 Britain has finally revealed its plan for Brexit: It wants to negotiate a clean break with the European Union and a new free trade deal at the same time.
Prime Minister Theresa May set out her plans in a major speech Tuesday, nearly seven months after voters backed Britain's divorce from its biggest trading partner in a referendum.
Companies and investors have been clamoring for greater clarity about how Brexit will take effect.
But experts say May's plan is fraught with risk. It's going to be a rushed, complicated job that could even fall apart at the last minute. And either way, it will likely reduce U.K. prosperity.
Related: Theresa May's Brexit confidence is deeply misguided
Here's how this could play out:
A free trade deal
The U.K. plans to give formal notice of its intention to leave the EU in March. That starts a two-year countdown to exit.
The timetable will be very tight. Big free trade deals can take a decade to pin down. Elections in Germany and France this year, and ratification by lawmakers in the EU and U.K., will reduce the time for talking.
The fact that the U.K. and EU are starting from a position of completely free trade may help the process, said Ian Mitchell, a senior policy fellow at the Center for Global Development in Europe.
"The fact we already have tariff-free trade with the EU may make the negotiation easier," he said.
Related: World to Davos: 'Work for the people'
May says she wants the "freest possible trade in goods and services" between the two, but EU leaders have made it clear that Brexit Britain can't have the same access to markets it enjoyed as an EU member.
"Even if her negotiators do an extremely good job... there are going to be more barriers to trade," said Gregor Irwin, chief economist at the strategic advisory firm, Global Counsel. "It is inevitable."
That will mean slower growth in trade and investment, according to Kallum Pickering, senior U.K. economist at Berenberg Bank. The U.K.'s annual growth potential could fall to about 1.8% from 2.2%, he said.
"The accumulated costs of Brexit could add up badly over time," he warned.
Adding to the complexity, the U.K. will also have to renegotiate deals with about 50 nations, including Canada and South Korea, that currently have preferential trade agreements with the EU. They don't automatically transfer to the U.K. after Brexit.
No free trade deal
Striking a free trade deal with the EU in such a tight timeframe is not a sure thing.
EU officials may want to take a hardline in negotiations to show the 27 remaining EU nations that it's better to be inside the union than outside.
May said this would be "an act of calamitous self-harm."
She said she was sure a positive deal for both sides could be achieved. But she's ready to walk away without an agreement, saying "no deal for Britain is better than a bad deal for Britain."
Related: The euro cannot survive unless Europe changes
That would see the U.K. crash out of the EU without any preferential access to its biggest export market. Trade with Europe and the rest of the world would revert to the rules of the World Trade Organization.
Britain could set the same tariffs that the EU has in place, including on dairy products, meat, autos and textiles, said Mitchell. Or it could set tariffs at zero to boost trade with international partners, he said.
Still, trade would likely become more costly, potentially damaging British jobs and companies.
WTO director general Roberto Azevedo has said the cost to British exporters could reach £5.6 billion ($6.9 billion) per year in duty payments -- without taking into account the impact on services such as finance.
May also made a thinly veiled threat to Europe, warning that without a trade deal, the U.K. could set much more competitive tax rates to lure companies and investors from Europe to Britain.