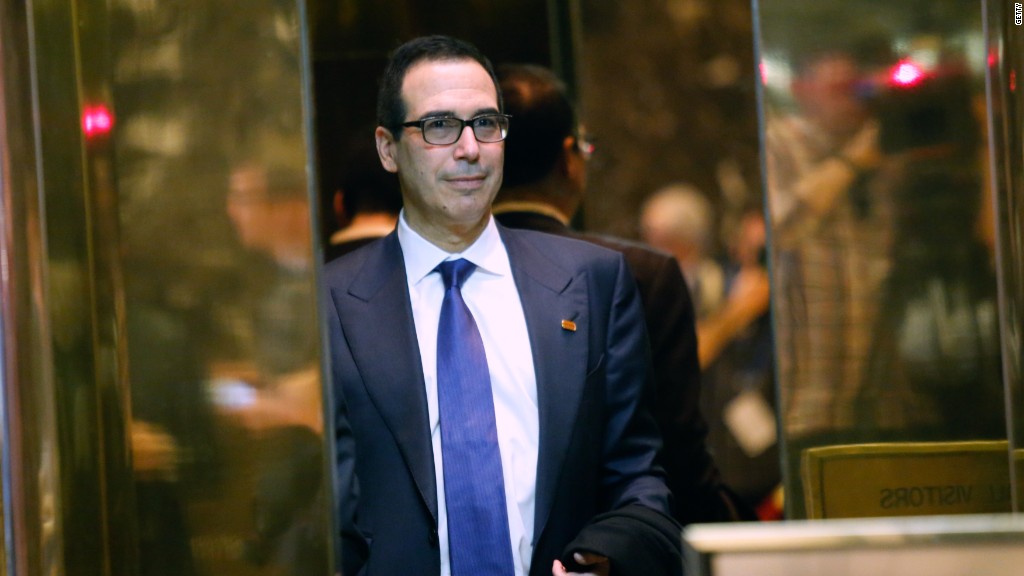 Two advocacy groups have filed a complaint with the Department of Housing and Urban Development claiming a bank sold in 2015 by Steve Mnuchin, Donald Trump's nominee for Treasury Secretary, discriminated against minorities by failing to make home loans.
OneWest bank, which Mnuchin later sold for nearly double what he and his partners paid for it, is being accused by the advocacy groups of violating the Fair Housing Act by "redlining": Avoiding making home loans to minorities by not doing business in minority neighborhoods.
It is an accusation a spokesperson for Mnuchin adamantly denies. And HUD won't comment on it.
The California Reinvestment Coalition and the Fair Housing Advocates of Northern California say OneWest deliberately avoided making loans to African Americans, Asian Americans and Latinos during the time that Mnuchin was in charge.
Mnuchin's confirmation hearing before the Senate Finance Committee is scheduled for January 19, the day before the inauguration.
Paulina Gonzalez, the executive director of the Reinvestment Coalition says OneWest has "zero" branches in African American neighborhoods in Los Angeles and cited federal home loan data she says showed OneWest only issued two home mortgage loans to African Americans in 2014 and 2015.
In 2009, Mnuchin and several of his partners, including the billionaire George Soros, took over a failed California bank called IndyMac. That takeover resulted in the new bank Mnuchin called OneWest. And it meant he also inherited dozens of branches across greater Los Angeles. A map produced by the groups, which includes branches acquired by OneWest in subsequent deals, shows almost none of the branches in minority communities.
A spokesman for Mnuchin, Barney Keller, dismissed the discrimination accusations as baseless. Keller told CNN that Steve Mnuchin purchased IndyMac with its network of branches already in place, and Mnuchin neither built nor determined where those branches would be. He and his partners bought the bank as an investment, were able to turn the failed bank around and sell it for a huge profit. Keller says the purchase and operation of OneWest assets had everything to do with business and nothing at all to do with race.
The advocacy groups say that explanation does not dismiss what they say was the bank's clear pattern of avoiding minority business during Mnuchin's tenure.
They say federal data shows OneWest made 82.4% of its home loans to whites, far higher than the 67.8% national average in 2015.
Related: As Treasury pick, Steven Mnuchin may get questions about how he ran his own bank
Sherri Jackson, who has been selling real estate in Los Angeles for three decades, says she once asked Mnuchin about the discrepancies and got nowhere.
Jackson says she met Mnuchin and other OneWest executives at a public meeting in 2014, a meeting designed to obtain community approval for a pending merger between OneWest and a financial services company called CIT Group. The merger was ultimately approved by federal regulators in 2015.
Jackson says Mnuchin "didn't want to listen" as she and her colleagues urged more lending to minorities. "I've seen what's been going on," Jackson told CNN. "It's very clear what the bank is doing."
HUD declined to discuss the "redlining" complaint with CNN other than to say all complaints are investigated.