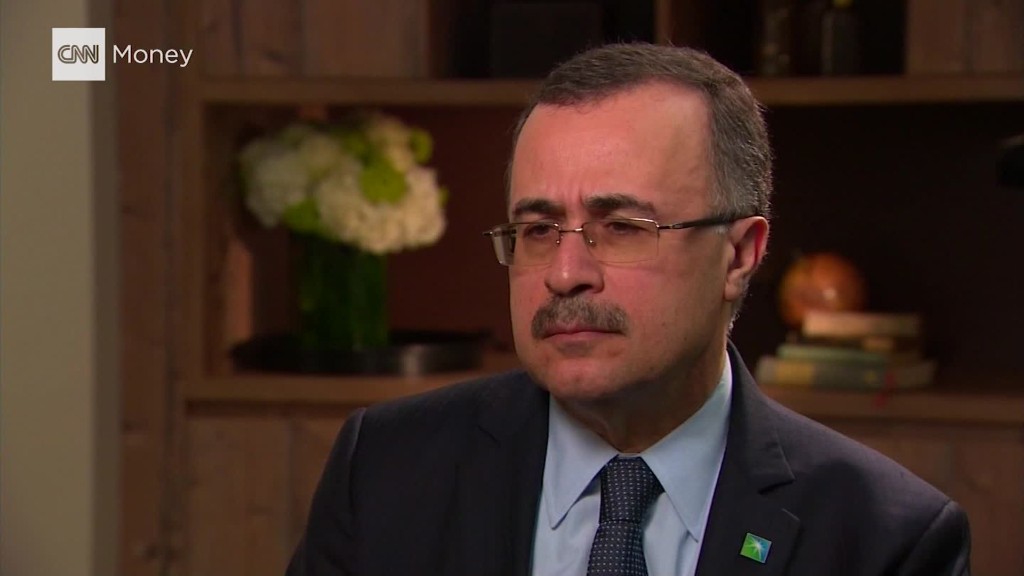 The world's biggest oil company, Saudi Aramco, is still planning to go public next year.
"We're still looking at 2018 and no change in our plan to deliver in that time," Aramco CEO Amin Nasser told CNNMoney's John Defterios at the World Economic Forum in Davos.
Saudi Arabia revealed plans to sell part of its oil giant last year when deputy crown prince Mohammed bin Salman unveiled a new economic strategy.
The kingdom was forced to rethink after a slump in oil prices blew a huge hole in its finances.
If it happens, the sale of Saudi Aramco is expected to be the biggest IPO in history.
Saudi officials have said they expect an IPO to value Aramco at around $2 trillion. If the market agrees, selling just 5% would raise $100 billion -- four times as much as Alibaba's (BABA) IPO in 2014, the largest to date.
Related: 7 crazy numbers about the world's biggest oil company
Aramco says it has 261 billion barrels of oil in reserves, giving the company plenty of resources to exploit in the years ahead. That's more than all of North America's oil reserves put together.
"We are very comfortable with the size of our reserves and the methodology we use to calculate our reserves," Nasser said. "We are not doubling our exploration program in preparation of the IPO."
Aramco pumps about 10.3 million barrels per day. That is more than twice its closest competitor Rosneft, Russia's state-owned producer.
But Saudi Aramco production is set to fall this year after the kingdom and other major oil producers agreed in December to cut output to ease a global supply glut. Lower oil output is likely to depress growth in Saudi Arabia's economy to just 0.4% in 2017, the International Monetary Fund has said.