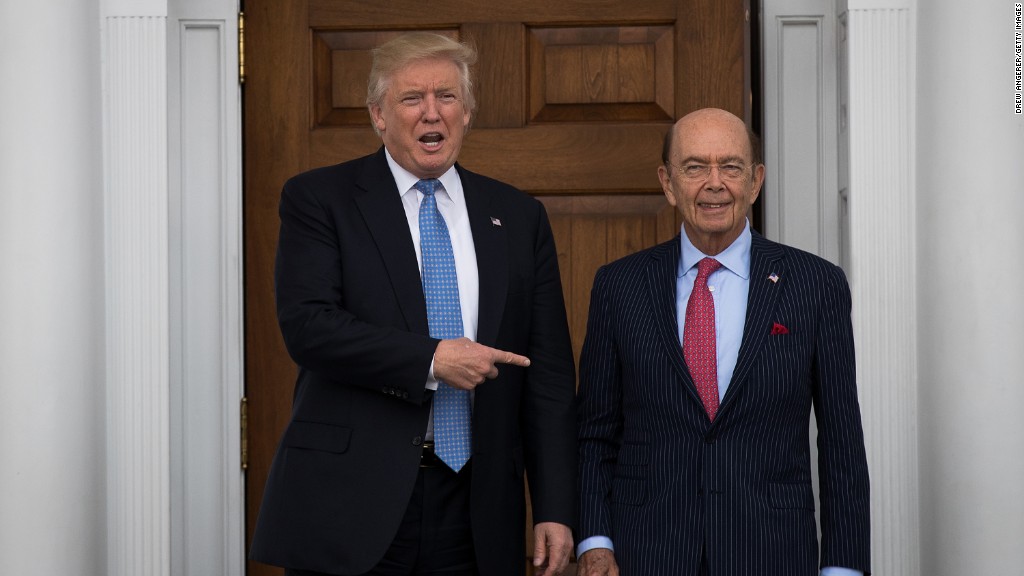 Wilbur Ross didn't just have to agree to sell off a big chunk of his fortune before becoming Donald Trump's commerce secretary. The billionaire also fired a household worker who deceived him about his or her immigration status.
Ross said during Wednesday's confirmation hearing that to prepare for his nomination he double-checked the paperwork of the dozen or so household workers he's employed over the years.
While all workers provided valid documentation when they were initially hired, Ross said one employee was unable to do so. Trump's pick for commerce secretary said he immediately fired the worker, who had previously provided a Social Security number and a driver's license.
"We did the best that we thought we could do in order to verify the legality of the employment. It turned out that was incorrect," Ross said.
Related: Ross calls China the 'most protectionist country'
Ross stressed that he paid all applicable taxes for this employee and all others.
The billionaire added that the other employees produced appropriate paperwork before the confirmation hearing. Ross said that "in many cases they had advanced to the point where they were actually citizens, so I'm very happy with that."
The issue of Ross's undocumented household worker was brought up at the beginning of the hearing by Senator John Thune, the Republican chairman of the Senate commerce committee. Both Thune and Senator Bill Nelson, the ranking Democrat on the panel, thanked Ross for being "forthcoming" about the matter. No other lawmaker asked the nominee about it.
Another Trump nominee is facing far more controversy over hiring problems. Senate Minority Leader Chuck Schumer said a New York Times report that Rep. Mick Mulvaney, Trump's choice for White House budget director, failed to pay more than $15,000 in payroll taxes for a household employee should be "disqualifying."