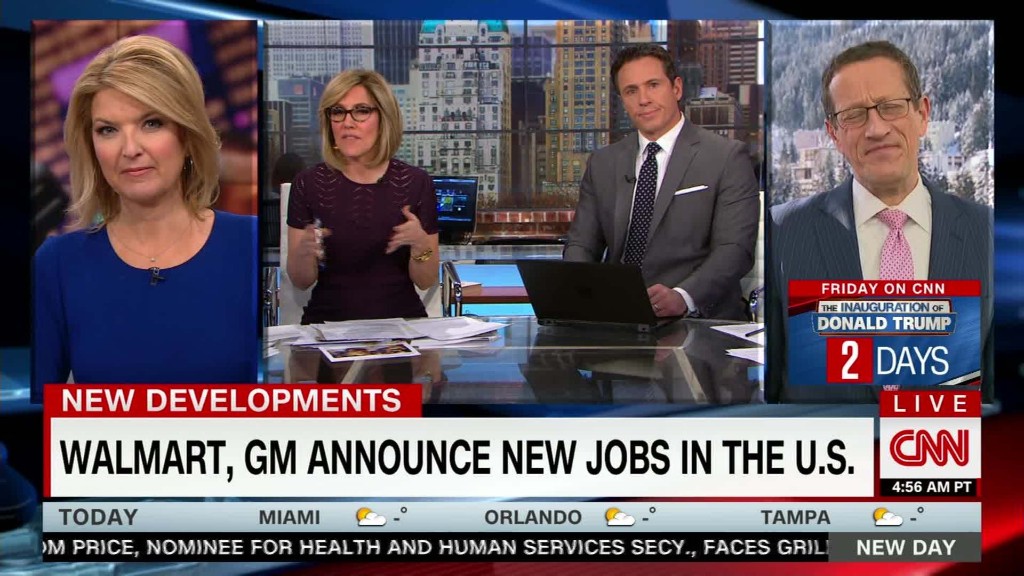 No, Donald Trump, NBC's "Today" show is not doing "badly."
It is actually America's highest-rated morning show among 25- to 54-year-olds, the key demographic for advertisers, and it is just 100,000 viewers behind ABC's "Good Morning America" among all viewers.
The high-rated morning show attracted Trump's ire on Wednesday by broadcasting a report that cast doubt on his job-creating record.
The report -- part of a new franchise called "Today's Fact Check" -- called Trump's impact "very small or non-existent."
Trump called that assertion "fake news."
"Ask top CEO's of those companies for real facts," he wrote, insisting that packages of jobs "came back because of me!"
The facts are much more complicated. As NBC, CNN and other news outlets have reported, a number of big companies have announced previously-planned investments in the United States in ways that allow Trump to take credit.
Related: Trump scores PR win against automakers, but can he take credit for the jobs?
"They have completely changed their P.R., many of these companies," CNN's Christine Romans said in a similar segment on "New Day" Wednesday morning.
"They want to de-emphasize their growth overseas and they want to re-emphasize that, 'Hey, we've always been growing here all along,'" she said.
So, anchor Alisyn Camerota responded, "now they're touting it in a way they didn't a year ago."
Of course, it is in the president-elect's interest to take credit for all job announcements. The pro-Trump web site Breitbart News has a running list of announcements titled "TRUMP JOBS BOOM."
The "Today" show report, by correspondent Ari Melber, said "companies are willing to deal with this as a P.R. issue," partly to avoid critical tweets from Trump.
Anchor Matt Lauer asked him: "If you had to rate the president-elect's impact on job creation or job preservation, over the course of this two month transition, how would you rate it?"
"According to the companies we hear from, it is very small or nonexistent," Melber said. "There's a fantasy football aura to all this. Because Donald Trump is saying things on the Internet, and then when companies do things, he'll selectively respond to it."
Trump responded to the report a few minutes later with a series of tweets, including one that read, "No wonder the Today Show on biased @NBC is doing so badly compared to its glorious past. Little credibility!"
The comment amused staffers at both NBC and its arch-rival ABC. Why? Because staffers at both networks follow the ratings race extremely closely. "Today" is doing quite well, contrary to Trump's claims.
While Trump was tweeting, another morning show competitor, "Fox & Friends" on Fox News, was airing an exclusive pre-taped interview with him.
NBC had no public response to Trump's criticisms, except to report on his tweets in the 8 a.m. hour of "Today."
But the network's web site coincidentally had a related headline on Wednesday morning. "Americans to Trump: Enough With the Tweets," the headline said, citing a new NBC/Wall Street Journal poll. According to the poll, 69% of Americans are wary of Trump's Twitter habit.
Trump said in an interview broadcast Wednesday morning on "Fox & Friends" that he doesn't "like to tweet," but has to use the social network to respond to the "dishonest media."