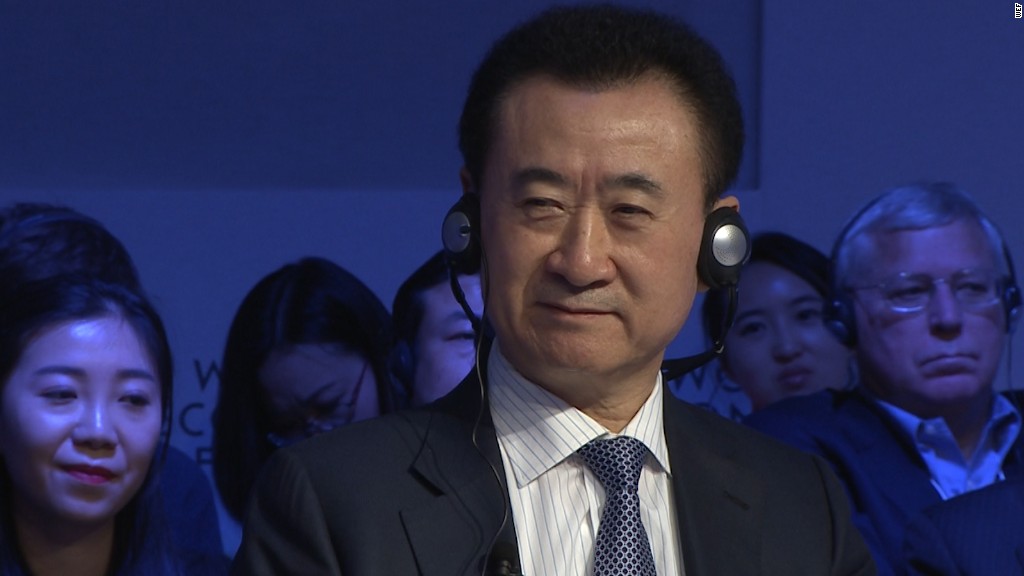 China's richest man has a problem: No one is willing to sell him a Hollywood studio.
Despite signs of increased hostility toward Chinese investment in the U.S., Wang Jianlin still wants to buy one of Hollywood's "Big Six."
"If we are able to buy one of the top six, that would be a great thing to do," the chairman of Dalian Wanda Group said Wednesday at the World Economic Forum in Davos. "However, these six are not in a selling mood. That's something we can't crack."
Wang, who runs a gigantic real estate and entertainment business, has made a series of high-profile Hollywood acquisitions in recent years. But a major studio has proved elusive.
"Let me just communicate this message: I would be a happy buyer," Wang said of the studios, which include 20th Century Fox and Warner Bros (owned by CNN parent Time Warner (TWX)).
Related: This Chinese tycoon wants to conquer the entertainment world
Wang's investments in the U.S. have attracted the attention of some U.S. lawmakers, who have called for tougher government scrutiny of such deals.
Wang brushed aside those concerns, saying the U.S. had nothing to fear.
"So far, the U.S. government has not launched any censorship or control of entertainment," he said. "That would be a step back."
But Wang also made clear that there would be consequences if the U.S. chose to interfere.
"If China were to retaliate, it would be bad for both parties," he said, adding that he had asked the head of the Motion Picture Association of America to tell President-elect Donald Trump: "No war, please."
But it's far from a level playing field. China already enforces strict controls on American entertainment companies, limiting the number of Western movies that can be shown in cinemas, and censoring their content.
Related: Trump attacks China on trade but misses the mark
Buying a major Hollywood studio would make Wang a top player in the industry. He already owns the AMC Theaters chain, and is active in film distribution. A major studio would give him control of film production, too.
If a deal were to materialize, he pledged to take a hands-off approach with the studio.
"It's still a company run by Americans," he said. "We won't interfere with content. We just want the profit."
-- Jethro Mullen contributed to this report.