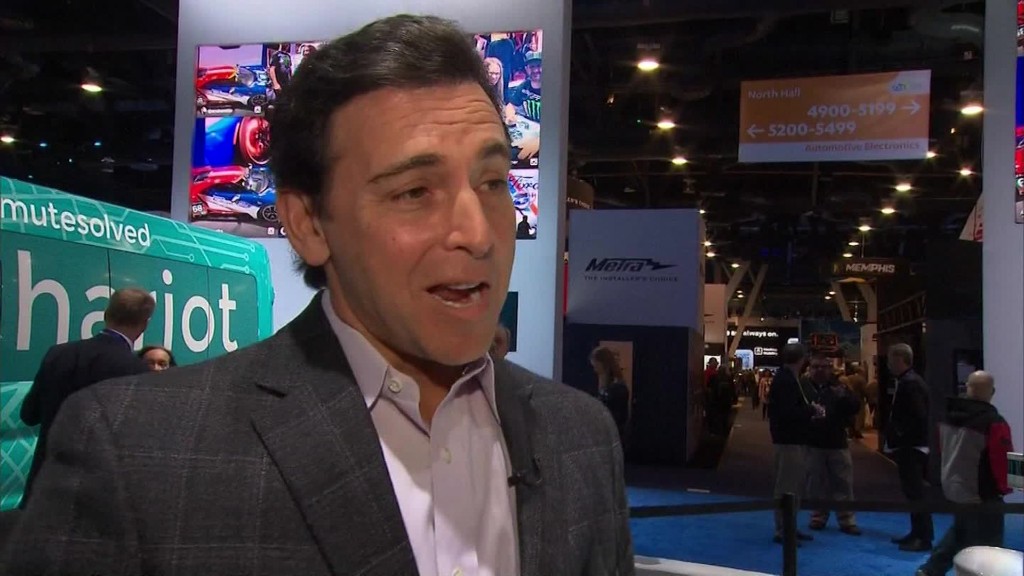 Investments of $5.8 billion. Promises of at least 4,700 new factory jobs.
President-elect Donald Trump is getting the headlines he wants from the auto industry.
But it's not clear how much credit Trump deserves when it comes to the recent flurry of announcements about jobs.
Most of the investments announced by companies since the election were already in the works. Several automakers spelled out the plans in their contracts with the United Auto Workers, signed more than a year before Trump's win at the polls.
And so far very few auto jobs currently located in Mexico are slated to return to the U.S. Only GM (GM) has said it will actually bring jobs back across the border, moving 450 jobs at a Mexican supplier plant to a GM plant in the United States and 100 other Mexican jobs to a supplier's Michigan plant.
Automakers are no doubt happy to have Trump praise their business plans, rather than attack them -- and he's done a lot of both lately.
Here's how the back and forth has unfolded since the election:
November 17: Trump takes credit for saving a Ford plant that was never moving
Trump tweeted that he got a call from "my friend Bill Ford, Chairman of Ford, who advised me that he will be keeping the Lincoln plant in Kentucky - no Mexico."
But Ford (F) confirmed that it was never moving its Kentucky plant. It was only planning to shift the production of the Lincoln MKC from Kentucky to Mexico, but even then it wasn't cutting any U.S. jobs.
January 3: Ford kills plans for a $1.6 billion plant in Mexico
Separately, it announced plans to invest $700 million in a Michigan plant to build electric cars, creating 700 jobs.
Ford (F) had planned to build the Focus at the new Mexican plant, but now that car will be assembled at another Mexican facility. The automaker is sticking with its plan to build all of its small cars in Mexico, and isn't bringing any jobs from there back to the U.S.
Ford scrapped its plans for the new Mexican plant due as much to falling small-car sales as to Trump's tariff threats.
"We didn't cut a deal with Trump. We did it for our business," CEO Mark Fields said. Still, he was happy to describe the move as a "vote of confidence" in the Trump administration
Trump quickly took a victory lap, tweeting, "Thank you to Ford for scrapping a new plant in Mexico and creating 700 new jobs in the U.S. This is just the beginning - much more to follow."
January 5: Trump takes a shot at Toyota
Trump next took aim at the Japanese automaker, tweeting "Toyota Motor said will build a new plant in Baja, Mexico, to build Corolla cars for U.S. NO WAY! Build plant in U.S. or pay big border tax."
But Toyota (TM) said it is sticking with plans for the Mexican plant, stressing that it will not cost any U.S. jobs. The Corollas that are currently sold in the United States are made in either Ontario, Canada, or Mississippi. Once Corolla production begins in Mexico in 2019, Toyota's Ontario plant will shift to producing more expensive mid-sized cars.
January 8: Fiat Chrysler announces $1 billion in investment in U.S. plants, and 2,000 new jobs
Fiat Chrysler (FCAU) had already promised this investment in its 2015 labor deal with the United Auto Workers.
"I wish I could give him [Trump] credit for this," Fiat Chrysler CEO Sergio Marchionne told reporters. "But the thinking was in place beforehand."
Related: Remove car imports, and U.S.-Mexico trade deficit disappears
Still Trump praised the move, tweeting "It's finally happening - Fiat Chrysler just announced plans to invest $1BILLION in Michigan and Ohio plants, adding 2000 jobs. Thank you Ford & Fiat C!"
January 15: Trump goes after BMW
In an interview with a German news magazine, Trump warned BMW it would be a mistake to build a plant in Mexico.
"I would tell them, don't waste their time and money -- unless they want to sell to other countries," he said. "But I would tell BMW if they think they're gonna build a plant in Mexico and sell cars into the US without a 35% tax, it's not gonna happen."
BMW stood its ground, reiterating that it will go ahead with the plant, which will ship the 3-Series cars it builds around the globe. Those cars are now made in either Germany or China, so no U.S. jobs will be affected. And it pointed out that its largest plant is in Spartanburg, S.C., and that it exports 70% of the 400,000 cars it builds in the U.S., making BMW largest U.S. car exporter.
January 17: GM announces $1 billion investment. The company said it's either creating or retaining 2,000 factory jobs, and that it plans to hire another 5,000 workers in its finance and technology departments. GM recently announced it's cutting 3,300 jobs at three U.S. plants due to slowing sales.
Trump cheered GM and another jobs announcement from Walmart (WMT), tweeting, "Thank you to General Motors and Walmart for starting the big jobs push back into the U.S.!"
January 17: Hyundai Motors says its investing $3.1 billion in U.S. operations over the next five years
The Korean automaker, which makes both Hyundai and Kia brand cars, revealed the plans in South Korea on Tuesday. That's up 50% from its investment over the last five years. The company didn't say how many jobs might be created as a result, but spokeswoman Sunjin Cha did say the company's plans are not related to Trump.
-- CNN's Stella Ko contributed to this report.