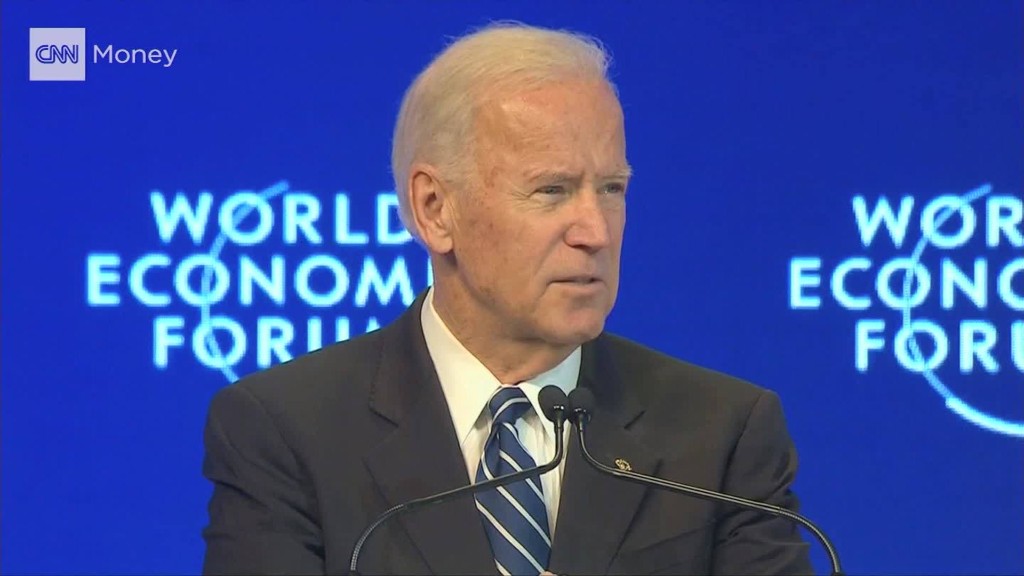 Joe Biden used his final speech as vice president to issue a stark warning about the threat Russia poses to Europe and the United States.
Speaking at the World Economic Forum in Davos, Biden said Russia was at the forefront of efforts to dissolve the community of democracies, using every tool available to it.
"The purpose is clear: to collapse the liberal international order," he told the audience of politicians and business leaders.
Russia would use online propaganda and cyber attacks to try to influence elections in Europe, he warned.
"It's not just the United States that has been targeted, we have seen the same kinds of attacks in the past, and with many countries of Europe slated to hold elections this year, we should expect further attempts by Russia to meddle in the democratic process," he said. "It will occur again, I promise you."
Trump aide: Stop freaking out about his comments
Russian Foreign Minister Sergei Lavrov again denied any Russian involvement in the U.S. election.
"It is not Russia but the European Union that has interfered in the U.S. election. The leaders of EU states have made it clear they supported Hillary Clinton and demonized Donald Trump," he said Wednesday.
Biden said the U.S. and Europe must act urgently to defend the values that had brought peace and prosperity after World War II from the forces of illiberalism and intolerance.
"We see it in Asia and the Middle East, where China and Iran would clearly prefer a world... in which they have overwhelming sway in their regions," he said. "And, I'll not mince words, this movement is principally led by Russia," he added.
The vice president said that under President Putin, Russia was using "every tool available to them" to whittle away at the edges of Europe and return to a world carved up into spheres of influence.
He accused Russia of "sending little green men across the border to Ukraine to stir violence," and using energy as a weapon by threatening to cut its supplies of gas to Europe.
"I'm here today to issue a call to action -- we cannot wait for others to write the future they hope to see," Biden said. "The U.S. and Europe have to lead the fight to defend the values that have brought us where we are today."
Before traveling to Switzerland, Biden visited Ukraine for the sixth time as vice president to show his support.
The outgoing vice president avoided commenting directly on the next administration, but reassured nervous European allies that -- despite recent comments from President-elect Donald Trump -- support for NATO was a "bipartisan issue" in the U.S.
Trump rattled NATO by calling it "obsolete," and has vowed to have better relations with Russia, much to the dismay of some European leaders.