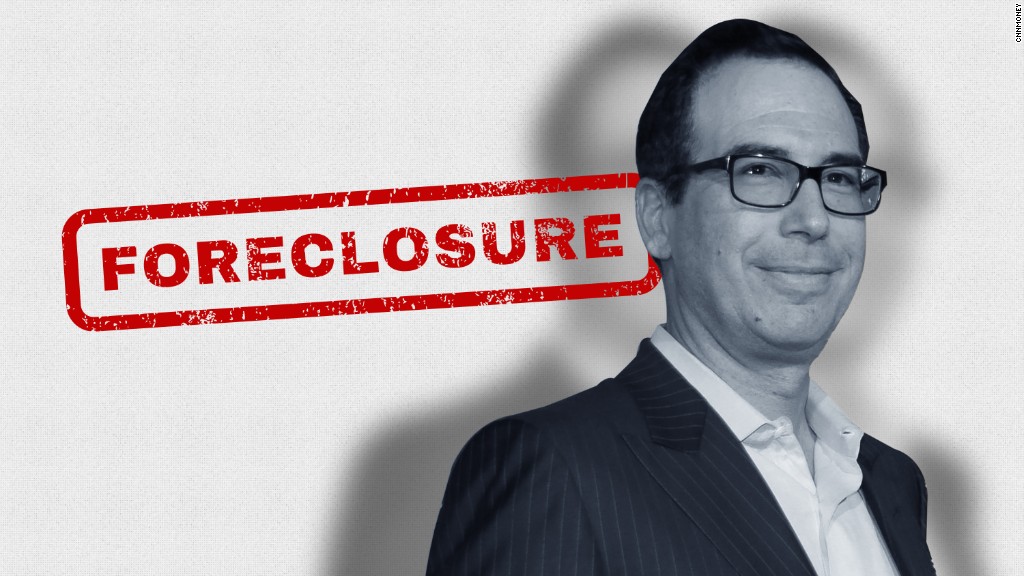 Steven Mnuchin, Donald Trump's Treasury secretary pick, said in his Senate confirmation hearing Thursday that he does not support the so-called "recap and release" of mortgage buying giants Fannie Mae and Freddie Mac.
With those comments, Mnuchin appeared to be dialing back from what he first said about Fannie Mae and Freddie Mac after Trump nominated him in November.
At that time, he told Fox Business News that "we've got to get them out of government control" and added that the incoming Trump administration should be able to restructure Fannie and Freddie "reasonably fast."
Shares of Fannie Mae (FNMA) and Freddie Mac (FMCC), which were both trading higher as Mnuchin's hearing began, plunged more than 10% immediately after his remarks before recovering a bit.
Many in Washington and Wall Street had hoped that Fannie and Freddie will become truly independent companies that no longer have ties to the government.
Related: Treasury pick Mnuchin defends record on foreclosures
The government actually doesn't own any of the common shares that trade on Wall Street. But the Treasury Department has warrants that give it the right to a 79.9% ownership stake.
Mutual fund giant Fidelity has big stakes in both companies. So do high profile investors Bill Ackman and Bruce Berkowitz.
Fairholme, the firm run by Berkowtiz, has sued the government over its takeover of Fannie and Freddie, alleging that Washington improperly seized the two companies' profits.
A federal judge ruled last year that the government withheld some of the documents about its takeover.
Ackman had also filed a lawsuit over the terms of the bailout.
But Mnuchin's comments about privatization last year sparked a big rally in the stocks as investors hoped that the days of government control will soon end. Those hopes may have been dashed Thursday.
Keeping Fannie and Freddie under government control also could mean that they would continue to pay a steady stream of cash in the form of dividends.
Fannie and Freddie have paid $255.8 billion to Treasury since the government took them over. So they have been a profitable investment for taxpayers.
But Mnuchin isn't happy with the status quo either, which he says is "not acceptable."
He said that the country needs housing reform.
"I'm optimistic we can work together and find a bipartisan solution," Mnuchin said.
--Chris Isidore contributed to this story.