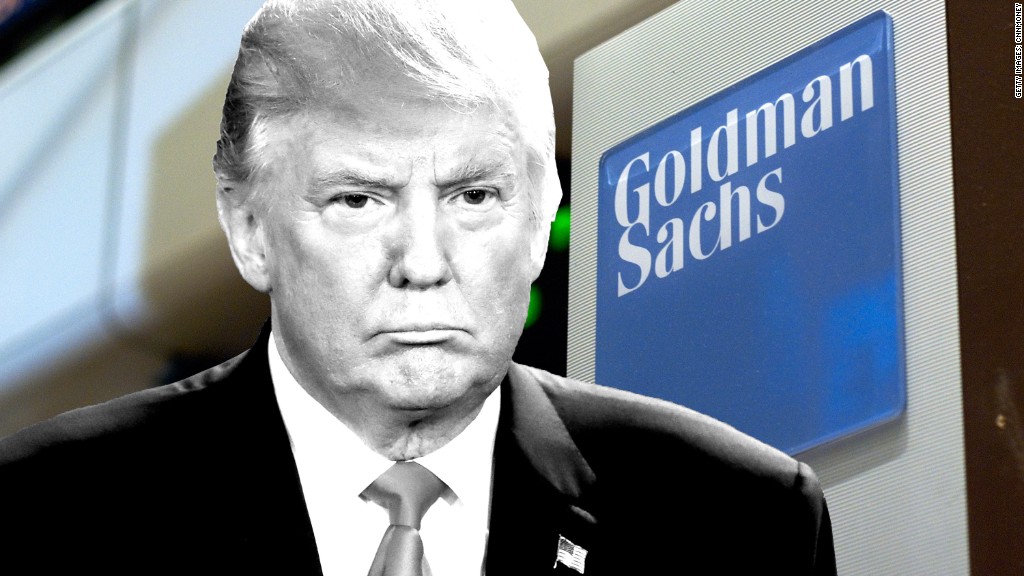 Investors are feeling giddy right now.
Just about any indicator you look at is flashing "bullish." On the eve of Donald Trump becoming the 45th president of the U.S., several sentiment gauges are at their highest levels in two years.
The latest Investors Intelligence survey hit a two-year high this week with 60.6% of investment advisors making bullish recommendations. In fact, it's nearing a 20-year high.
Bank of America Merrill Lynch's latest fund manager survey shows investors expectations for better global economic growth just rose to a two-year high. Furthermore, there was a big jump this week in the percent of investors expecting corporate earnings to rise 10% or more this year. It was the most bullish reading since June 2014.
E*Trade's recent survey of investors with at least $10,000 in an online brokerage account showed 65% of survey respondents are bullish, the highest since early 2015.
Fidelity tells CNNMoney that bullish sentiment among its 17 million brokerage accounts is high. There have been about 30% more buys than sells of stocks this week.
It's not just investors who are optimistic. Confidence has jumped since the election for consumers and business leaders. Even small business owners are excited. The small business optimism index hit a 12-year high in December, according to the National Federation of Independent Businesses.
"Because so many people are upbeat -- and have been upbeat since November -- there is a risk of a misstep," cautions Chico Khan-Gandapur, a global macro strategist at Stock Cube, which produces the weekly Investors Intelligence report.
Two big warning signs are flashing right now, says Khan-Gandapur. First, any time the Investors Intelligence survey gets above 60% (as it just did this week), it usually signals a pullback is near. Second, he says history shows that in the initial 10 to 15 days after just about every president is sworn into office, the market falls around 5%.
Related: Trump market rally on hold, but it may not be over
"You do have market position data telling you the market is set for a pullback," he says.
That doesn't mean it's time to panic, but it is a warning to investors to get ready for some red days in the market after several weeks of buy, buy, buy. Overall, Khan-Gandapur and other Wall Street strategists still think 2017 will be an up year, even if there's a dip for awhile.
The Dow is up about 8% since Trump won the election. The S&P 500 has soared 6% as investors cheered Trump's ideas for major tax cuts, fewer regulations and more spending on roads and bridges. But now Trump has to deliver on those promises.
It's notable that the U.S. stock market has been relatively flat in the past two weeks. Investors seem to be tapping the breaks, despite believing happier times are ahead.
CNNMoney's Fear & Greed Index has been back at the "neutral" level for about a week. It's a clear downgrade from December when the index was flashing "extreme greed."
Related: Trump was right about Mexican-made GM cars
As Marc Chandler, head of currency strategy at Brown Brothers Harriman, put it in a note: "The tweets and such are distractions. The importance is the policies and priorities of the Trump Administration."