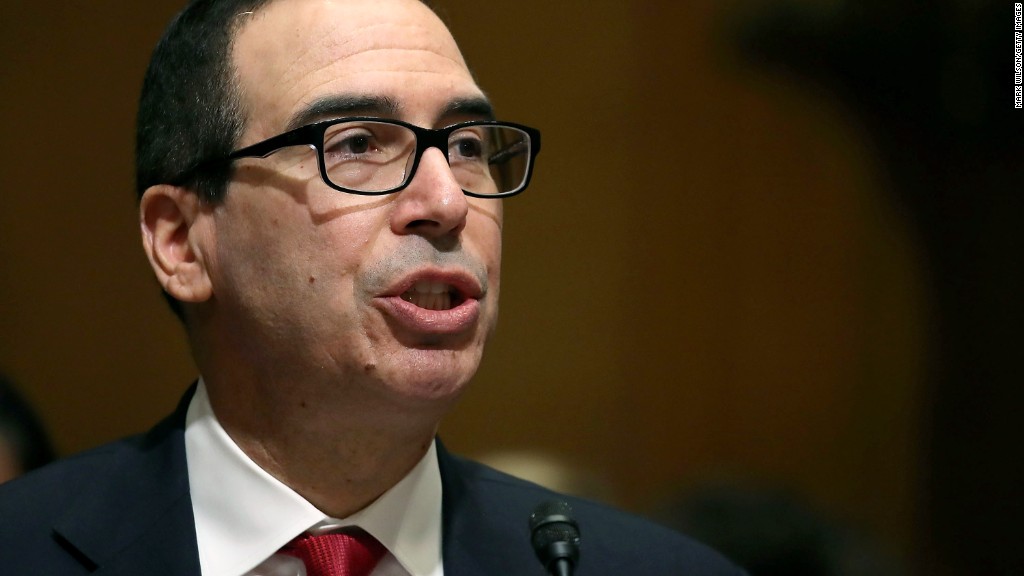 A Democratic senator is demanding that Treasury secretary nominee Steven Mnuchin look into President-elect Donald Trump's foreign business ties.
Senator Claire McCaskill of Missouri urged Mnuchin at his confirmation hearing Thursday to report to the Senate Finance Committee how much debt foreign entities hold against Trump's businesses. The Trump Organization is private, and Trump has refused to release his tax returns.
McCaskill said the details "could have a direct impact on our national security."
As Treasury secretary, Mnuchin would chair the Committee on Foreign Investment in the United States, which is responsible for vetting foreign investments in the country and how they might affect national security. Chinese investors, for example, had to clear the committee before they could buy the Chicago Stock Exchange last year.
Related: Treasury pick Mnuchin defends record on foreclosures
Mnuchin did not agree to McCaskill's demand, but he said: "I am willing to speak to the chairman [of the committee] and make sure that whatever the committee thinks it needs, I will discuss with the president."
After the exchange, McCaskill tweeted that she appreciates that Mnuchin "recognized the validity" of her questions about Trump's foreign debt.
Later in the hearing, she pressed Mnuchin again about Trump's business entanglements. She questioned Trump's pledge to donate to the U.S. Treasury any profits from foreign government payments to his hotels.
Who, she asked, will decide when Trump has profited from foreign money?
"Is that going to be his family? Is that going to be his ethics officer?" she asked. "Is there anybody who works for you that is going to take a look at how he's determining whether or not he's profiting off foreign involvement in his wide variety of interests across the globe?"
Mnuchin said he was "sure" Trump would put out more information on the subject, adding that he was "happy to inquire with him."
Trump owns or has a position in at least 564 businesses and partnerships that have done businesses in at least 25 foreign countries, according to a CNN analysis.
And while Trump says he'll put his holdings into some type of trust controlled by his two adult sons, he won't sell anything he owns.